Deadliest Warrior: Why the Zonde warrior deserved to lose
Their annoying battle cry.

Nham Nham! Nham Nham!


That is all.
Join date: Dec 2007
69

IQ
Cool story, bro?

Was that even a story?

I don't know.

Join date: Oct 2008
570

IQ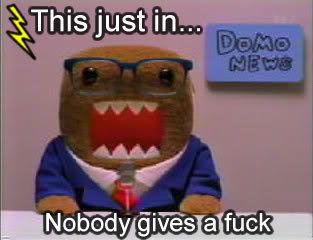 Seriously, it's a computer simulation of a fight in one warrior's home environment they've adapted their fighting style and weaponry to while the other guy is a fish out of water, it's a rigged fight.

Join date: Sep 2007
340

IQ
That show is fucking stupid.
Dumbest show ever.

There was this ninja vs. spartan episode, and the spartan won. WTF?

Join date: Nov 2007
40

IQ
The fight has nothing to do with anything. It's just to show who wins the majority of the fights and to make the show more appealing and to show all or most weapons in battle against each-other. Why do you think the Pirate got a morning star to the face and got right back up, it's because the Knight lost the majority of the battles and had to lose that fight but still needed to use all weapons.
That show is fucking stupid.
I second this motion.
and uh...
I love your tits Ian
Join date: Nov 2004
200

IQ
Muhammed Ali vs Ghanghis Khan was a terrible episode.