91 squeir
my dad bought me a squeir strat back in 91...at that time i was playing hardcore and hated that thing so i took it apart to change the pickups and never messed with it again it stayed in the closet and i forgot about it..well time warp 18 years later.....a while back i really started taking a liking to a mim standard strat and was close to buying it and then it hit me....i could just get a mim standard strat loaded pickguard and put it on that strat my dad got me and it would sound the same... well i found a loaded fender standard strat pickguard and handed it over to a guitar tech......the factory that made my strat only made them for 2 years ....the body is solid alder...has genuine fender saddles and tremelo and ggotch tuners...the neck feels realy thin compaed to any strat ive felt and has small frets...i like the way it feels way better than any strat ive ever felt...the sound is classic. Just wanted to share my axe.
sweet

probably should've posted in gear building and customizing, but good to hear you're happy with it

got any pictures?
Nice. Got any pics of it?
Sorta i have this pic right now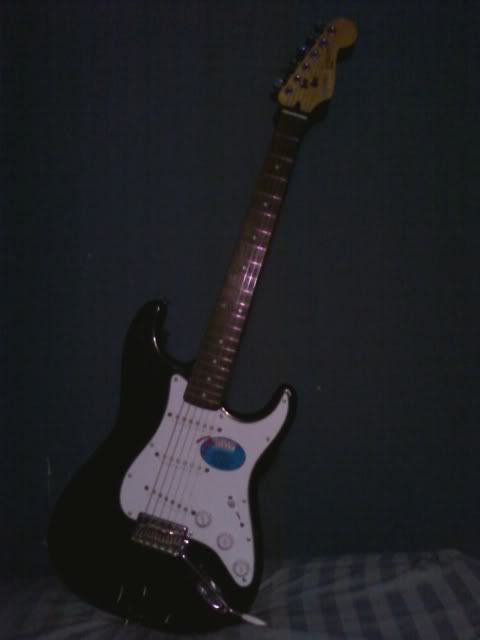 I need to take a picture of the neck profile...its way different than the other strats ive played...Ive never seen a mij strat so maybe its modeled after one of those?