floyd rose question (more cosmetic than anything)
So, I saw this picture of a floyd in the "official floyd rose tuning something thread kitty pizza" thread.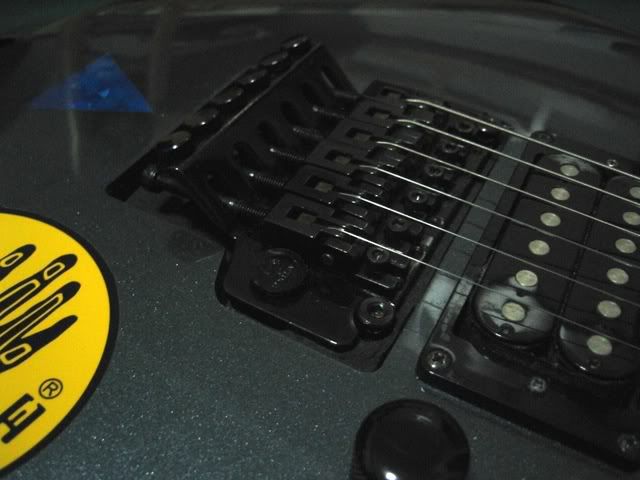 Notice that where the bar would normally screw in, there is a pretty little button there.
When I pull my bar out, it looks like this
The first picture has a cover of some sort, and it makes the floyd look finished, as if it was made that way (maybe it was, im not sure). The second one, you see a gaping hole in the floyd, as well as the track for the housing to screw on. Is there just a little button to screw on top of that to make it look finished or am I sol?
Last edited by rtfk101 at May 28, 2010,
Join date: Nov 2009
100

IQ
The second picture won't show up.

Join date: Apr 2010
240

IQ
Well any of my ibanez's didnt come with that sorta thing....but then again they dont have floyds.....I couldnt find anything like that online too

Join date: Nov 2009
300

IQ
I have a warlock with a floyd rose, but when I bought it from a friend it didn't have that little screw on thing.
the only way i could see someone getting it to look that good, is welding it shut and refinishing it. you could take that part out and take it to a hardware or auto parts store and see if you can find a plug for it. it wont look as good as that one, but it would look ok
well i dont even know what's been done to the first one, i mean did it come like that? ive seen that before but i dont know the purpose of it, or what it even is

Join date: Dec 2009
30

IQ
Definitely nothing normal and I can't really make out what exactly they've used to cover the arm hole. Also, what's the point in having a Floyd without the bar in it......oh yeah, some people like to block them and still have the advantage of fine tuners.......ONLY this person has also screwed the fine tuners all the way in so there goes that reason....
it might be a "plug" that someone makes and sells. i doubt floyd would make a bridge that didnt have provisions for a bar. i bet that trem is blocked.

edit: didnt see the fine tuners were all the way in. so there goes my theory on them having it to keep in tune better
Last edited by z28_dad at May 28, 2010,