Fang Island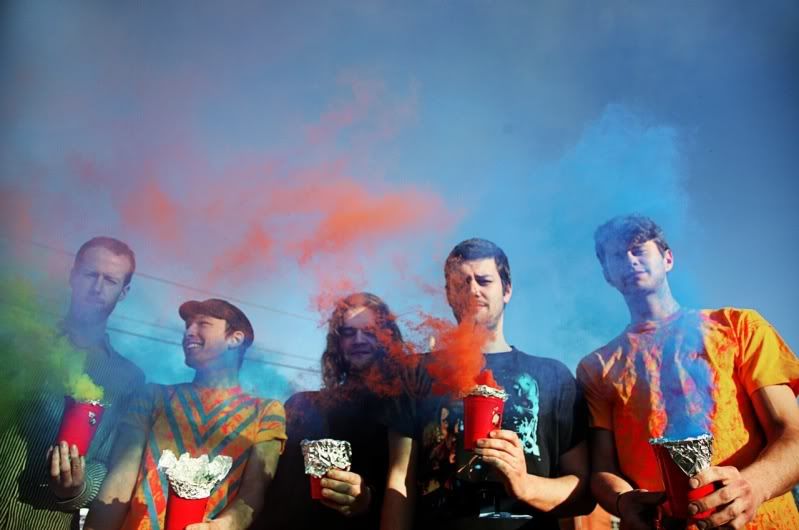 Listen to their records
here.
Download their new full length for $5 there too.
These guys are fantastic, they more than live up to the hype.
I love Fang Island. I saw them last week in Chapel Hill.
I really dug the new album, looking forward to their next release.

Join date: Jun 2007
30

IQ
Great riffs, really fun album
This is ****ing crazy. Saw them back in March. They weren't headlining or anything. Just playing with a bunch of small bands. Probably about 60-80 people there. I thought "Damn, these guys are good. They sound like they could make it big." Then, BOOM they're popping up all over the place. I helped them with their gear there. They seemed like some cool guys.

Join date: Jun 2007
30

IQ
Couple of decent (albiet very quiet) videos up on here:
http://www.fuel.tv/music/
Would have loved to be at one of the Caspian/Doomriders/ Fang Island shows, what a lineup.
Last edited by Meatball200 at Jun 4, 2010,
I saw those fuel vids, they are kind of redic live. They aren't coming anywhere closer to hear than the 8 hour drive to Chicago, so I probably won't get to see them.

Either way, this is at the top of my summer albums list.
They have in a very short time became one of my all time favorite bands, their self titled album is seriously some of the best i've ever heard. I hope for them to make it big time.

Join date: Dec 2009
30

IQ
i really like fang island, but i've always thought they'd sound better with vocals...
Bump. Major tours up, and rumor is more coming from sargent house. I feel the need to expose the entire forum to this band. Everyone from hipsters to metalheads can find some joy in them, seriously.

Join date: Oct 2006
101

IQ
These guys are great. Their self titled album is one of my top albums from 2010 so far.
we need tabz for this band! I am having trouble keeping up D:

Join date: Jul 2011
10

IQ
Fang Island is absolutely amazing. I can't stop listening to their self titled album. Hopefully I'll get around to one of their shows, but of course they're few and far between.

Join date: Mar 2009
211

IQ
Great band, I'm actually wearing a Fang Island shirt right now

Join date: Aug 2005
210

IQ
How did I miss this thread?


Utterly fantastic band. For seriously. One of the best bands I've found this year. "Davy Crockett" is so amazing. Too many good tracks.

Join date: Nov 2007
424

IQ
This band is soooo fun. Smiley music.

Join date: Oct 2006
101

IQ
Careful Crossers always puts me in a good mood. I'm excited to hear their new album

Join date: Mar 2009
211

IQ
Last edited by Joshua1207 at Jul 12, 2012,