WTTS - Agile Hornet Pro 7 string CUSTOM - US
Okay, so i took
this guitar
and custom ordered these different features:
27" scale (as opposed to 25.5)
non-reversed headstock
Original floyd instead of Licensed
5 piece maple neck
black binding added to the body for more overall definition
Bolt-on neck (communication error)
neck pickup moved for better clean tone
Somehow all that changed the guitar from costing me 600 dollars to costing me over 1000 dollars.
The guitar is about 6 months old now. I got it in January this year. I've changed the strings twice, and every time I do, I condition the fret board with lem-oil. Last time, I sanded the frets with #0000 grade steel wool
Anyway, I'm selling the guitar because I don't plain use it enough. I have an 8 string guitar that is versatile all the way around, and this has only 7. Doesn't seem like much of a difference, but it's similar to a 7 string player being reduced to 6 strings. Long story short, I can't tune down to F# without having to adjust the floyd, putting new strings on, re-tuning the entire thing, blah blah. I'd rather play a guitar straight up made to hit that note.
There is nothing wrong with the guitar at all, other than some minor paint specs that you have to examine the guitar to notice at all. But it plays amazingly, has great tone, fast action, a very thin neck, smooth frets too!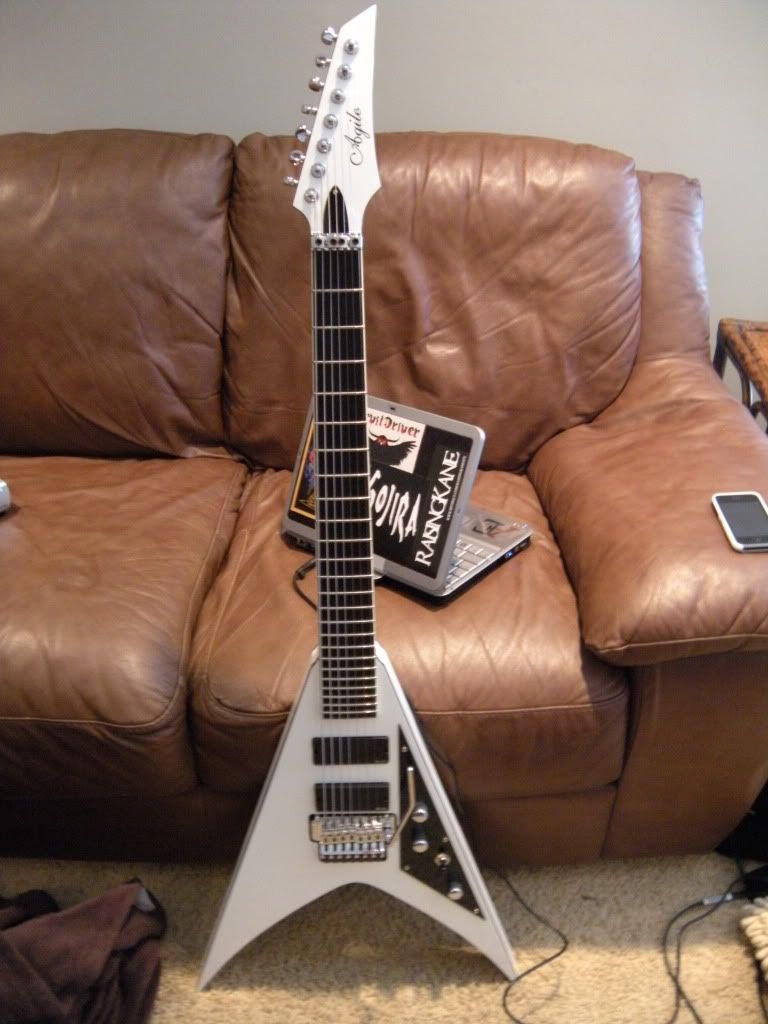 here is the album with more pictures
http://s301.photobucket.com/albums/nn51/rtfk101/Agile%20hornet/?albumview=slideshow
As for the price, I have a limit that I won't sell for, but make me an offer. I don't know what to set the price at...so I don't have a price. NO ****ING LOWBALLERS.
PM me with any questions you have. If you want a picture that isn't in the slideshow, PM me as well.
you are cool for having an 8 string. im getting one. eventually.