Where did the vine of life inlay originate?

Join date: Oct 2007
263

IQ
There are many variants of it, and the most popular example is probably a JEM. But where did it come from?
Steve Vai designed it...or helped with the design...something like that.

Join date: Feb 2009
70

IQ
I believe Vai came up with it, to resemble his history in music or something like that. You could probably find his reasoning for it on his site.

Join date: Jul 2009
120

IQ
meh, i like mine a lot better than the ones on the jems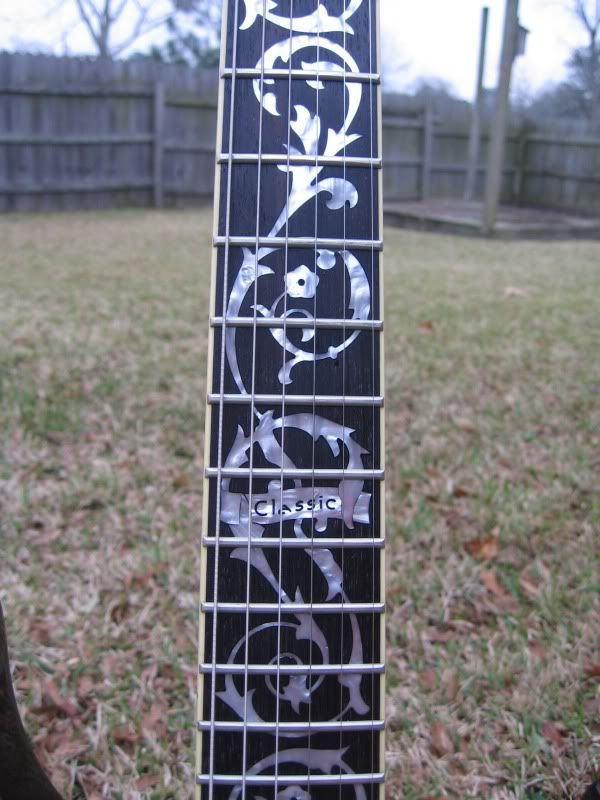 I'm not a huge fan of the schecters inlays, its okay though.
Ibanez J Custom:
Edwards CY-165CTM
The earliest vines I've seen on instruments are on the sides of the bodies of Cremonese violins, so I'd put the origin at the 16th or 17th century. Gibson was heavily influenced by violin luthiery, so you'll see Gibson mandolins from 1880 or 1890 that have vine inlays on the fretboard, which is the earlest fretboard vine inlay I'm aware of. From there it was probably used on a few Gibson acoustic guitars, and then made its way to electrics and eventually the JEM.

As far as where the Italians got the idea to put vines on instruments, I'm not sure. My first thought would be a Moslem influence via Spain, but that's just a guess.

Point is, Steve Vai was definitely not the originator of the vine inlay idea.

Join date: Apr 2010
70

IQ