String gauges for drop C#?

Join date: Apr 2009
60

IQ
Guitar is tuned to C# G# C# F# A# D# (half step drop D)
Right now I have 46-9 on my guitar and the bottom string feels too loose. The top strings are a little too slinky as well but I like being able to bend them a lot. Any suggestions?

Join date: Sep 2007
41

IQ
I use these and go from E standard to drop A#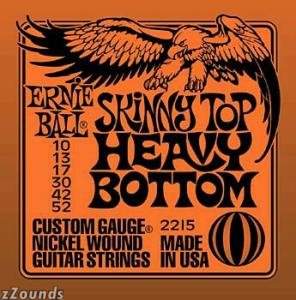 my band tunes half a step down and we have some drop D songs, and we use .70-11 GHS boomers. They are tight! I can bend the strings just fine, it takes time to get used to but it feels solid to play. You'll have to make some adjustments on your guitar to set it up right, but it's worth it if you're tuning low.

Join date: Jul 2007
51

IQ
You can also use these strings

I use them for droped-tunings
agree with King-For-A-Day

Join date: Dec 2007
310

IQ
yeah i use to use 12-54's for Drop C but i could get C# aswell, they are pretty tight which is good