RMOGC- Piezo Preamplifier ~ New Design
This should be a pretty decent preamp. I sure hope so anyway.

It utilizes 3 dual triode preamp valves. The first two stages are a 12AU7 tube to help provide a current boost as well as a cathode follower for the input stage. The middle two stages are a 12DW7 tube with the high mu triode used as the gain, and the medium mu triode used as a cathode follower to drive the tone stack. Finally the last two stages are through a 12AX7 tube to give a good bit of gain to fully boost the signal ready to be sent through to a pedal or amp.
So what is this thing good for? Why even bother including it?
This is specifically designed for those homemade piezo pickups.
High input impedance offering several advantages.

Boost potentiometer limits the volume able to be dropped off while extending the sweep as much to assist in dialing in the right gain.

Multiple volume controls to allow tonal shifting from the gain/volume settings.

Cathode follwer is used again to buffer the signal and lower the impedance for minimal loss in the tone stack.

Two control tone stack offering further adjustments to the tone beyond the natural flavor of the preamplifier.

Push/Pull potentiometers allow one or both tone controls to be shifted half an octave down at will.

The two final stages offer large voltage gain to further boost the signal and allow it to drive without nearly as much loss as without the preamp.

The last stage incorporates localized negative feedback to make it difficult to overdrive, helping retain a clear tone, as well as lowing the output impedance to allow the preamp to drive a tube or solid state pedal or amp without hassle.

The filaments are "lifted" by 50 volts to keep heater- cathode difference optimal.

The high input impedance helps minimize losses, so no color draining for the opening stage. The cathode follower offers numerous benefits starting with the high input impedance, followed by a pretty darn low output impedance, this also buffers the following circuit from the source (piezo pickup) to allow changes in the preamp without worrying about loading down the pickup, and finally there is a large current gain to accompany the preceding advantages.
The cathode follower before the tone stack offers many of the same advantages as the first cathode follower in the circuitry. Isolating the tone controls, to minimize any loading down that they would have on the preceding stage.
I'm really proud of this thing so far and can't wait to build it. I'll be marking out where to drill in the enclosure tonight. I will probably fit this into a Hammond DD size enclosure to give me plenty of room for it all.
And finally... the schematic
Note that I haven't made a custom component for the power transformer, the two primaries in series merely represent the single primary of the Hammond 262E6. All "R" valued resistors are merely done to taste.
The first LED in the schematic that has 4v next to it, any LED should suffice, 4v is merely the potential I set the cathode above the control grid. I wrote all of the voltage differences that I had designed for by the cathode to assist in trouble shooting if anyone else decides to build this.
The -6.3 is merely referencing the lower of the two 6.3 winding wires, there is only 6.3vAC between the two, not 12.6vAC.
If using this for more than just piezo pickups the first 100 ohm resistor may need to be raised to a value between 1k ohms and 50k ohms.
I'll be going over a few construction tips as I go through building this.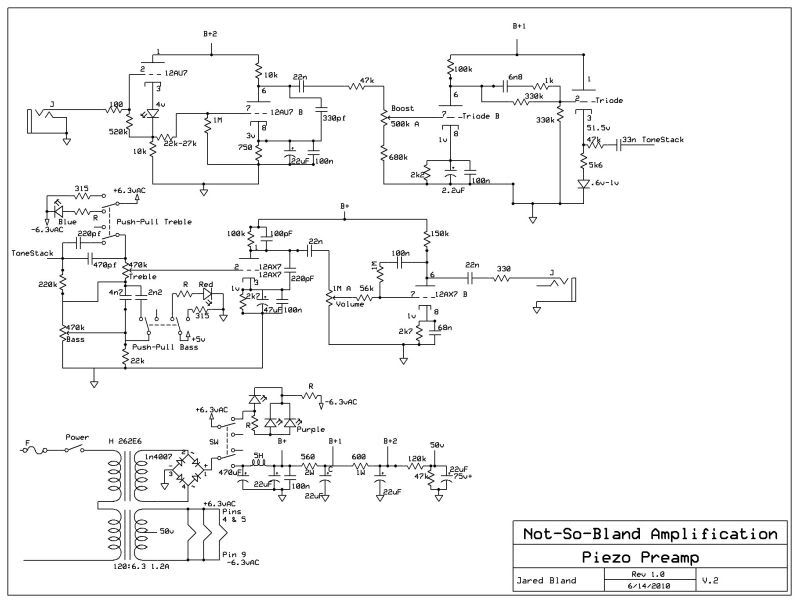 Last edited by blandguitar at Jun 16, 2010,
awesome i might just build this
Cool, upload a bigger schem though.

You can fit a lot in DD if you plan it out and think er over. Sure you can do it, the design isn't too complex.
Photophucket won't put a bigger image, and if I upload it from my computer to file size is way too big, and when I shrink it to fit the UG requirement, too small. How do I do a bigger picture for it?

Join date: Jun 2007
291

IQ
Photobucket has a options button you can click before you upload. switch it to 15" screen.

Join date: Jan 2009
260

IQ
tinypic ftmfw.
Tinypic makes me want to punch babies.
That and Flickr.
Looks good Jared.

Join date: Jan 2009
260

IQ
wtf?
I don't like it.
It ruined a whole batch of pictures a while ago.
It may have changed.
I like Photobucket because it resizes your picture a bit smaller, and without the Photobucket formatting, my pictures would be bigger than the screen. almost anyways.
We should keep this thread on topic.
Nah, imageshack all the way man.

Nice preamp, I might have to bookmark it for if i ever get a nice acoustic or throw a piezo on an electric if it turns out well.
Last edited by Mike-T93 at Jun 16, 2010,
Staying strictly on topic...
Here's a larger picture of the schematic, Thanks Bobby

edit: I put the updated larger scheme in the first post
Last edited by blandguitar at Jun 16, 2010,

Join date: Dec 2008
71

IQ
I must say, Imageshack is "teh $hiz"

And I was planning to make some sort of piezo for my ukelele, yet right now I don't have my contacts in and am going to bed, so I'll be back later with comments and thoughts. Either way, I've heard a lot of hype about this, so it's bound to be good.

EDIT: Got a chance to look over the schem, and I'm surprised at the fact that I at least get the basic concept of what is going on where, and I still can't wait for this to start.
Last edited by MonkeyLink07 at Jun 17, 2010,
Enclosure is getting drilled tomorrow. I've got all the hardware planned out. Just have to find where/how I'd like to place the components on the inside. Gotta pick up some grommets as well, can't believe I had forgotten to stock up on them.

Updates tomorrow.
where do you get grommets? i need some.
I'm gonna order a sh*tload the next time I order from Antique Electronics Supply, tubesandmore.com , but I'm gonna pray that the local hardware stores got something I can use. If not I'm gonna sand the living hell out of the holes to last until I can buy the grommets.

Join date: Dec 2008
71

IQ
I got a drill bit that deburrs while it drills from smallbear. It works really well, although the holes would still have metal on the edges. Perhaps some caulking around the edges if you can't find some grommets?
You could probably find grommets locally. I know the elec near me sell them, as does Radioshack.
I found a pretty good size grommet bundle from Harbor Freight tools. Picked up some mounting hardware from the local hardware store. I fudged up a bit on placement, if this build is noisy/oscillates I'll try a different layout. It'd just be a shame to waste a DD enclosure.

I've got mostly everything drilled. I have to drill the spots for the valve sockets, my old man wants to get a hole saw rather than drilling and me filing it all out. I have to file the IEC power socket to size. I gotta enlarge the holes to mount the PT just a smidgen larger.
Jared,
A unibit and standard drill pit set should cover you for all your drilling needs. I have built a few preamps like yours in the DD and that's all I have used.
The only part that is hard to machine the chassis for is the IEC socket.
Here is a pic of some preamps I have built with an IEC socket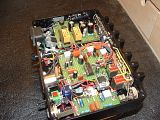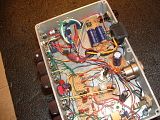 (click to enlarge)
I cant explain well, was never one for words, so hopefully those pics explain it. I mark the area that needs to be removed for the socket. Then I use a small drill bit and roughly drill all around that area. Rip that piece of the enclosure away. Then file it smooth and make it look good. Test fit the socket in, then drill the two #4 mounting holes.
I used a 1/8" hole for the mounting screws, I thought we might have done that, we did that for the IEC socket, I still gotta file it smooth I'll see if he wants to finish drilling so I can test fit everything.

Idk, I'll see what he wants to do and check back after talking with him.

edit: He doesn't want me to file and waste time, I'm going to go out to go get a cheaper set, goes up to 2-1/2 so I should be able to do bigger tube sockets when the time comes to build a real amp.

Edit2: Couldn't find a set that had a 7/8" saw, went to a different store and picked up an individual holesaw for $13 not sure if I'll be working on it more this weekend or if I'm waiting until after monday to start. Tomorrow might be filled between father's day shiz and studying for my two hardest finals on monday.
Last edited by blandguitar at Jun 19, 2010,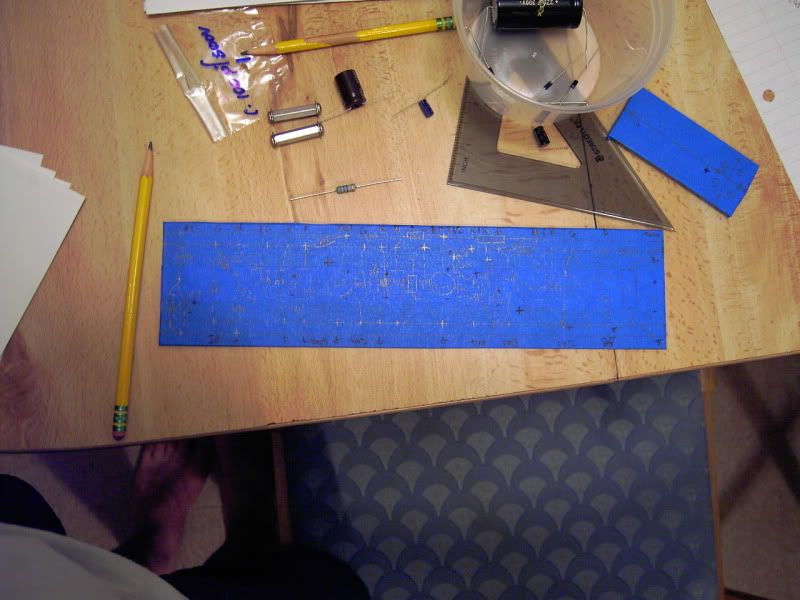 I re-did the layout today. Tip: don't use graphite on the actual board. I took painters tape and went over the board, then pencil on the tape. Gonna drill tomorrow or the next day. I decided to go with a smallish amp chassis so I could do eyelets and turrets (using both), and save my last DD for a phaser build that I'll start after this or after a couple other projects.

Gonna do a copy of the layout on Visio tomorrow to post up as well as an updated schematic.
Finally, some progress!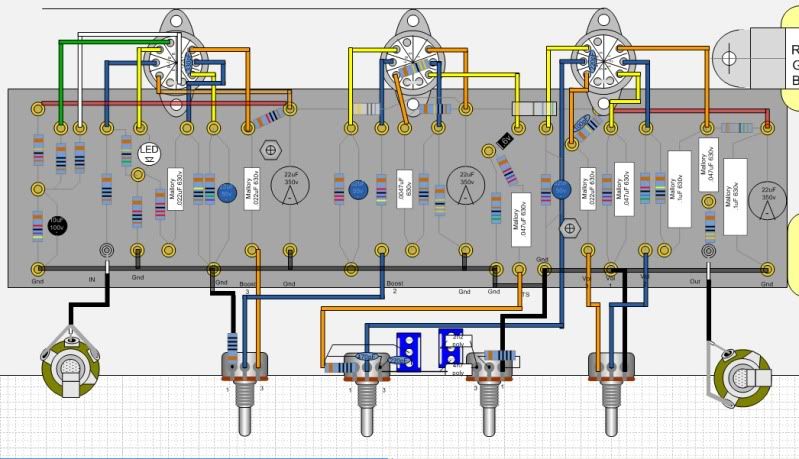 Did this on Microsoft Visio. Managed to squeeze the board down by 2 inches from my original drawing on painters tape. I'm almost ready to drill everything up, I've just gotta finish the placement of the transformers and do the layout for the front and back.
Edit: Shielded input and output wires, some pots have the lugs pointed upwards, some downwards. I decided to ditch the LEDs for the tone stack. And just using spdt switches, spst will work as well. I excluding the heater wiring, with the except of the 100 ohm voltage divider which isn't in the schematic.
Last edited by blandguitar at Aug 20, 2010,
Looks really good.
Your component library looks really good, can you send it to me?
Thanks!

Sure, I've got a couple. I'll wait to send it to make sure I made all the resistors from the scheme into stencils/shapes. Thanks for sending some of yours over as well.