N(P)AD, everyone was right!
New (Practice) Amp Day! Heres a crappy pic (: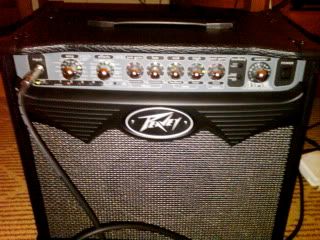 Yup, It's the famous Peavey Vypyr (15w) that everyone talks so highly about.
I'm giving my Spider III 15w away and thought it was pretty shitty but it served as my first amp a long time ago and a portable amp. I went to guitar center for the first time ever yesterday and checked out lots of things and the employee's were nice and informative. I played the vypyr for 30min and decided It was great, especially for $100.
The first thing I tried on it was the cleans. I especially like the Fender Twin Reverb model. Destroys the Spider III in everyway, really sparkles.
The distorted models were pretty cool too, they also stomped the Spider III. There are what, 12 or so amp models while the spider III has 4? They sound pretty good for a $100 solid state amp. I like the Diezel model and the 6505 model and generally they all sound good and unique. Unique, something that the distorted channels of the Spider III didnt have. The overdrive channels don't have the power and crunch that the Mark V has obviously, but thats a whole new game thats 20x the price of the vypyr along with it being a tube amp and not having a crappy single speaker. I think the Vypyr would sound a lot better if It had a good speaker in it, but its expected to have a crappy one because thats how peavey saves money. I'm not complaining!
This is a great practice amp and I highly suggest it for portability and some great solid state sounds! I'd buy another if this crapped out on me.


Join date: Jun 2008
220

IQ
I have to ask... why a Vypyr 15 when you already have one of the most epic amps around?

Join date: Mar 2009
30

IQ
I have to ask... why a Vypyr 15 when you already have one of the most epic amps around?
It's not practical for just practicing. Not very portable either.
But I kinda agree. If I had a Mark V, I'd be playing the hell out of it.
I have to ask... why a Vypyr 15 when you already have one of the most epic amps around?
A) Mark V isn't so small, so I don't want to bring that around everytime I want to jam, just most of the time (:
B) I'm currently in Washington D.C. getting ready for the move and I didn't have any kind of amp because the Mark V is back in Hawaii so I bought something great for $100. It'll tide me over.
Keep in mind I would never use this over the Mark V if I wanted to sound good or really get into the groove, but this amp is great for practicing and mobility.

Join date: Mar 2008
780

IQ

If you are into modding there is a cool mod for this amp I can find for you...it is in my cool threads blog
HNAD! CLips?