NGD: what a Soloist should be...
This arrived on the brown truck last Friday: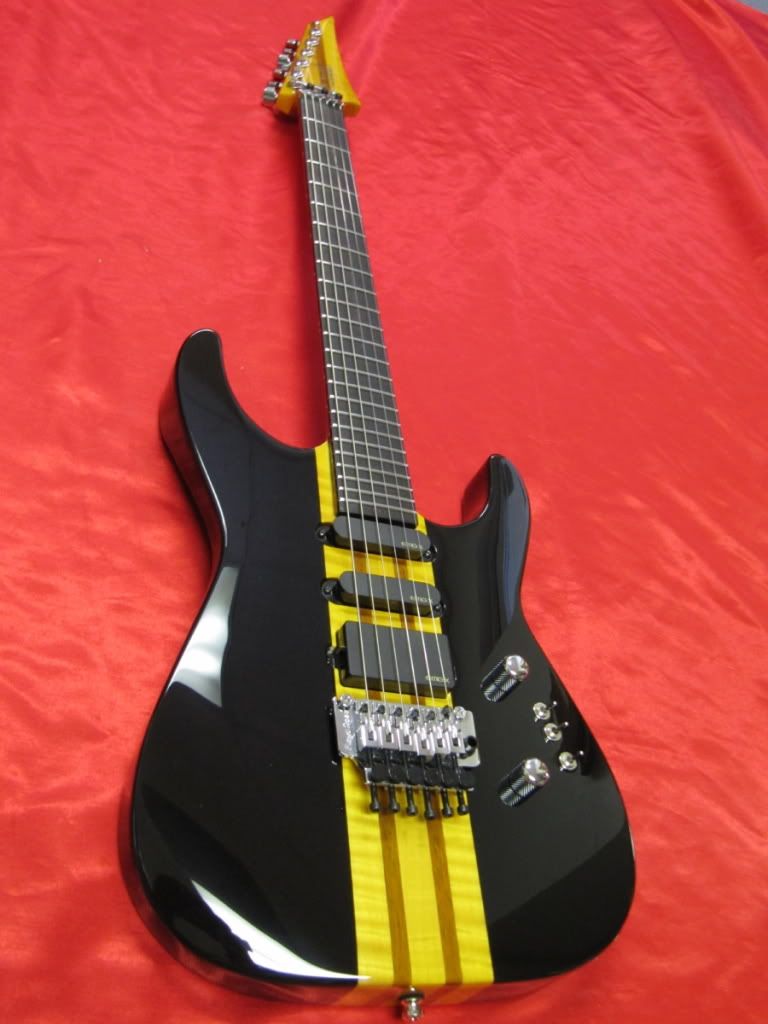 It's a custom GMW guitar, soloist style body, 5 piece laminate neck through. The fretboard's ebony. The frets are 6100 stainless steel. The body wings are mahogany. The pickups are EMG 85X,SAX, SAX. The bridge is an OFR.
Review wise, Lee at GMW was incredible to work with. For those who aren't familiar, his shop used to do a lot of Jackson/Charvel custom work. His prices are good, and the finish and fretwork on this guitar are incredible. They're much nicer than my Andersons, for example. Those big 6100SS frets feel almost like scallops, and being stainless they're super smooth. Great for fast lead work, tapping - stuff like that.
In terms of sound, it's a very aggressive sounding guitar - very bright. I did some things in the specs to try to tame that - an 85X instead of an 81X, a brass block on the trem and mahogany wings. And it's still bright. This necessitated some amp adjustments to make it sound good, which haven't been a problem. Just a matter of EQing to the guitar. One of the upsides of EMGs is that tone control actually works well, so that's helpful too.
The upside of such an aggressive sounding guitar is that there's no mush - ever. The low strings are snappy, and the higher register has a ton of bite. This is great for huge piano-like clean chords.
The EMG-X series pickups are huge winners. They have all the benefits of actives (low noise, high output) but tone-wise are in pretty much the same space as passives. They may be my new favorite pickups.
IMO this is what a soloist style guitar should be like. Jackson needs to get their stuff together - I've owned several SL1s, and none of them were even close to this nice. Since there isn't much price difference between US Jackson and GMW anymore, it seems to me that if you want a high-octane guitar in the Jackson or Charvel style, you owe it to yourself to check out GMW.