NGD!!!! (Fernandes content inside)
What have got here? A case? And what does it say…?!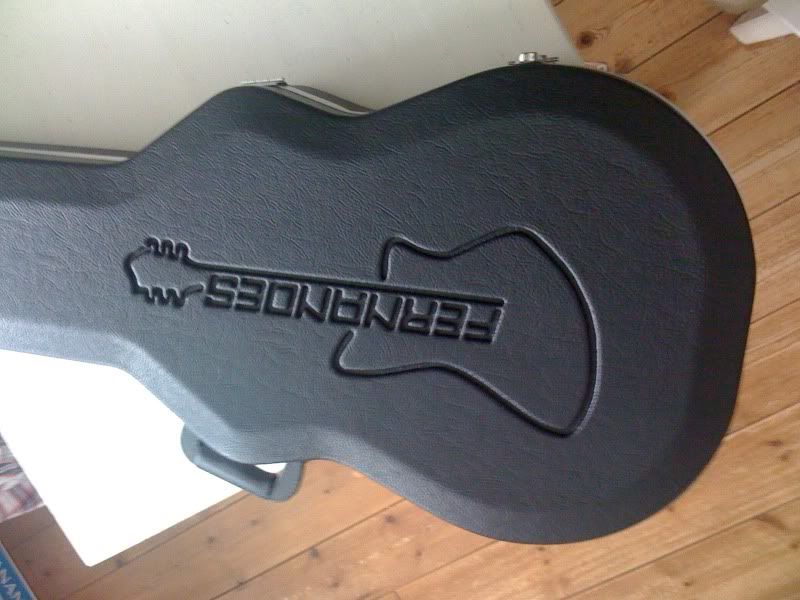 My oh my….is that a sustainer pickup?
Aaaaha, a Fernandes!
Look at those curves....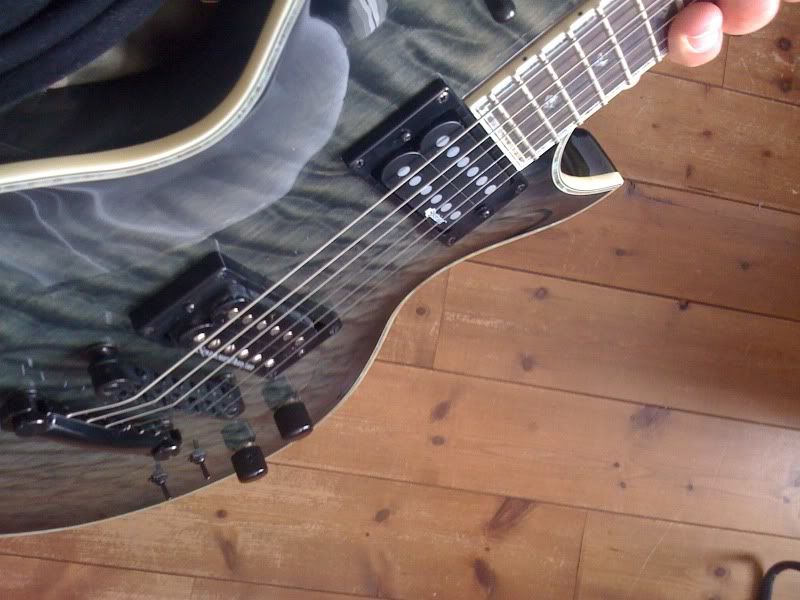 Righto! Sorry for the crappy phone pics…..
I bit the bullet and accepted this wonderful axe from the fine folks at Fernandes. I've been gassing for a singlecut for a while now and I had my eyes on an EC1000, but luckily for me I took the time to try this out when it was handed to me because it just blew me away.
What we have here, Ladies and Gents, is a 2008 Fernandes Monterey Elite with (the custom option of) black hardware.
Small disclaimer: I've been reading a lot of reviews here on UG that I think are a little one-sided, with high scores for mediocre guitars. I will try and be as transparent and honest about this guitar as I can. I've been playing for close to 20 years and I must have played a few hundred guitars throughout the years and very, very few guitars are worth a straight 10. It's a great guitar for me personally so I won't attach any scores.
That said, I think everyone who is looking for a new guitar should at least give a Fernandes a try.
So without further ado, here goes:
Features:
Body: 5A Quilted Maple Top + Mahogany Back
Neck: Mahogany, Set Neck
Fingerboard: Ebony, 24 3/4" Scale,
22 Jumbo Frets, 14" Radius, Abalone Diamond Shape Inlays
Nut: Graphtech TREM NUT
Tuning Gears: Fernandes stock locking tuners
Bridge: Tune-O-Matic W/Stop Tailpiece
Features: FERNANDES SUSTAINER SYSTEM
Controls: 3-Way Toggle Switch, sustainer ON/OFF &
Mode Switches, 1 Volume, 1 Tone
Pickups: Neck : Fernandes Sustainer, Bridge : Seymour Duncan SH-4JB
Color: See-Thru Black
Weight: Heavier than a strat, lighter than an LP
Sound:
I run a Peavey 6505 through two Mesa cabs loaded with V30's (yes, I play hardcore/metal).
I have the guitar set up to drop C (yes, I still play hardcore/metal) and strung with EB beefy-slinkies (0.11 to 0.52) in case anyone cares.
I take it I don't have to explain what a JB pickup sounds like so I won't go into detail. Let me just say that the mahogany/maple + Seymour Duncan JB pickup combination works its magic here too. IF you love rock, metal or anything in between and you prefer passive pickups over actives, I think you should give this guitar a go, especially when you are into the more heavy tones. The Dragon allows for a wide range of styles and the Fernandes can handle it all quite well. The only thing that didn't come out probably was choppy ska/reggae tones. I had to adjust the amp to get that sparkle out of it, so if that is your thing don't get this guitar, unless you are willing to put some split coils in. I won't claim it to be a versatile guitar. It is, in its own way with the sustainer pickup, but if I would use the neck pickup a lot (which I don't) I would not buy this guitar. It's a fun thing to use, but it's a rhythm machine more than anything.
The sustainer works fantastic though. For me, cause I tend to do long feedback notes in certain parts. If you don't then I really don't see any use for it and you would be better off with a nicer sounding bridge pickup.
Action, Fit, Finish:
I can't say much about the action. I guess it was properly set up 'cause it came tuned out of the box and had little or no fretbuzz, but I didn't play it for very long. My tech took it straight away and set it up to my liking. It's in perfect state now and it seems to hold up good, so no complaints. The locking tuners help, as does the Tremnut and the solid hardware so I have no other remarks but "yay".
The finish is perfect. It has a thick lacquer (I think) coating. I compared it to my H-1000 and I think I like this a bit better. The coating is thicker and feels a bit stickier which is what I prefer. I have to note that the neck is coated as well which I don't mind. I know some people do (you shredder types) so try it, first would be my advice.
The neck is 45mm width (a bit thicker than an EC1000 which is 42mm I think) and flat, more or less like a EC1000. I like the feel of it, although I wouldn't have minded if it was a bit thinner, merely because I now have to adjust a little.
Reliability and Durability:
it's built like a tank. Offcourse anything will break if you throw it hard enough, but if you treat it like you should treat a guitar, this thing will last you a lifetime. You get proper wood, proper hardware, proper soldering, proper coating, and proper construction for a proper price. No reason why this should not hold up on stage. I haven't gigged with it but it will see a lot of stages this summer so if anything weird comes up I will post it in this thread.
One thing that I notice is that the pots are a little more elevated from the body than what I see on most LP shaped guitars. The body is curved, so the pots are stacked a little higher than most. This makes them seem fiddly although they are not. There is no lateral movement in them; they just stick out a little further making them look cheaper than they should.
Impression:
Well, I have said it before: Fernandes impressed me.
I was looking for a Les Paul style guitar with a simple button layout, which is what I got here (if you don't count the sustainer switches).
All the features on this guitar are standard but they didn't cut any corners. The abalone is true inlay, the hardware is solid, and the switches are sturdy and feel tight, no sharp edges on the frets. Everything feels solidly built. I opened her up and took a look inside and from what I know of soldering this is a solid job. I found out this morning (not sure if it's true though) that this series comes from the same factory production line as LTD's 1000 series. I wouldn't be surprised as I think the quality and features are very alike (as is the price I think). Either way it is definitely up there with low end ESP's, high end LTD's, high end Schecters, etc etc.
The only thing I could point out is that there are one or two knots in the maple cap that are in the wood grain. I personally like it –esthetically-, but it could be pointed out as "something less than AA wood".
The bottom line for me is that it's funny that Fernandes is less popular than LTD, who seems to be their biggest competitor. Quality-wise there is no justification for this. They are up there with the best. The only reason is probably a marketing angle that Fernandes seem to have missed: LTD's are abundant, better endorsed, and simply easier to try and like.
However, if you are in the mood for a little experiment and you want something that others don't have for hardly any price difference and at the same quality and playability, then there is no reason why you should not try one of these sweet babies.
They come highly recommended.
Last edited by xl999 at Jun 26, 2010,
Splaff.
EDIT: but seriously datz nyc,, the top curve just puts me off

HNGD! Sounds like you got what you wanted. The only con, for me, is the binding. It reminds me of my Schecter HellRaiser.

A beast, with gaudy Abalone binding.


Join date: Jul 2009
310

IQ
love that flame/quilt. HNGD!

Join date: Jul 2009
110

IQ
havent seen a fernandes NGD in a while. i like it! could you take a picture of this nut and maybe a bit more of the fretboard?
havent seen a fernandes NGD in a while. i like it! could you take a picture of this nut and maybe a bit more of the fretboard?
will do! let me get a batter ca, I will post them asap.
Happy new guitar day, nice freakin guitar, I've always wanted to try on e of the sustainers. Let me know how it is?

Join date: Aug 2009
30

IQ
Thats one of the nice quilt maples ive ever seen love the colour too. but could you briefly explain what the sustainer actually does or sounds like as i havent been able to nail down a description or one to try, thanks. Happy new gear day aswell dude, lovely guitar.
Thats one of the nice quilt maples ive ever seen love the colour too. but could you briefly explain what the sustainer actually does or sounds like as i havent been able to nail down a description or one to try, thanks. Happy new gear day aswell dude, lovely guitar.
thanx guys!
the sustainer pickup is basically just a normal humbucker pickup, in this case in the bridge position, but with a little extra. it works like a normal pickup, but when you flip the switch it becomes something like an e-bow. i think the magnetical current is boosted (the guitar has a 9v battery compartment) allowing for a constant feed between string and guitar. you can actually see the string vibrate when you hold one note. this way you can sustain for ever. literally!
there is another switch which, when you flip it, raises the harmonic so you can switch between 'standard' feedback and an octave higher. cool stuff!
here is a little demo:
http://www.youtube.com/watch?v=OKLBMGcwtnA&feature=related

Join date: Dec 2008
80

IQ
The sustainer pickup is in the neck position. It uses the signal from the bridge pickup to work somehow... i forgot the specifics.

Anyways, HNGD! Looks nice.
could you take a picture of this nut and maybe a bit more of the fretboard?
this isn't 4chan

wow that's nice.