What guitar is this? (Gretsch?)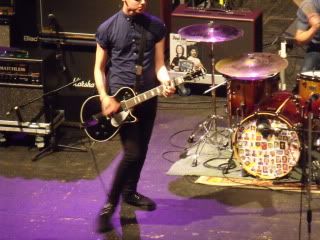 Saw a band called sharks last night. Thought the rhythm guitarists axe was pretty suhweet.
Heres what i remember:
Black body
white pickguard
woodgrain/red round the back and on the back of the neck
tailpiece
looks like humbuckers
chrome tailpiece.

Join date: Jan 2010
10

IQ
Yea looks like a Jet. But Ive never seen one with a binding before

Edit: nevermind, I just didn't notice they had bindings before now lol!
Last edited by RockRoots42 at Jun 27, 2010,
Gretsch 6128 Duo/ Power Jet
There are single coil (DynaSonic) and humbucker (Filtertron or PowerTron) versions.
The one in your pic looks like having DynaSonic pickups.
Last edited by Tinderwet at Jun 27, 2010,
i usually dont like gretsch's but that looks frukken sexy