Tubes
View poll results: What Brand of Tubes do you use?
| | | | |
| --- | --- | --- | --- |
| Mesa | | 2 | 10% |
| Groove Tubes | | 2 | 10% |
| Sovtek | | 2 | 10% |
| JJ | | 9 | 45% |
| Other(Please specify) | | 5 | 25% |
I've been told Groove Tubes suck. And JJ's seem to be very popular.
A variety. I use two Tung-Sol 6L6es in the power section, a Tung-Sol 12AX7 in V1, Mullard in V2 and a Penta in V3.

In my opinion, one should never use all of the same brand of tubes; it's just begging for sub-optimal sounds. Why do 'one size fits all' when you could use what matches best?

Join date: Mar 2009
120

IQ
I don't use any of those.

I have a nice vintage Mullard ECC83 for V1 and Shuguangs for V2 and the phase inverter, SEDs for the power amp.
Funny how mesa and groove tubes are rebranded sovteks and JJs.
No tung-sol, EH, shuguang, svetlana, or TAD? They, along with sovtek and JJ, are pretty much the only new production tubes that are not rebranded.
I use JJs and NOS tubes, almost exclusively.
When I bought my Marshall TSL100, it had been retubed with Mesa valves. I don't know what was there originally. I haven't had to change one of them yet.
Join date: Mar 2008
780

IQ
I've been told Groove Tubes suck. And JJ's seem to be very popular.
what do you want to improve on your tone and what amp do you have? location?
nows not a good time. i may be completely retubing my vtm, or getting rid of it. If I do I think i'm probably going to go with JJ 6l6gc's in the power section, and Sovtek 12ax7lps' in the preamp.

My only other amp is a Marshall AVT50. It's hybrid and only uses one 12ax7. I put a Mesa 12ax7 in when I got it, and it definitely helped a lot. If I end up keeping it I might replace the Mesa with a Sovtek lps, atleast thats what my friend told I should me be using(dude is a huge tone nerd).

Also I play mostly Hardcore and Metal, but I also play emo, grunge, alternative, classic rock. Pretty much any of the bands in my profile.
Last edited by handbanana at Jun 28, 2010,
Join date: Mar 2008
780

IQ
what do you mean now is not a good time

maybe chat with forsaknazrael, he has a VTM. I forgot that is what you got

rca blackplate for preamp tubes or jan phillips 12ax7s
rca blackplates for 6v6s
svetlana 6l6s
mullard xf2 el34s
how do you like the svetlanas? i've heard mixed things. on eurotubes they pretty much say everything but jjs are trash
That's because all they sell are JJ's.

But JJs are great tubes. I prefer SED EL34s and 6L6s but their EL84 is great. I've got a pair in my Blues Jr. right now.
oh I meant to say sylvania. stupid russian all their words look same.
these are pretty classy 6l6s.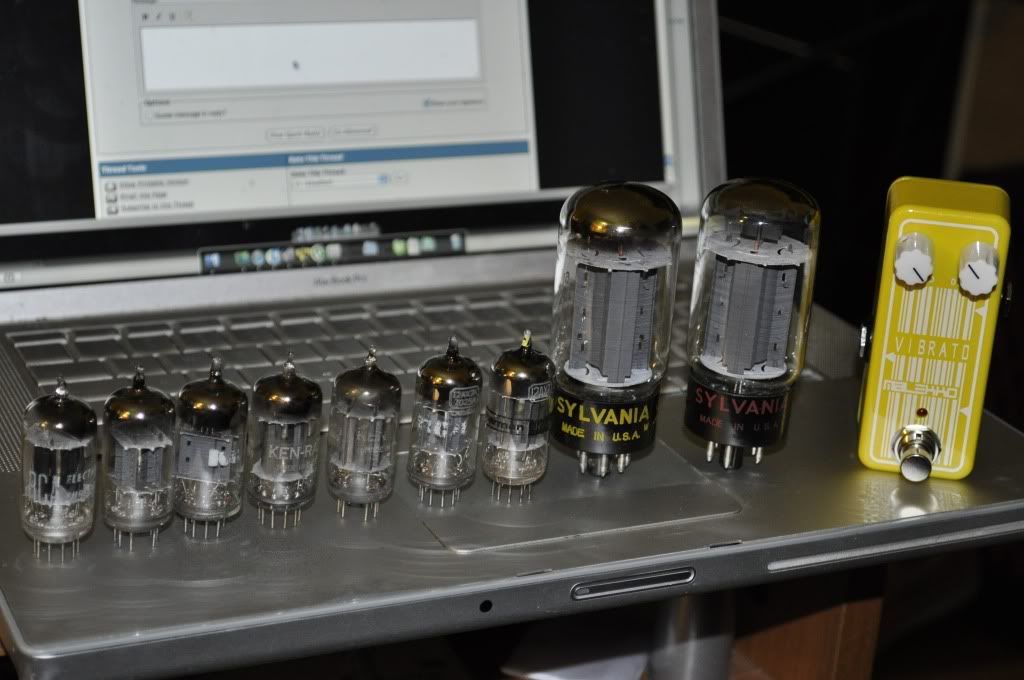 I've been told Groove Tubes suck. And JJ's seem to be very popular.
Groovetubes take valves from various manufacturers, test them, match them both electrically and sonically and then relabel them. The label denotes who the manufacturer is. ie S=Slovakia (JJ), C=Chinese (Shuguang) etc. Their site says which is which.
An S series Groovetube is the same as buying a JJ except it has been matched better. You've been told a load of bollocks. Is the extra cost for the better matching worth it? I dunno, I just buy JJ's (or Tungsols or NOS or ....... depends on what it is and what it's going into)

He could have reduced that to 5 words:
"Everything but JJ is crap"
Last edited by Cathbard at Jun 29, 2010,

He even says he's not a tech.

don't dismiss groove tubes out of hand though. back before they were bought by fender they did make some sweet mullard reissues.