What makes your guitar, yours?
Despite the fact you paid for it.. yada yada.
What's so special and unique about your guitar that it's yours? Why is no other guitar like it?
My 'Tokai Love Rock' has a really beautiful Amber -> Wine Red burst with a really clear flame underneath which I haven't seen on any other LP with my own eyes. It's very much like this;

What makes it mine?
On mine I have changed the hardware for gold which I thought matched the burst colour and the tone knobs better than silver (I've always like gold hardware). The truss rod cover is also gold.
Next week I'll be installing some IronGear Rolling Mill pickups, so this is going to be the dog's b
oll
ocks (again with gold covers).
Mine doesn't have the pickup selector ring around the switch, I took it off alá PRS. When I took it off I chipped the paintwork a tiny bit around the switch, slightly disappointed at first but after a while I've kinda grown to like it.
I used to have a big dragon vinyl on it, which I have recently taken off (I thought it hid the flametop too much).
This was it;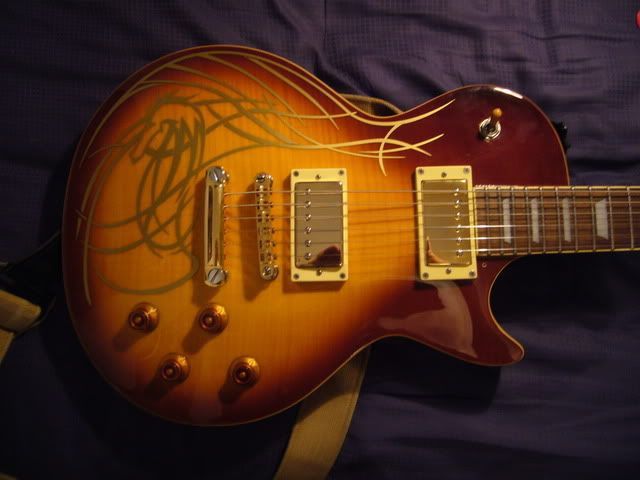 Photo doesn't do the flame justice

.
So, EG.. what makes your guitar uniquely yours?