Ibanez Destroyer Build
This will be my first guitar build. I'm a newbie with everything from wiring to painting to installing a trem, so some help along the way would be much appreciated. I'm building an Ibanez Destroyer, because I like the shape, and because Phil Collen and Adrian Smith are among its users, both of whom I admire and have seen live, the latter I will be seeing a second time in Toronto on Saturday. Psyched. Photos are off of my cellphone and are a bit more blurry, which is odd because my Omnia II has a 5.0 mp camera. Anyways...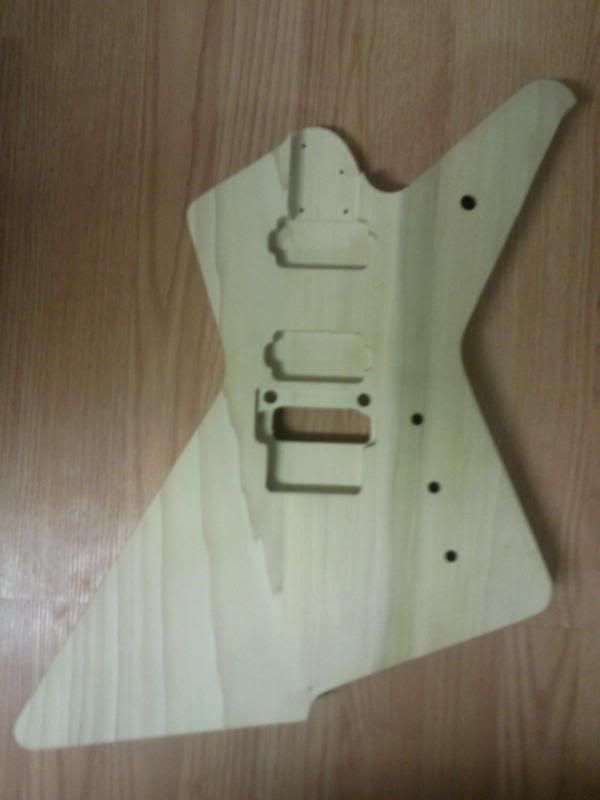 I chose a poplar body off of eBay for $120 US plus ~$50 shipping/customs to Canada. Not too bad, it looks badass and is all good construction-wise minus the fact the neck I bought doesn't fit in the pocket, so I will have to shave off a bit.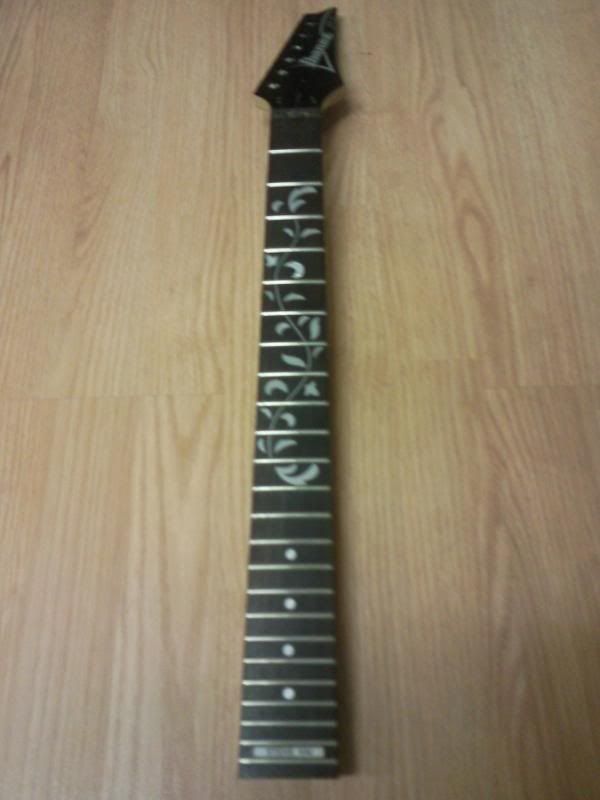 The neck was quick decision. Searched Ibanez neck on eBay and this popped up with less than an hour to go and I always liked the vines, and I like the Wizard neck on my Iceman, 24 frets, good to go. It's a Jem555 and I also got it for $120 plus $20 shipping and no customs at my door either. The fewer vines and dots combination I really like as well, because I like having visible fretmarkers on the upper frets, so that's a bonus. Don't really listen to Steve Vai but he's obviously incredible, so I don't mind having his sig on the 24th fret, although I may cover it with something custom.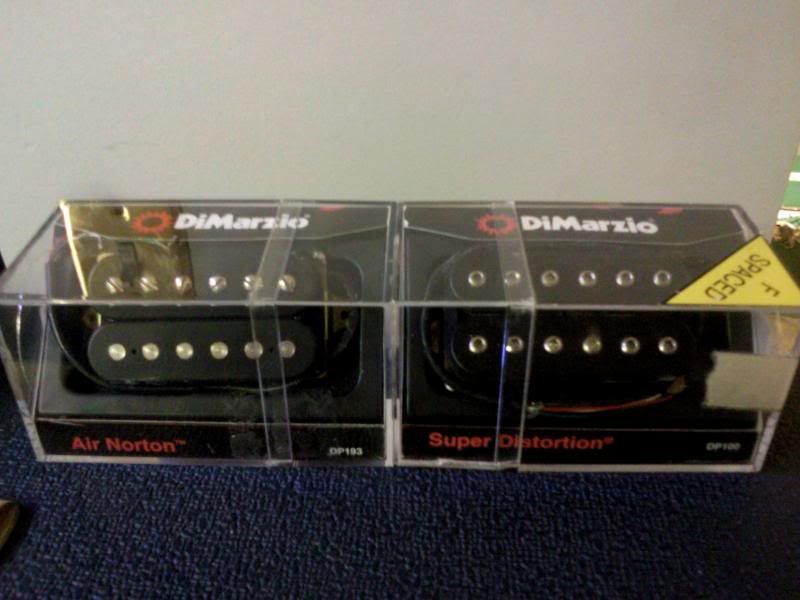 Pick-ups were a no brainer, although I would have liked some nice colored ones DiMarzio offers. It's an F-Spaced Super Distortion for the bridge and Air Norton for the neck. Got them off of craigslist this time, for you guessed it, $120 for the pair. All my favorite guitarists use them and I've heard great things about them, so I should be happy with these.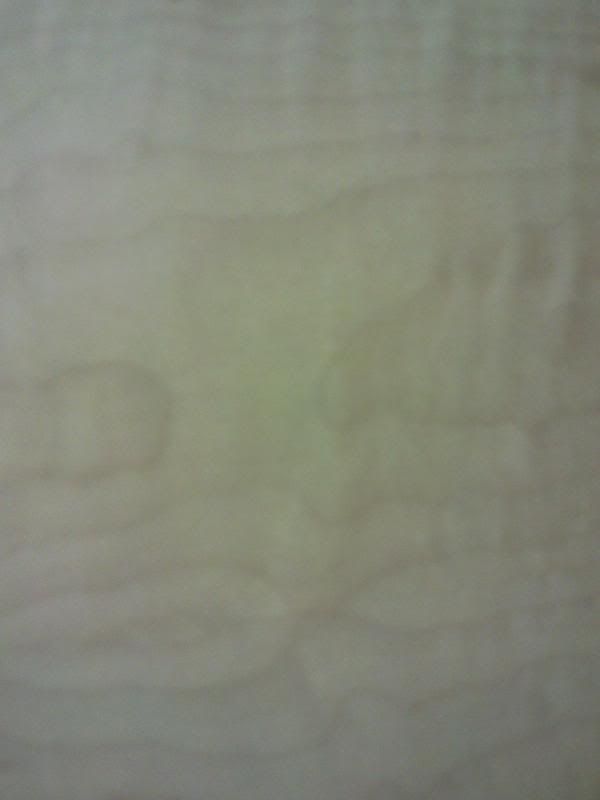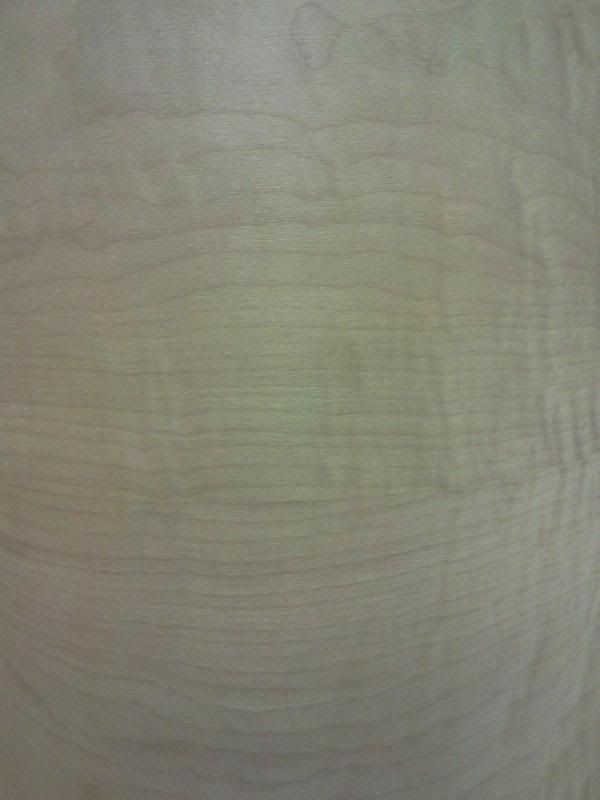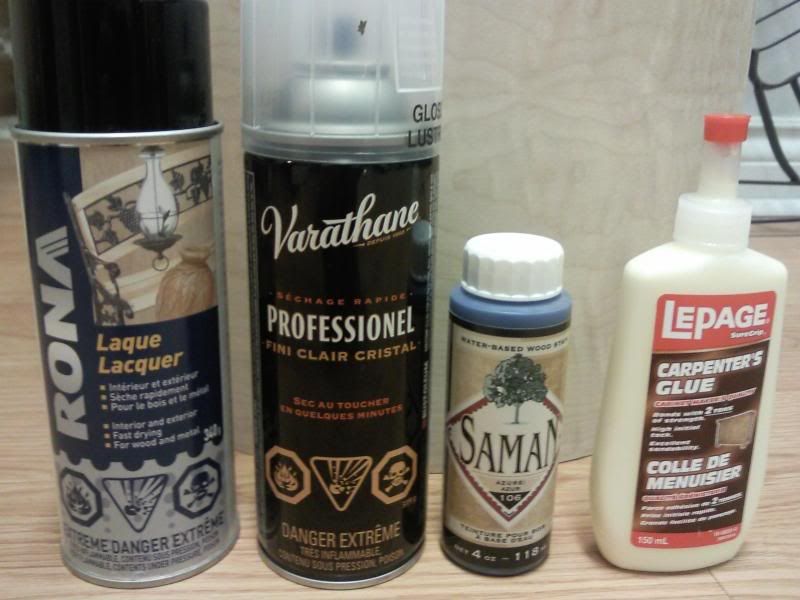 I went to Rona for my painting supplies, picked up a Maple Veneer, got like 8 feet of it for about $40 bucks which was a bit of a ripoff considering I don't need nearly that much, but I had few other options and wanted maple so at least I got what I wanted. This particular veneer is 'pre-glued'. It is meant to iron on, don't know how well that will work but I'll give it a try. It came in a big roll, and it is currently all curled up and awkward. I got blue water-based stain, a can of oil-based clearcoat, a can of black laquer, and carpenters glue for the veneer that I might not even need if the iron-on application works. I'm set to start painting soon. I'm following very closely a few videos on YouTube, this guy built a guitar close to what I'm aiming for ->
http://www.youtube.com/watch?v=CE2TJxlEXcg
He did a lot of extra sanding and clearcoating for the finish he achieved, so his should be a good method to follow. Not sure if I'm going to paint the headstock as well, I like the Ibanez logo and sanding it off might make me cry, plus it is extra work, so that's another decision I have to ponder.
Hardware-wise, I'm not entirely sure of everything I need but don't have to worry about it immediately. I bought what I thought was an Edge Pro off of eBay from China, but a fellow eBayer alerted me it was listed wrong and I'm probably going to get an Edge III in the mail that is going right back. Paid over $200 for it with shipping and it isn't going to fit anyways so no way I'm keeping that junk. Hope I won't get any troubles seeking a refund. I was hoping all gold hardware anyways, but gold trems are a little more expensive and definitely harder to find, but I'm going to try anyways. IbanezRules offers them for like $275 which is more than I was hoping to spend for it, and Gotoh's are available for ~$185 and the seller of the body said they'd fit but the sustain block would stick out the back. I don't know how much of a problem that is, could someone tell me if they'd work okay? I hear they're great quality so one of those would be my best bet.
So, my next step is to sand the neck pocket a bit for the neck to fit, hopefully I don't mess it up and take off too much because I'm betting that would be a problem. Once I figure out what trem I can get, I'll order all of the hardware. Any suggestions? I'll get to staining/painting, my procedure will be as follows: Glue on veneer, sand/cut electronics cavities/body, stain veneer, tape top, spraypaint back and cavities(yes, I know not to paint the neck pocket) and sand and clearcoat the crap out of it so it's nice

I'm thinking about adding a burst or painting a binding around the edge in beige probably for some contrast. How the previous steps work out will determine that. I'll get to work now. Bye.
Last edited by IcemanSOAD at Jul 21, 2010,