Ngd!
So after buying a Gibson Les Paul Custom, I thought I had found my dream guitar. Unfortunately, as the shock of a new guitar wore off, I realized it wasn't all I cracked it up to be. Just last week, I walked into my local music store and founds this gem hanging on the wall, and I knew I had to have it.
I present to you my new PRS SC-245
(my sister is borrowing my digital camera, so when i get it back I promise I will update this thread with more pics)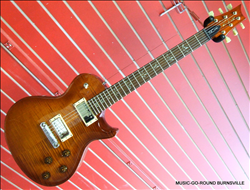 No on to the review
This guitar just plays like butter, and the 24 and 1/2 inch scale is more natural feeling to me than the 25 inch scale of other PRS guitars. But because of the different scale, it sounds different from any other PRS I have played. The construction is nearly perfect, this guitar feels solid and indestructable in your hands. But enough with the boring stuff, lets get to the tone of this beast. This is one very thick and ballsy sounding guitar. The neck pickup is very warm sounding but at the same time very clear and precise, something my LP just didnt have. The bridge pick-up is just a beast, HUGE sounding with just the right amount of brightness and crunch. I definitely prefer the control layout (2 V, 2 T) to the typical PRS layout (1 V, 1 T). It does everything I need it to, I could be playing Rush one minute, then still be confident the guitar will perform when I want to play some drop tuned Dream Theater. Although with the shorter scale the tension gets a little loose, but I easily fixed that with some .11's.
I can finally say I have found my perfect guitar, It does everything I need it to and more. Plus, it was much cheaper than the Les Paul.
Last edited by Fly-By-Night at Jul 2, 2010,
Although I'm not a fan of shorter scales in general, that's a beautiful guitar. Have fun playing it!

Join date: Jul 2008
206

IQ
ah another PRS
amazing guitars,i played just once and was blown away
HNGD enjoy
Thanks guys, I will try and get some clips up soon
Ah that looks awesome, shame about the shorter scale for drop tunings, but not a huge problem as you said.
Love it, nice one

Yah, I mostly play in standard anyway. But just like most people every once in a while I like to play in some lower tunings

Join date: May 2009
90

IQ
:O today is a good day with ngds
very nice top as well. is she a 10?
great guitars - that model obviously is geared right at the LP players. what pick ups are in it?

very nice top as well. is she a 10?

great guitars - that model obviously is geared right at the LP players. what pick ups are in it?
Yes she is a 10 top

And I believe they are 57/08's

looks like a 10 but you can't ever really be sure. great pick ups too.
post some clips when you can, and again great guitar.

Join date: Sep 2009
50

IQ
I also have a SC245 and its a killer guitar

Happy NGD!