Which of the four?

Join date: Oct 2008
580

IQ
So, essentially, I'm looking into a new guitar, and I have it narrowed down to four. I'd like UG's opinion on deciding which way to go, as 3 of the 4 I can't try before buying because they're made by Carvin.
To start off since I hate when people post without giving this kind of stuff, here be what I'm looking for, influences and all that crap;
~Genre: Prog with primarily Blues-Rock/Hard Rock/Psychedelic(So generally the heavier side of late 60's/early 70's British hippie music)/Jazz-Fusion a small number of classical and country influences.
~Sound desired; When humbuckers are used, a big, fat sound like a good Les Paul is supposed to sound. Split, something like a tele, maybe with a little more bottom-end. If there's a mid pickup then add "stratty" to the mix in addition or in-place of tele sounds.
~Amp; Fender Blues Junior
~Pricerange: No more than $1,300 preferably.
Guitar #1 is a Gibson Les Paul Traditional Pro. Normally out of my pricerange, but due to an employee discount, I get it at cost +2% from GC, which is $1,200.(Yes, a 75% markup. They may make good guitars if you sift through the QC, but Gibson does charge a lot, and Carvin doesn't lie when they tell you how much the direct-to-customer sales system saves you.) Having played it in-person I already know it suits what I desire, but I'm not sure whether or not I could get a better guitar from Carvin, as well as the fact that I can get some more options I'd desire electronically from Carvin.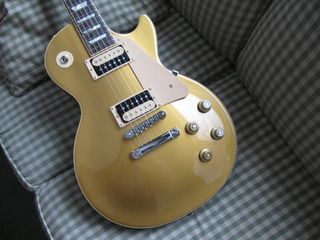 #2 is a CS4 that basically mimics this with a goldtop, an ebony fretboard, some nicer cosmetics, covered pickups and a few electronic Option 50's in the form of individual coil-splits, a phase push-pull and a Shadow killpot in the neck volume.
This is pretty much it, but with block inlays instead of dots.
#3 is an attempt to combine a strat and a Les Paul into a functional guitar, a C66 with a tremolo, mahogany neck and body with a maple top, HSH, with, again, some electronic option 50's, this time being a killpot, a push-pull on the tone to turn on the middle pickup with a three-way selector instead of a 5-way switch, two coil-split toggles and a phase toggle.
Basically that without the Floyd, chrome hardware since I know in about a year or two my sweat will corrode and/or tarnish the gold, and a few toggles.
#4 is essentially the above at $100 less at the costs of cosmetics due to being a lower-end Bolt Plus. No image since it's basically the above without binding.
tl;dr, Gibson Les Paul, Carvin Les Paul, Carvin superstrat and slightly less expensive, less sexy Carvin superstrat.
So, thoughts? As always, greatly appreciated to anyone who read through my ramblings and bothers to post a reply? And yes I'm aware that none of the Carvins fit the $1,300 pricerange. However two days ago I received this season's Carvin catalogue, which advertises 50% off all nonstandard options, and under that premise they all fit.
Last edited by necrosis1193 at Jul 9, 2010,

Join date: Mar 2009
40

IQ
get pics up so ppl can see what they look like . always gets ppl in the threadd

Join date: Oct 2008
580

IQ
get pics up so ppl can see what they look like . always gets ppl in the threadd
Done and done.