NAD Day! First maybe?
This is it, the amp I've been waiting for months for. A Mesa Electra-Dyne! Picked it up used this morning and it is in absolutely brand new condition and I got it for about half of what it is new after tax. It's the 112 combo but it's in the 212 combo cabinet so it has enhanced natural depth. This one has the clean gain trim knob installed from the Mesa factory. For anyone wondering what this amp is, it is basically a single channel amp with three gain stages, that ends up sounding like 3 completely different channels and for all intents and purposes I will just refer to them as channel 1, 2 and 3 in the review.
Channel 1 is the Clean Channel and it is based on the Fender Blackface era amps, I'm guessing the Twin Reverb because it sounds similar to my Twin and when cranked you can get some perfect SRV growl. Goes from Class A type American cleans on the 45 watt mode to perfect punch on the 90 watt Simul-Class mode.
Channel 2 is the Vintage Lo Channel and it is based on a Marshall Plexi, specifically the JTM45 to my ears. It gets hot, especially when the amp is cranked past about 9:00. I think this channel would excel at rock and metal along the lines of Sleep, but with a fuller sound.
Channel 3 is the Vintage Hi Channel and it sounds like it is based on a Marshall Super Lead 100. You can get some insane clarity even with the gain cranked on this channel with the right guitar. It goes from warm and lively cleans to full on intense distortion. It get very brutal with the right overdrive. It can definitely do metal without a boost but if you want epic high gain you can just boost it a tad and you're good.
All in all, I love this amp. It's all I need and it's dead quiet even with a boost. I chose it over a Bogner Shiva, so that says something. If you haven't tried this amp, then I highly suggest you do. If you hate Mesas, you will probably love this amp and that's probably the best way to describe it. I love Mesas and I love this particular amp the most, but that's just me.
I apologize for the cell phone pictures, my dad is using the nice camera at the moment.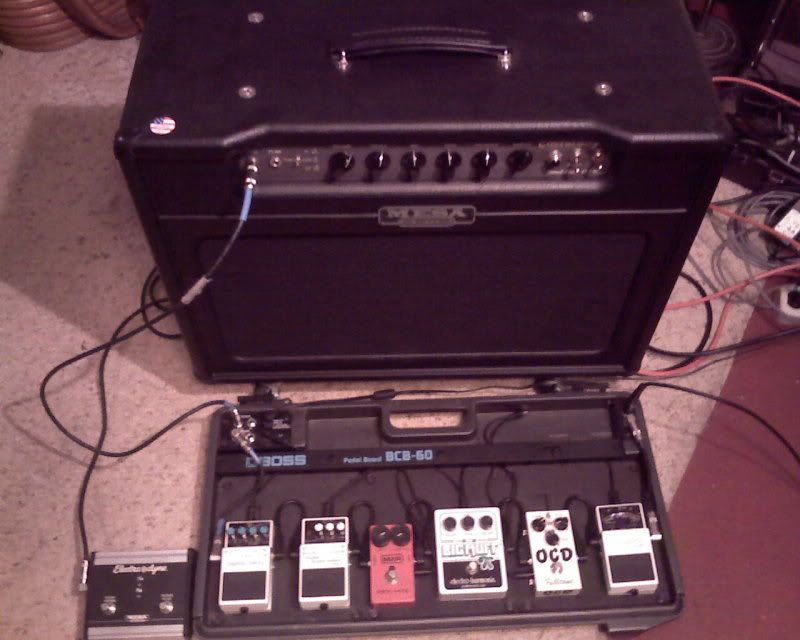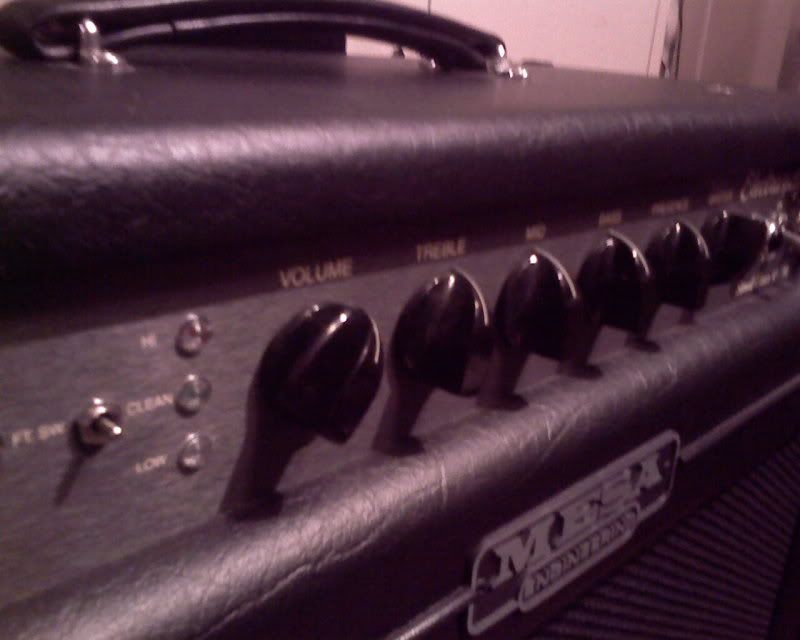 For the demo I kept every knob at noon except for the Volume (Gain) and Master Volume. The gain for all channels is set at 1:30. The fourth clip is the Vintage Hi channel cranked and the fifth clip is the Vintage Hi channel with a Fulltone OCD boost. Recorded with an Agile AL-3000 LP style guitar with a DiMarzio PAF bridge and Duncan Jazz neck. These are VERY low output pickups, so keep that in mind if you think the gain isn't high enough. The mic is a Sennheiser e609 which I'm not fond of and doesn't sound as good as an SM57, I apologize for that but it's all I have right now.
Clips are on my page under the title "Mesa Boogie Electra-Dyne 112 Combo."
or right here -
http://profile.ultimate-guitar.com/PerpetualBurn/music/play864315
Last edited by PerpetualBurn at Jul 9, 2010,