NAD and delayed NGD
#1: Line 6 HD147
A couple of weeks ago I got (one of) my dream amp(s): a Line 6 HD147. I've wanted one for about six years now but for some reason never got around to buying one before, then they discontinued it and I had to buy up the last one in the country...
This thing is unbelievable. I A/B'd the Marshall Plexi tones against my previous Peavey Windsor head (all-valve in the style of a classic Marshall) and I honestly can't tell the difference other than the background noise levels are much lower on the Line 6 (plus it technically has 32 channels instead of the Peavey's 1). The various clean tones are of course impeccable - it's a solid state amp with 300 watts of headroom so it
never
breaks up unless you say so.
Of course where it really excels are the various high-gain tones. Everything from '70s pedal-boosted plexis to modern day triple rectifiers and obscure German amps that I've never heard of but sound like hell on toast (in a good way). They've not just modelled the overall tones well, they've even modelled how the controls taper and operate for each amp. The built-in noise gate and compressor are very good, though the noise gate is a little stronger than it needs to be. The various effects are all good too, if a little awkward to configure quickly (for example, the depth, speed and volume of the chorus effect are all controlled by the one knob).
I could rave for literally pages about this amp, but I'll refrain. Suffice to say, I can't fault it. I'll try to get some sound clips or video up sometime but don't hold your breath (I'm very, very lazy).
#2: LTD H-1001
Okay, I actually got this a few months ago. But see above: I'm lazy.
I actually imported this before the new H-1001s officially hit UK shores. Normally I wouldn't bother importing, but I had the chance to grab this direct from the US distributor at barely more than cost; even with import duties it wound up being just £430 (these go for around £750 here). Quite a bargain.
Over the last few months I've been using this guitar for everything from down-tuned modern gothic metal to Bob Dylan, Japanese RnB and mid '80s Clapton; it handles everything equally well. Anyone who thinks active pickups are only for metal are sorely mistaken. With the Peavey head I got rich, thick rock and classic metal tones and rolling the guitar's volume control down brought up punchy early punk and grunge tones. With the Line 6 I'm getting literally any tone I want; the EMG's ultra-wide frequency response and even tone lets the amp work its magic to full effect.
I won't go into the full spec of this guitar because you can look it up easily on the ESP site. The construction is top-notch; it is completely on-par with most MIJ and MIA guitars I've tried and owned, at least in terms of the core construction (of course the wood quality is a little lower but that's a given). The locking ESP-branded tuners have kept the guitar in tune perfectly no matter what I try. There was no buzz anywhere on the neck when the guitar arrived until I tried tuning it down to D Standard, where the 5th and 6th strings started to buzz a little. I like mid-high action though, so I raised it to a more comfortable height for me and that also got rid of what little buzz there had been. Everything else is routed and installed flawlessly.
The best part of this guitar is, without a doubt, the compensated nut. Since living with this guitar I've found myself unable to go back to guitars with regular nuts; I've now fitted Earvana compensted nuts to all of my other guitars. Every note is in-tune - every string, every fret. I urge everyone reading this to try out a compensated nut. you'll never want to touch a regular nut again.
My one and only complaint is the abalone binding. ESP need to lose this shite. This has always put me off buying an LTD Deluxe, but given how cheaply I was able to buy this I can forgive something as inane as ugly binding.
Pictures! Well, picture for now.
I've taken a load more of the LTD looking all pretty and the amp lit up but since I'm the kind of cockend who takes all his photos as RAW format, so they take time to sort through and process which I'll do in the morning. Plus the LTD's got some dust build up around the mounting rings so I want to clear that off and take a few more first. Pretty much just posting this now as a kind of placeholder and I'll be sticking more pictures in sometime tomorrow, then if I get around to it video or at least audio clips sometime within the next two or three days.
Picture update.
Woo, pictures. Dumped the first load because the LTD really was way too dusty. Cleaned it up, took some more. Of course, trust tody to be overcast and dim. Lazy shots in the bedroom will have to do.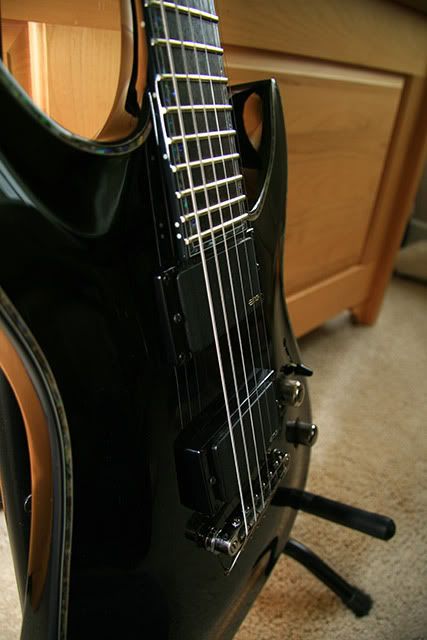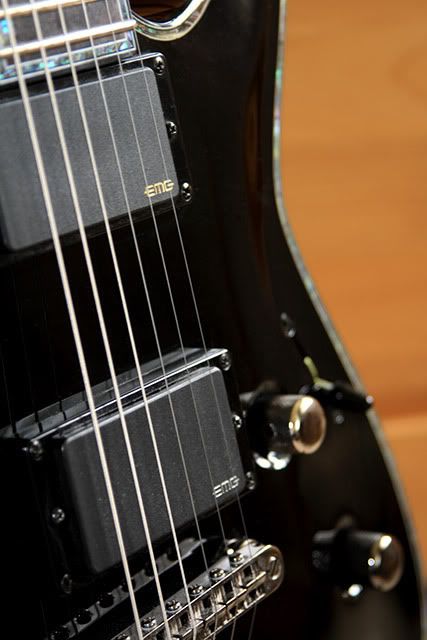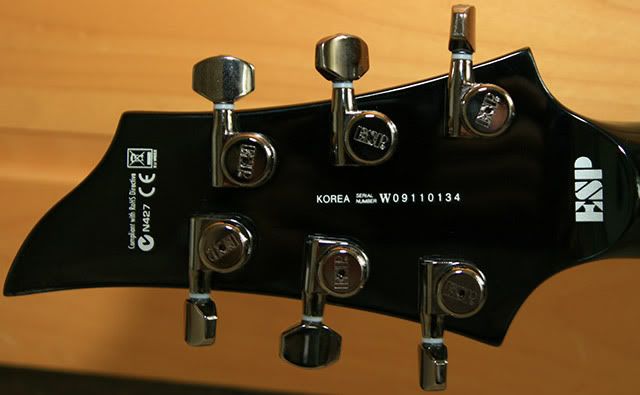 Fretboard really is unusually dark for rosewood.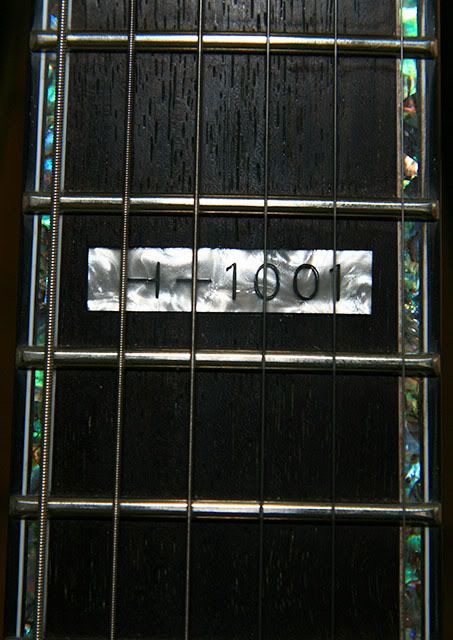 Not such a fan of the abalone obviously, but I do like the more subtle pearl inlay. Should have made the binding out of that.
Last edited by MrFlibble at Jul 13, 2010,