Ngd!
An absolute impulse guitar (but it seems the best NGDs are). Saw an ad on craigslist for a practically new Squier Jagmaster, to exchange for a new acoustic. What a coincidence, I have (had) a nice acoustic! While my acoustic was sexy and sounded good, my Yamaha F335 TBS was recently starting to irk me (I'd rather have an acoustic with a cutaway; makes it easier to get to higher frets with a slide). Plus, I've been idly looking for a decent guitar with humbuckers, and this fit the bill. And I'm going to get a tube amp soon (probably Fender SCXD), and I wanted another electric to play on it. Now to the badassness!
Is this a rosewood fretboard? I believe it is!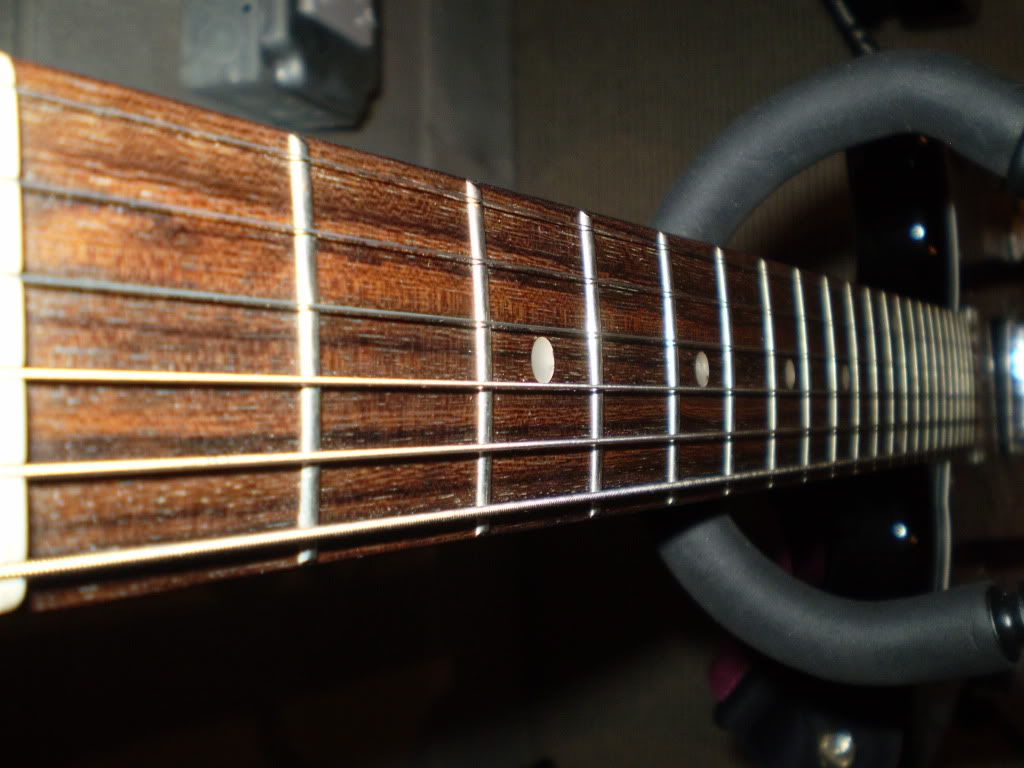 Sunburst finish, tortoise shell pickguard, dual Duncan design humbuckers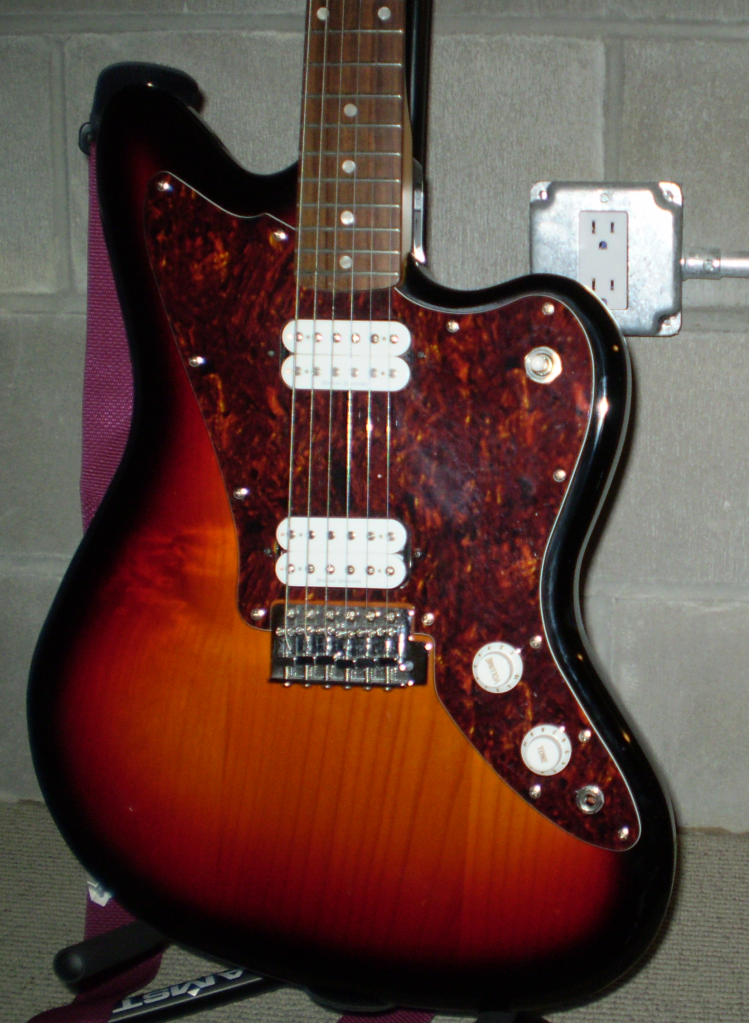 Headstock (don't judge a book by it's cover!)
Next to its big bro (Deluxe Blackout Tele)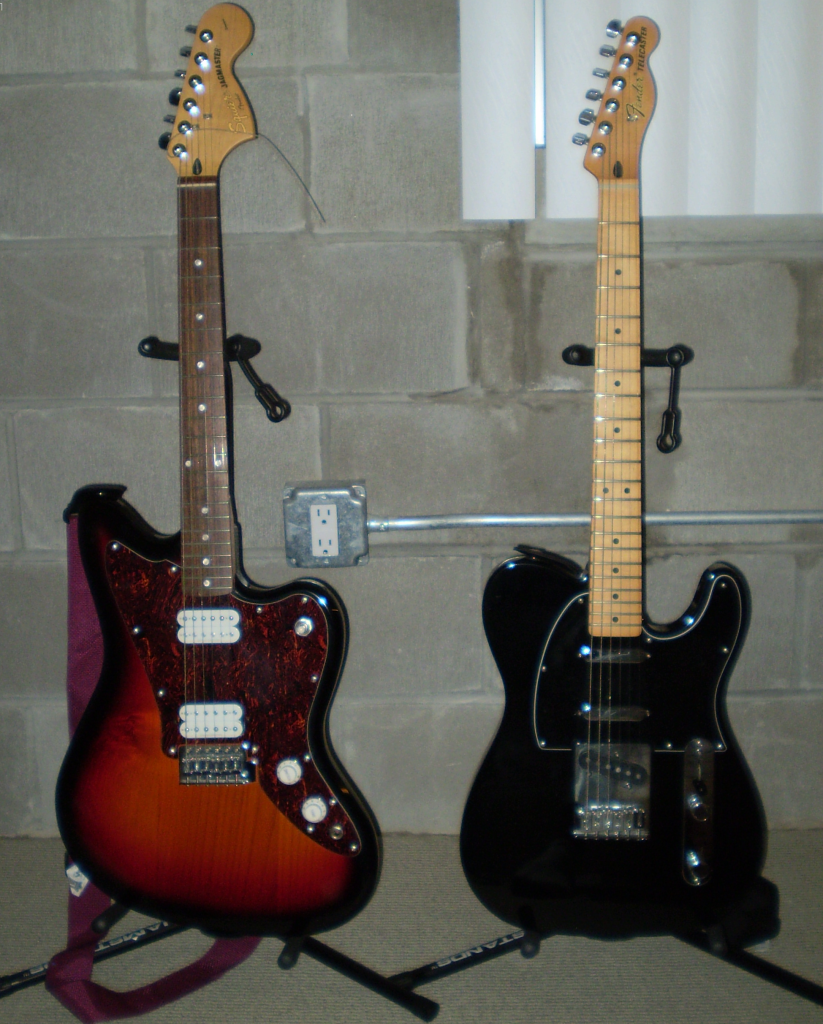 Specs:
http://www.guitarcenter.com/Squier-Jagmaster-Electric-Guitar-102809159-i1150688.gc
Review: Superficially, an extremely sexy guitar. I've always been partial to a dark sunburst, and the pickguard is icing on the cake. The guitar itself is about medium weight, I would say ~7 lbs (definitely a different feel from my 9-10 lb Tele). The neck scale is 24", but I honestly can't tell by looking at it (I had to side-by-side with the Tele to make sure - the frets are slightly smaller, but not much, and I have skinny fingers anyways). I am in love with the rosewood fretboard. I haven't gotten to try out the dual-humbuckers on a proper amp yet, but they seem serviceable for now (will probably replace in future). Sounds good on the Microcube so far, the neck pickup is a bit muddy sounding so far though (I was expecting to have to replace this anyways). Only sad thing is that it didn't come with the tremolo bar (but I'm planning to put a Bigsby on the Telecaster anyways).
The guitar was set up at a local shop. The action is a little lower than my tele (I would eyeball it at 2mm), and it is set up perfectly for rhythm stuff. Strings are a bit flimsy to me, heavier strings are definitely in order (I believe the short scale neck is part of that).
Overall: a pretty decent guitar, not the average shitty Squier (comparable to lower-end MIM Fenders, I'd say). I've played an Epiphone LP recently, and I think the Jagmaster blows it out of the water, quality-wise. Not nearly as good as my Tele, but few guitars are IMO. I still have the option to trade back to the craigslist guy, but odds are I'm keeping it. I'm really happy, because now I can use this guitar for chord work in standard tuning, while doing solo/slide stuff on my Tele in Open A tuning. Out of 10, I'd say 7-8, which is great considering how relatively little I had to give up.
Now I just need to get my tube amp (and more importantly, get back to MCAT studying).
Last edited by kreddy2 at Jul 12, 2010,
ive always love jags/mustangs/jagstangs/jazzmasters/jagmasters
HNGD!


Join date: Jul 2009
310

IQ
Very nice, I love those

HNGD!!
thanks yall. It'll need some work to get it to a good-quality instrument, but it definitely has potential. For now, it'll be a good backup guitar.

Join date: Feb 2010
90

IQ
I don't like it at all, but HNGD The shape just dosen't cut it for me

Join date: Aug 2009
30

IQ
Love Jags so much, nice colour aswell HNGD

Join date: Feb 2008
113

IQ
Post some clips so we can hear how it sounds.
Congrats, I have a thing for jags.
Jagmasters are bloody sexy and that one's no exception, good find.
Post some clips so we can hear how it sounds.
I'm really busy with MCAT studying, but I'll try and put some up this weekend. Unfortunately it'll be through the Microcube, hopefully I'll get the SCXD in the next few weeks.

Join date: Aug 2009
20

IQ
hmm ive never heard of a Jagmaster but its a beautiful guitar though


EDIT: i forgot to say: Happy New Guitar Day!!! i finally got to post mine today too lol
Last edited by Destinyrider22 at Jul 13, 2010,
hmm ive never heard of a Jagmaster but its a beautiful guitar though
Supposed to be a mix between a Fender Jazzmaster and Fender Jaguar, except with simplified electronics (a good thing; people thought there was too much going on with the Jags/Jazzmasters) and dual-humbuckers.