Any cons with cloth wiring for guitars?
Hey all, its been way too long since ive posted. but i needed to stop by for a quick question.


has anyone dealt with cloth wiring? if so, would you have done it again? Did it really end up looking that much better?


i got a few hundred feet of it for free, and being that i havent built a customer pedal in months im itching to give it a shot.


thanks all!
not really worth it to waste it on guitars and pedals. build a tube amp for it

srsly though. i've dealt with it. harder to cut to length because of the cloth. if it isnt lacquered it will snag very easily and fray very easily. such is the case with some home made pickups i have from 1960. still, it looks pretty cool.
but I wouldnt waste it in a pedal or guitar. that's almost a capital sin

i have plenty. im going to practice a little though on this guitar just because it looks SOOOO pretty!
thanks though, im really starting to notice how anoying this is.

yeah, wait until you start threading it through wire holes into the main cavity.
yeah, wait until you start threading it through wire holes into the main cavity.
most of my holes i overdrilled, thank allah

getting the leads to go into the holes of a switch cleanly was the hardest part
inb4 thats what she said

told you it was a bit difficult. good thing you have enough to practice with.
oh trust me, i have plent to practice with a good source for much much more.

i must admit, it does look alot sexier.
great, now post pics.

the wiring is not done completely (gotta drill holes in the guitar first). but i will glady take some pictures of some of the pieces once i return from getting some eats.
blah, could have done better now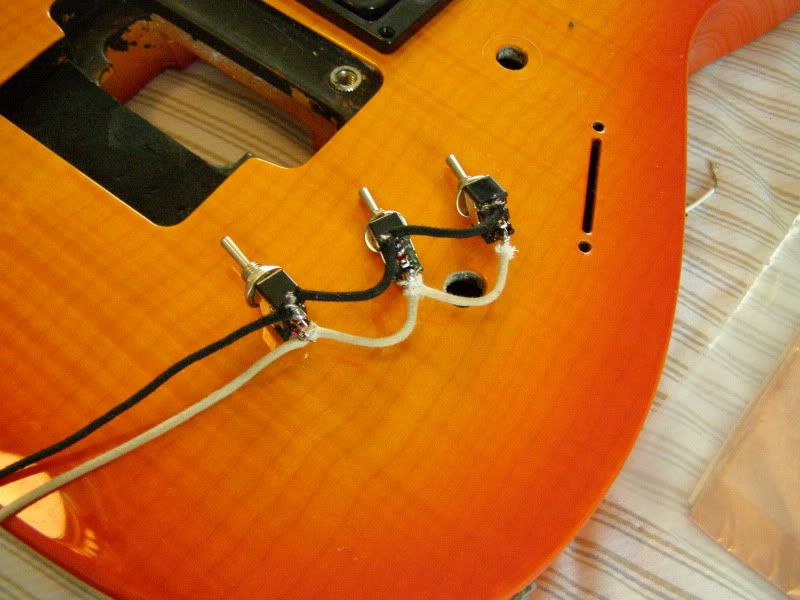 yes, they're stereo. but they will be replaced with singles once i get them. these were free.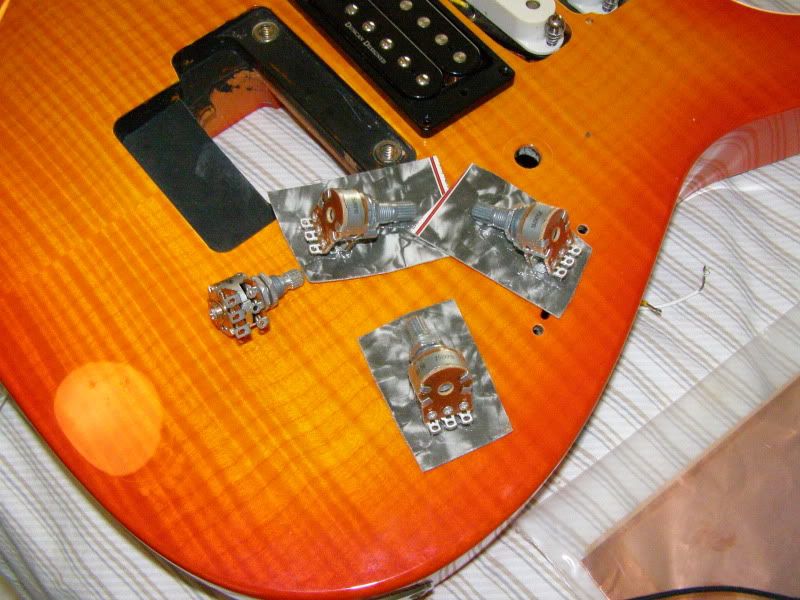 now.. i wonder what this might be used for? hmmm..
and the gorgeous DX10D dinky this is all going into.

Join date: Dec 2008
71

IQ
What is that little black bar? some sort of piezo? And I got some cloth wire from Stewmac on accident, and I think it is cheaper than buying normal wire from them, but upon it's arrival, I had already gotten some normal stuff, so I haven't used much of it. because it is the only solid core wire I have, I cut off a couple lengths just to use for bread boarding but still have a bunch left.
the black bar is a nice brand new $40 piezo i got for free :p
I personally think cloth wiring is super easy to use. It never gets caught, or frays.
Maybe I'm just lucky
or insanely talented
Looks great though!

Join date: Dec 2008
71

IQ
Huh, I had a problem with it at first cause I didn't have any good cutters, mine were dull as crap. But then my grandma, who used to solder for a living gave me all of her old stuff, as she has since retired and cannot solder anymore and I got like 10+ irons, a ton of solder and braid, a pump and a bunch of good cutters and wire strippers.

And you seem to be getting a lot of free stuff! Pots, switches, hundreds of feet of wire, peizo bars...
yeah, 90% of my problems were getting it cut right/stripped.