First Act Discovery Acoustic
I was at work one day it was towards the end of the day and had nothing else to work on so i was quite bored. A colleague of mine just happened to be across the shop unloading the back of his car at the same time. I saw a guitar neck in the back of the car in a box and thought i would ask the gentleman if i could play it for a few minutes to pass the time. Approaching the vehicle, guitar and owner i noticed it was a miniature guitar, pink in color. It had "Sar Sara" written on the body of it (the owner couldn't fit her whole name on the first try but succeeded next) with permanent marker and a large butterfly sticker to complement the pink colored body. A 5 year old girls delight, not my style although some of my best friends would tell you otherwise. This wouldn't stop me from milking a bit of entertainment out of it, considering the half an hour of otherwise boredom that lay ahead of me. I asked the gentlemen whom the guitar belonged to as I noticed the strings were all very loose and completely unplayable as they sat; high E string dangling broken in the tuning peg. He said it used to be his daughters but it was trash and he was throwing it away right then and there. I asked if I could have the guitar if he was really about to throw it away and immediately he was more than happy to give it to me. I was surprised how easily it came into tune and stayed that way. I was totally surprised how well it actually played for somewhat of a toy.
The next day at work I went to the body shop and asked a friend of mine if he would be willing to paint one of my guitars. He said he would be happy to at the end of the day as long as I prepared the guitar and had it ready to spray. I spent the rest of the day in between jobs removing the tuning keys and strap pegs from the guitar body, peeling the stickers off and cleaning the permanent marker off. Once everything was off of the paint I scuffed the surface and taped off the nut, bridge and fretboard of the guitar.
I'm sick of typing so much, my friend sprayed the guitar with a color I picked out of a book and mixed. The mixing didn't go entirely right but I really like the color. I thought with such a nice new look it deserved some new tuning keys. I bought a set of Ping Classic-Standard's. I began to install them in my freshly painted mini acoustic but they stopped about half way through the head. I wasn't putting a ton of force on them because I didn't want to bend the gear platform or chip the paint on the head. I remembered my miniature file set that I use on jewelry and random metal art projects and figured they would be perfect to clean the holes in the head up a bit. Putting the keys back on I realized the string hole was so low down on the post that it is half way into the head.
I'm not sure what to do now except maybe file a sort of beveled edge on the upper inside edge of the holes and have the strings sit partway in the head. Any and all opinions welcome!
Has anyone else had a bit of fun with one of these?? Or am I crazy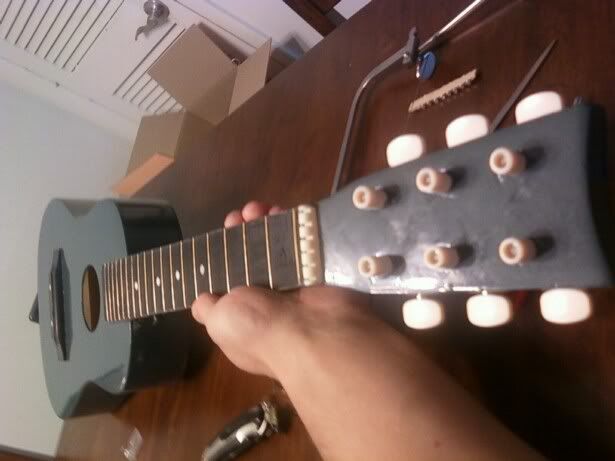 Last edited by JLink3 at Jul 17, 2010,

Join date: Aug 2005
210

IQ
great story. i like reading backstories.

maybe you could drill and file another hole in the tuner shaft or smt.

Join date: Jun 2010
10

IQ
"im sick of typing so much" lol.
filing the hole upwards (like u said) may be ur best bet, or buy new pegs..or whatever u call them
Thanks very much, I thought about drilling the posts as well but theres a steel piece running to the top of the post and I don't have a vice on hand, unfortunately. There's a picture now so you know what I'm talking about.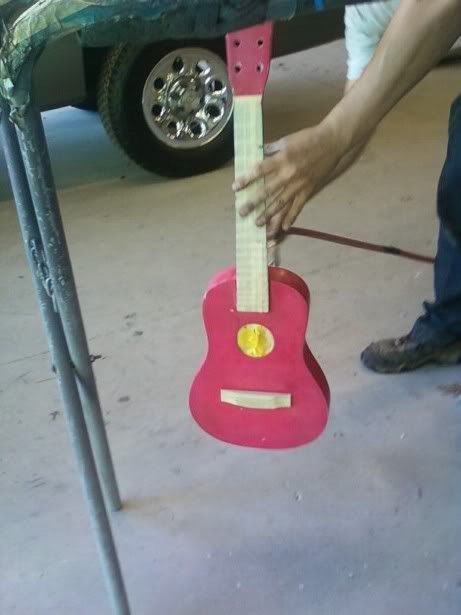 Last edited by JLink3 at Jul 17, 2010,
Done for now. The holes in the head now have a widened beveled edge, it strung up perfectly. I tuned the guitar, let everything settle into place and retuned it. I've been playing only this guitar for the last day, probably around 4 hours total playing time and it hasn't needed to be tuned yet. I must say for about $19 invested i'm pretty satisfied.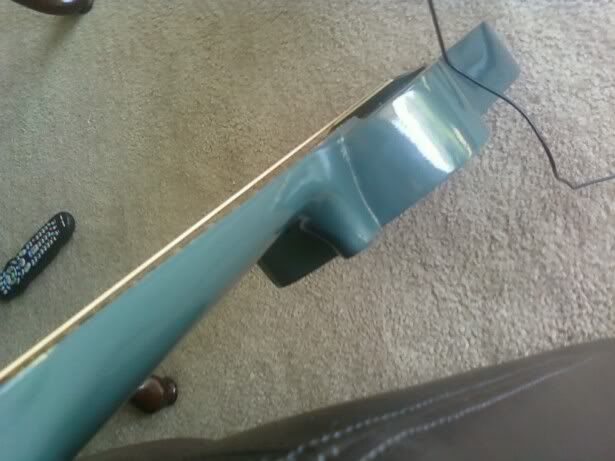 Last edited by JLink3 at Jul 18, 2010,
Randomly found guitar project = best guitar project.
dude, you should put a SC pickup and an acoustic pickup in it! the acoustic in the soundhole (duh) and the SC just below the soundhole.
just an idea, thats what im doing for my next project. cept mine is gonna be a full sized 12 string
actually, scrap the acoustic pup, if you put 20 bucks into this just go and buy one really cheap SC, like an Allparts one or something. Wilkinson or whatever. i saw an Allparts standard SC for 12 bucks. you just gotta buy one pot for like 5 bucks, a wire, solder it all together, drill a few holes and pop everything in!
thats a sick idea man, i like that i may do it with the full size i was given a couple weeks ago but this ones staying next to my toolbox at work(no amp unfortunately). i've been playing on and off all day no tuning necessary!
you can use my idea, just dont add velvet-y fabric and a handpainted picture of Death smokin a joint. cuz then in about a year or so thatll be copyright infringement

hahaha just kiddin ya