Dean Mach V Neck-Through

Join date: Jan 2010
20

IQ
Alright, so I am still very new to making guitars, but on my first I have learned a lot of things to do and not to do. I may be coming into possession of a very very nice planer. I decided after I get that I am going to build a new version of my favorite guitar.

This guitar is a dean Mach 5
The guitar is a set neck 6 string
Mahogany body/neck with a Rose wood Fretboard.
1 v 1 t and a 3 way switch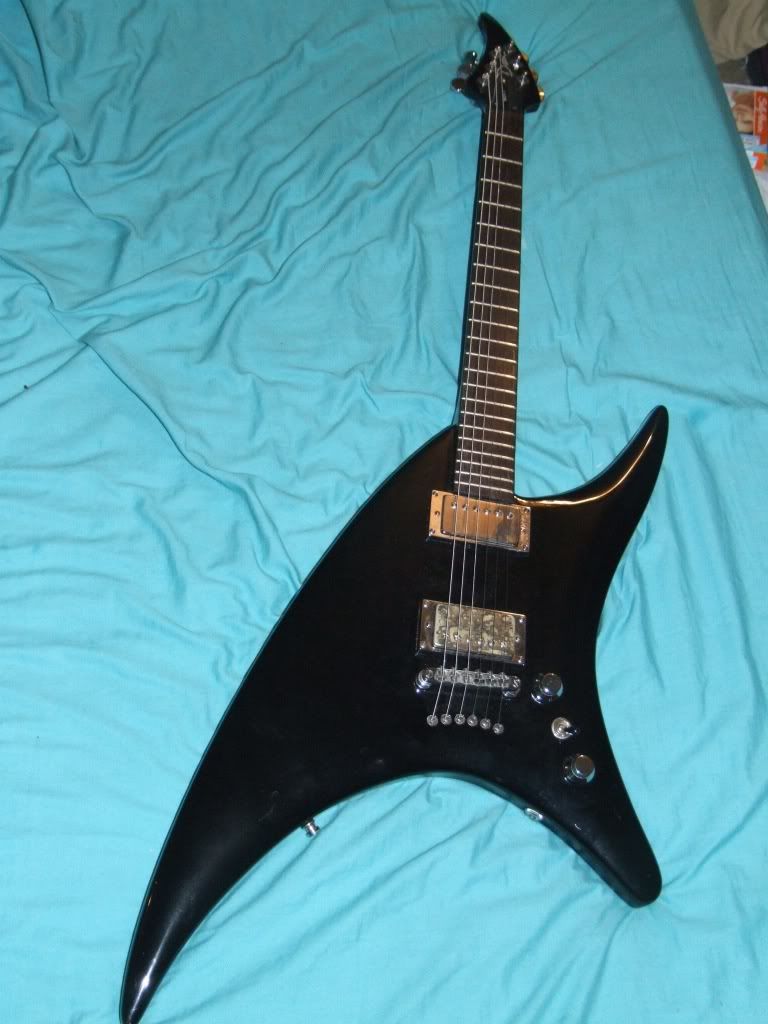 Now I bought my dean for about $600 I'm going to guess between 7-13 years ago.
I did not pay an unbelievable amount of attention to this guitar for a while, as I played Strats and Les Pauls. A about four years ago is when I really started yearning to be a true musician and not just a cheep guitarist. with this enlightenment came the search for perfection. I had barely realized that what I wanted was downstairs in my basement, stuffed in a gig bag. I took my Bare Knuckle Mule out of my strat and dropped it into this Mach 5.
Since that day, no guitar I've played has felt more natural or perfect in my hands. I have loved this guitar and given its innerds a revamp. The mach 5 now has the old BKP Mule in the neck position with a Bare Knuckle Nailbomb in the bridge. This guitar is just amazing, giving a wide range of tone suitable for anything from Metal to Blues and even playing old country in my grandparents (The good stuff like Cash) I only lack a few pieces from making this guitar exactly what I want. (Tone Pros/GraphTech bridge and Graphtech Tusq DLX Nut)
Now, as I learn to build guitars, I want to challenge myself to build this guitar again. My other guitar build has taught me many things, most importantly that building a guitar can be so frustrating and stressful, but at the same time give me such a sense of accomplishment as I form a guitar with my own hands. Guitars are probably the most central part of me, just like music, and to build one, especially one that I already have such history with, will be an experience that I am sure I will already treasure
I'm sure by now, you've gotten tired of my musician's life story so here is my project:
The AX Mach V
This guitar will be a neck-through made of Honduras Mahogany and Wenge
2 Humbuckers - I may use the same combo as my original Mach V or use a brand New combo to give me more tonal options
1V 1T(.0047uf cap) 3 Way pup Selector
I am going to try out an EMG afterburner in a different guitar and if I'm extreemly satusfied with it I may add one to this guitar.
Another idea I had for the Mach 5 but would be far easier to do in my Mach V is the GraphTech Piezo Bridge. I love to get a more acoustic tone sometimes. I know it is nothing compared to a real acoustic but I have heard they're good. Well I think that pretty much covers the guitar. Also the hardware will me half chrome/nickle and half black. (Pups I want to order with black covers and chrome screws) I found some neat looking pewter pup rings. I want to use metal rings so I will probably give these a show and see how nice they actually are. If they're no good, than the metal rings from Stewmac will be used. Thanks for listening!
Any thoughts please let me know!