NRED! ... But I need some help
New (first) rack effect day!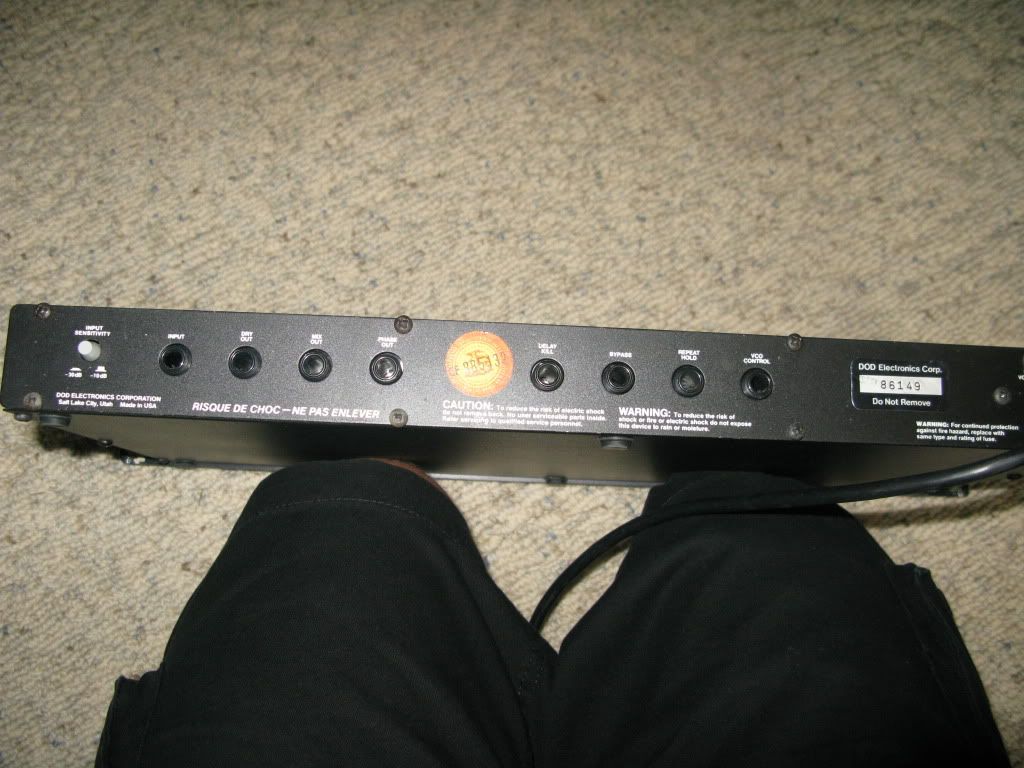 I picked myself up a Digitech RDS 1900 Digital Delay for a whopping $20 off of craigslist. For $20 I figured hell, I could sell it for more if I really don't like it.
The front of it is pretty simple, with controls like Speed, Width, and Delay Time. You can also change the effect into something such as a Flanger, Chorus, 'Double' (?), and Echo setting.
Now to where I get confused.... the right side of the front and the entire back side:
-The front has an
'Invert Feedback' button
, and
Feedback, Output Mix, Output Level, and Inpute Level knobs
. What exactly do the first 3 do?
-The back has the following:
Input, Dry Out, Mix Out, Phase Out, Delay Kill, Bypass, Repeat Hold, and VCO Control
Could someone please tell me what the hell any of those things do please?! Also, I would I set this up in a rig with a TS9 and NS2 pedal.
Thanks

Last edited by polishedbullet at Sep 8, 2010,
Feedback controls the amount of repeat. Output mix is how much of the output is wet (delayed signal) or dry (un-delayed signal). Invert feedback puts the feedback at opposite to what you have it set at.

Does your amp have an effects loop?
Yes it has an effects loop Send and Return
Feedback is the amount of repeats
Output mix is the mix between the reapeats and the dry signal (dry meaning your uneffected guitar sound)
Output level is just a master volume
Input level is the gain
I guess the invert feedback thingy is for making reverse delay sounds but I could be wrong
The Input, well it's where you plug your guitar

Dry out outputs only the dry signal
Mix out outputs everything (dry signal and reapeats
I don't know what the phase out and delay is
Bypass is for pluging a footswitch that will switch the effec t on and off
The repeat hold would be for pluging a footswitch to go in infinite repeats
I think the VCO would be for an expression pedal but I'm not sure
I hope I helped, that seem like a really cool unit

Plug the effects send into the dd's input, and plug the effects return into the Mix Out.

The 'bypass' controls whether the effect is on or not.
Can I use the 'X-pattern' on my Boss NS2 with this?

I have a Tubescreamer going between guitar and the input on my amp, with the NS2 going through both the front and FX loop.

I just need help deciding where all the cables go..
Can I use the 'X-pattern' on my Boss NS2 with this?

I have a Tubescreamer going between guitar and the input on my amp, with the NS2 going through both the front and FX loop.

I just need help deciding where all the cables go..
The NS-2 would go before the delay.
So you'd be plugging the NS-2's output into the delay, then hte "mix out" into the effects return of the amp

Join date: Jul 2009
310

IQ
Score $20 bucks lucky you!

HNRED!
Wisdom teeth are coming out tomorrow, so I won't be able to mess around with this thing until at least Friday. Looks fun though, I've never seen a video or much of anything about this anywhere.
I just remembered about this thread and decided I should give it a nice review, since I've actually used it since then

So here it goes...
-Flange, Chorus, and Double - 14ms/56/225ms delay. Provides just a tad bit of "fullness" to the overall sound but doesn't do much to make a big difference in the output. Double has the biggest difference because of the delay time, and that is probably what I'll use most if I use it on a gigging basis.
There are also Speed, Width, and Delay Time knobs which control the settings listed above. These do take a good bit of time to dial in the appropriate setting you want. I'd recommend not to go too high on each setting, because then it gets hard to deal with and control.
My favorite setting is the Echo paired with a Repeat/Hold button. It's more or less a looper than can give you some insane sounds. It's pretty much impossible to explain in words, but this setting is super fun for messing around with your sound and getting some really neat licks. I could see this setting being used in a studio setting, mainly because it's too impractical to use in a live setting.
The other knobs are basically Input and Output knobs and level settings.
I have no prior experience to delays or time-based effects like this, especially when it comes to rack effects. However, this was a great deal for $20 and is great for a first-timer, even though some of the output jacks on the back did need to get explained to me

I'd rate this a 6.5/10, mainly because I'm still learning how to properly use this. It is great for anybody messing around with sound modulation and whatnot, however. If you can find something this old (mine's a mid-80s model, I believe), I'd still recommend it.

happy new rack stuff day.
if you want some badass chorus and reverb try a lexicon mx200 or above unit. great stuff.

I'm actually looking at either getting a TC G-Major for $270 and/or an Alesis Quadraverb with midi footswitch for $50.

Do any of those sound like decent enough deals?