NGD - Gibson Standard.
Hello all!
Today I did the unthinkable.....I traded my 2007 Gibson Les Paul Studio for this immaculate 1998 Gibson Les Paul Standard. I really lucked out because I was at guitar center looking around yesterday, and today, while leaving my girlfriends, I opted to go by again, and no less than 45 minutes before me, some guy traded this thing in. As soon as I saw it, I was impressed, I asked to play it, and assumed the price tag would read close to 1800 dollars. Before even looking at the guitar, I examined it and noticed that is was damn near mint....there's some belt rash on the back, but I really think thats to be expected, especially with a 12 year old guitar. I was even MORE amazed to read the price at $1400. When I saw that, thats when I thought about trading in my studio for it....its the first time I have ever thought about trading that guitar.....the more I thought about it, the more I thought it just felt right.
So I took my guitar in to them, and they offered me $600 for it, which I felt was more than fair for GC and paid the rest. So far, I love it, love it, love it.
My Gibson Standard was born on April 21st, 1998, and here she is.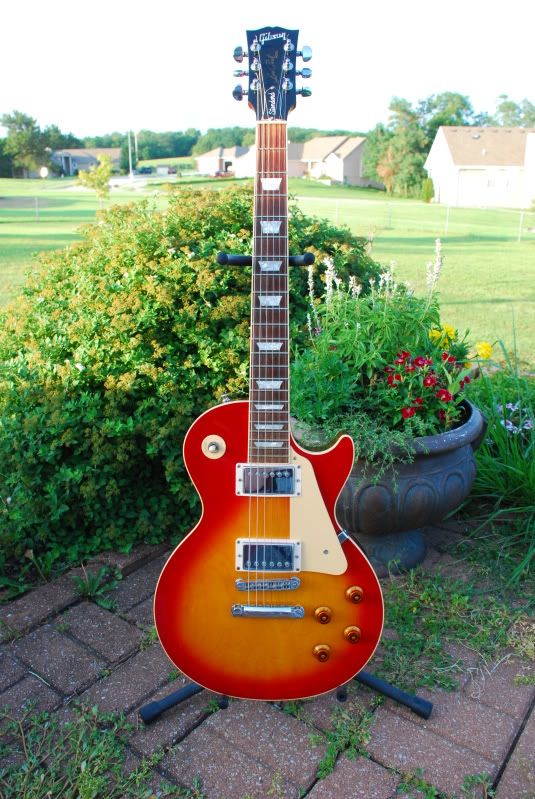 The review: There isn't much to say, its mint. Its smooth, its solid, its HEAVY. This is NOT a sissy's guitar and it weighs a lot. I like it though, its very solid. It sounds better than my studio, but I think my studio was slightly weight relieved. The finish is remarkable, like I said above, slight belt rash, but other than that, there isn't a mark on her. The neck feels great, its very smooth. I did take the original speed knobs off and replace them with tophats. The pickups are all original and very chunky, exactly what you'd expect of a les paul of this caliber.
Overall, I couldn't be happier, the studio will be missed, but this guitar brings on a new era of my guitar work and I am excited to spend more time with her strapped to me.
Sexy.


Join date: Mar 2009
100

IQ
B. E. A. Utiful. Happy NGD man, that burst is amazing.

Join date: Feb 2008
30

IQ
Cool beans. Have to say, I don't like the finish. Cherry bursts just aren't for me. But this isn't about me, now is it? HNGD!
Very nice guitar. It should last you a lifetime.
BTW All LP's are weight relieved after some time in the 80's.

Happy Playing.

Join date: May 2009
70

IQ
Son today was the luckiest day of your life, congrats ya lucky SOB!

Join date: Aug 2007
40

IQ
i love it! happy new guitar day
You got GC to give you $600 for a used LP studio? Damn fine bargaining. HNGD!
hngd

that last picture, its as big as a tree!? nice face book angle!
they tried to give me $495 for the Studio, and that wasn't going to fly! haha, and yeah, facebook/myspace angles are the way to go! hahaha. Thanks to everyone who has posted!

Join date: Sep 2008
70

IQ
That is one beautiful Les Paul!

HNGD

Join date: Jul 2009
310

IQ
om nomnomnomnomnomn daaaaayuuuuummm.

Its sexy.

HNGD!
Nice, did they come stock with grovers then or is that from the previous owner?
Beautiful

you're a lucky guy, take good care of it.

Join date: Aug 2009
30

IQ
Have fun with that man, HNGD.

Join date: May 2009
40

IQ
i jizzed in my pants!

Congrats bro....that's one hell of a deal you got....I miss having les paul....

Nice, did they come stock with grovers then or is that from the previous owner?
Honestly, I have no idea.....as far as I know, its all original, but then again, I am not expert when it comes to Les Pauls, so I couldn't even begin to tell you with any degree of certainty.