Anyone see an LP Studio... like THIS?
This is the 2nd thread I've made like this. The first one being an Ibanez of some sort with a special Kirk Hammet custom paint job of some movie... anyway...
This really has me confused. I've never seen or heard of an LP Studio like this...
http://minneapolis.craigslist.org/ram/msg/1865487974.html
Anyone have information?
thats the most disgusting thing ive ever seen.

sorry im no help : (

Join date: Jan 2009
20

IQ
I'm sure it's real, but looks like either a really odd model or someone did a bad renovation.

Join date: Jan 2008
51

IQ
Horrid, maybe a Customization?

Join date: Mar 2008
90

IQ
Its looks ugly enough to be some sort of special edition Gibson alright.
Join date: Feb 2010
40

IQ
I don't know much about old LP but i would seriously check if that's a real gibson.
Parts in Question:
Electronics (only 2 pots?)
Pickups (never seen a lp without humbuckers or p-90's)
Switch placement ?
Electronics backplate?
Truss Rod cover?
Tuners?
Inlays (not sure about this)?
Paint Job?
That looks like a dual pick-up Les Paul melody maker.

Edit: I could be wrong though, the headstock seems differant to meloday maker one.
Last edited by Michaelod at Aug 1, 2010,

Join date: Jul 2009
310

IQ
Based on the headstock it looks like an older ltd run model. I think.
its missing the tailpiece and looks like shit, it was probably stolen
Well I'm not going to buy it, but I sent him an email for a serial number and more pics.

Hopefully I'll have an email by tomorrow.
I don't remember ever seeing a guitar like that in the 1990s, so it it's legit, I would love to know more.

Join date: Jul 2007
470

IQ
I think it is real and for that price I wouldn't hesitate to buy it they are pretty rare.
Gibson Les Paul Studio Lite Pro 2
Here are a couple with a different bridge but the same pups.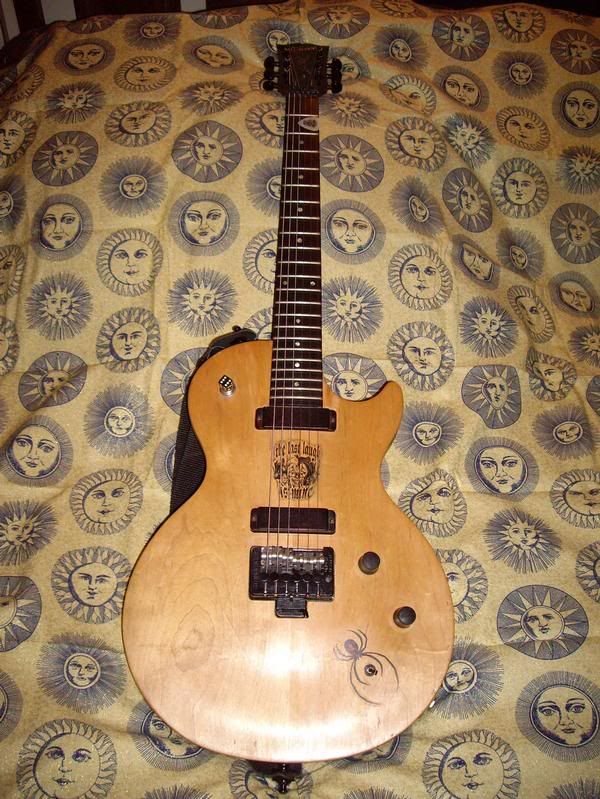 Also some info here:
http://forums.gibson.com/default.aspx?g=posts&t=15303
John
Last edited by johnro6659 at Aug 1, 2010,

Join date: Mar 2008
90

IQ
"Les Paul Studio Lite in Ebony finish 24 frets with tune-o-matic/stopbar (some came with KB-X tailpiece tremolo system licensed by steinberger) in Nashville, Tennessee in 1988.
Made for one year only and available in ebony, white and a very 80's "Nuclear Yellow."
Carved maple top, mahogany back and neck thru body.
The Humbuckers are called Sidewinder in the neck position and L-8 in the bridge position 9listed on retail guide as 1HB 954 AND 1HB 958.)
Suggested retail price according to the release it came with was 974.25 US dollars, or 1154.24 US dollars with vibrola/tremolo system."

Join date: Jun 2010
20

IQ
custom paint job but that thing would look sick with a pair of p90s
Join date: May 2008
30

IQ
excuse me sir but...

WHAT THE HELL IS THAT

Join date: Aug 2007
40

IQ
that thing is really really cool!
@johnro
Thank's for the info.

Unfortunately, the guy who posted the ad still hasn't gotten back to me, but now that I know it's not fake, it's a pretty cool guitar.