Boss NS-2 vs ISP Decimator G string.
I want to get rid of amp feedback and amp hiss on my 5150, my friend says the NS-2 will do the job. Which is better?

Join date: Nov 2008
550

IQ
Both will do the job...the ISP is just more transparent. I've had the ISP and the NS2...the only reason I still have and recommend the NS2 is because you can do the X pattern with it...you have to pony up the extra dough for the g-string version of the ISP to do that. Since you're asking between the g-string and the NS2, I'm assuming you don't mind spending the extra money. Get the ISP...hands down.
it's a lot less obvious it's on.

i haven't tried the g-string, but based on the bog standard decimator, i'd say the decimator is better but dearer. It's pretty much a budget thing.
I don't want to spend loads, I just want rid of the fuzz, hiss, feedback whatever.

Join date: Nov 2009
690

IQ
When compared side by side with no other factors, the ISP beats the Boss into the ground, no questions.

However, when economics come into the equation, then you have a problem. While the G String is a better noise reductor, it also costs more than twice as much as the Boss.

It's about $250 new. I got my NS-2 in mint, and I mean mint, untouched condition used for $50. So there really is no contest. If I'm ever rich I'll get a G String... but I'm not, and neither are most musicians.

For the average guitarist, the NS-2 is more than enough. I have one, and have it hooked up in the X pattern, and I love it. It does exactly what I need it to, and it does it very well.
I'll look into this x pattern.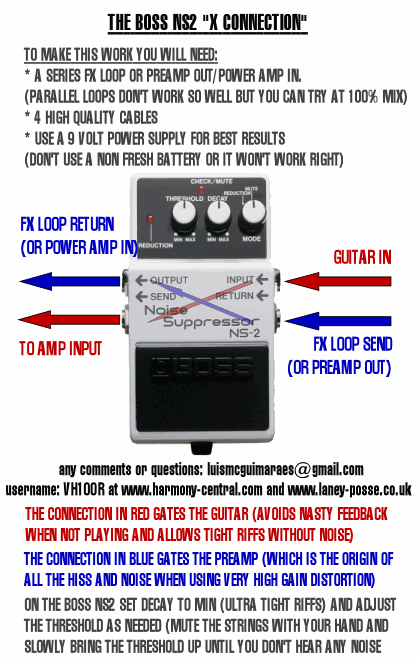 I found the ns2 did very little (other than cut pedal noise) if you didn't use the x-pattern, but it worked pretty well for cutting amp noise if you used the x-pattern.
Last edited by Dave_Mc at Aug 5, 2010,
Does the pedal go infront, or in effects loop?
it's doing both. follow that diagram and it should work (it worked for me anyway).
Makes loads of sense

Thanks.