Adjusting the action.
Hey!
I'm atm playing a cheap Epiphone SG Special, and i think the action is a bit too high. Luckily for me, it has a tun-o-matic bridge, which from what i've read can easily adjust the action. I played my friends guitar, which is some cheap yamaha guitar, but the action weren't near as high as mine, and i kinda liked it.
But still i'm a little bit worried about screwing it up, while trying to adjust the height, and i really don't wanna spend a lot of money to get it to my local music store.
I couldn't really find a tutorial on specifically tun-o-matic bridges. So if any of you guys know a good would one, that would be a appreciated.
So i basically need some tips or a small step to step guide to adjust the action, or if you think it's a bad bad idea, then tell me

Another thing: The action at the first fret's are very very low, though the action else is very high.
http://www.thomann.de/dk/epiphone_sgspch_special_egitarre.htm
If you check the 3D view you can probably see what im referring to. So i'm a little bit worried about that getting worse as well.
Thanks in advance !
action starts out low then raises as you move down to the bridge. so that's fine.
usually you start by detuning a bit, then loosening the screws at the top of the bridge posts.
(a few models don't have screws at the top of the posts)
then spinning to lower the thumbscrews. they are pointed to by red arrows in this pic.
after you turn the thumbscrews, to lower the height, tighten it all up again.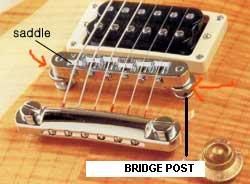 if you find you get buzz, then click the green link in my sig and i'll talk you thru a simple neck relief test.
and we can go from there.
Last edited by jj1565 at Aug 8, 2010,
Ok. So i tried.
Lowered it a little bit, but couldn't lower it too much or there the fret buzz would sneak up on me. I don't think it can be any better with this guitar

Thanks for your help
no problem.

you need to check the neck relief. it's easy.

just,
Fret the Low E at the first fret, at the same time,
Fret the Low E at the last fret (where the neck and body meet) ~19th.

with both places held, look at the middle frets 7-9th, and tell me,

is the string laying on the fretwire there?
is the string up from the fretwire there? if so in that place...
could a thin pick fit?
could a medium pick fit?
could a credit card fit?

measure and post back.
As the "last fret" you mean the 22nd fret in my case?
Well thats what i tried and here's the result:
The string does not hit the fretwire. But there's very little space. I don't think any of the listed examples could fit. My 1.0mm Dunlop Nylon Pick definitely couldn't.
by last fret, i just mean the fret where the neck and body meet.

anyway, if even a thin pick doesn't fit, then you can add relief.

adding a little relief, to the middle will hopefully allow you to lower the bridge a little more.

so find the correct sized allen wrench and turn the truss rod 1/4 turn counter clockwise.
don't force the turn. and let the neck settle in tune.

then post back later.
I don't believe it's a good idea to deal with that stuff myself. I'll probably just mess it up!
well, you can never try and play the guitar as is.

you can take it to a tech, who's going to charge you way too much, considering what your cheap sg is worth.

or

you can follow careful instructions.


it's up to you. if you still aren't sure then ask a parent what they think.
well, you can never try and play the guitar as is.
I dont get this. What do you mean?
i mean. if you don't want to try to adjust it, then you can just play the guitar as it is now.
Ah.. Okay.
Well i appreciate your help. If i'm trying it out, i'll just leave you a pm

You should learn to adjust tune o matics by yourself. Save money.