NPD!!! x3!!!
here it is, i finally started pouring money into my pedal board (dont start on the amp... I ALREADY KNOW!!!)
i have been looking around for pedals for a while and drew up a list of what i needed:
and then i added the Slow gear clone as abit of fun and since the chorus/Delay Pedal is going to be a few more weeks i thought i would make a start on the thread =)
right then here they are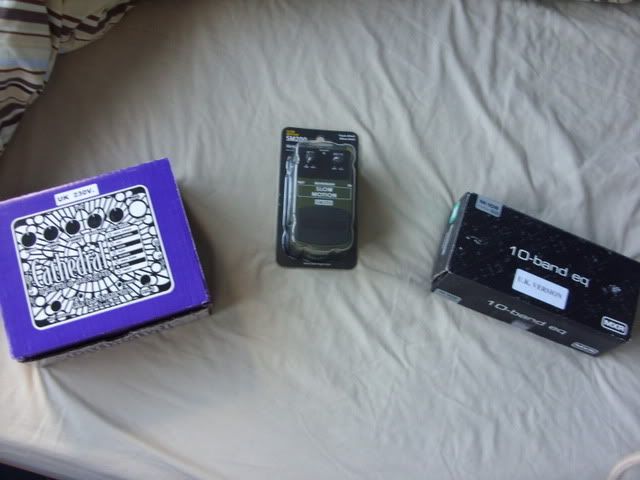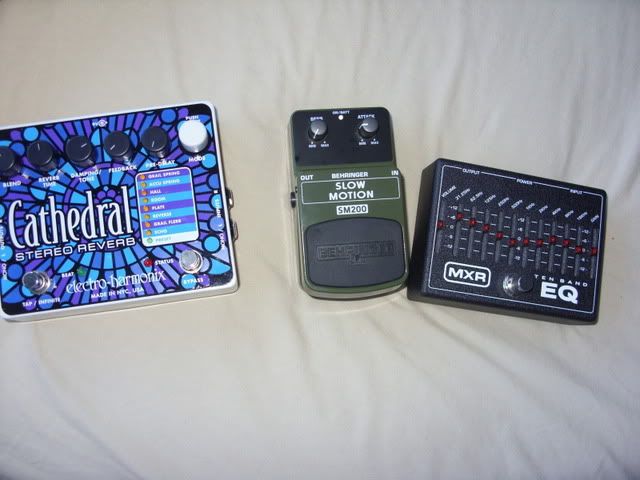 (left to right) an Electro Harmonix Cathedral Reverb, a Behringer Slow Motion SM200 and an MXR 10 Band EQ
ok so here goes the first review...
The Behringer Slow Motion SM200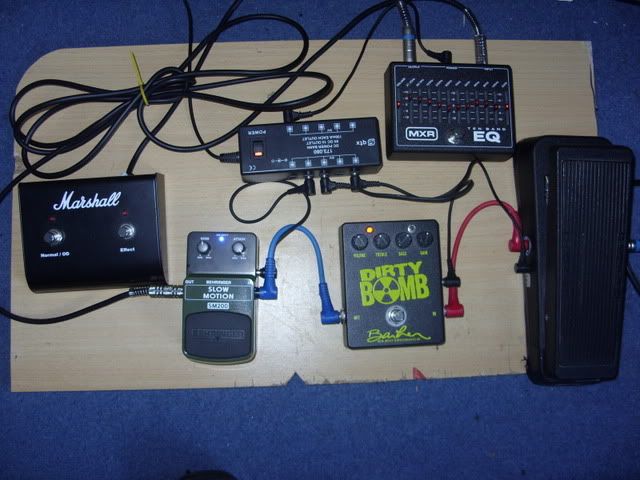 i slotted it in my board and... well... its completely rubbish, i brought this pedal with an open mind remembering that even though it is based on the Boss Slow Gear SG1 it is by Behringer and only cost £30 so i wasnt expecting miracles and i didnt get any.
basicly its an automated volume pedal that
should
adjust the attack of each note you pick
but it doesnt
. what it actually does is adjusts the attack of the first note you pick and then does nothing until you stop all the strings from vibrating and pick a new note.
now looking at the picture it looks as if it is made of plastic and is really flimsy... well thats because it is. the last time i felt plastic like that it contained tick-tacs and it feels like if you actually gigged with it it might fall apart under your feet.
my conclusion is:

AVOID AT ALL COSTS!!!!
right onto the next one
The Electro Harmonix Cathedral Reverb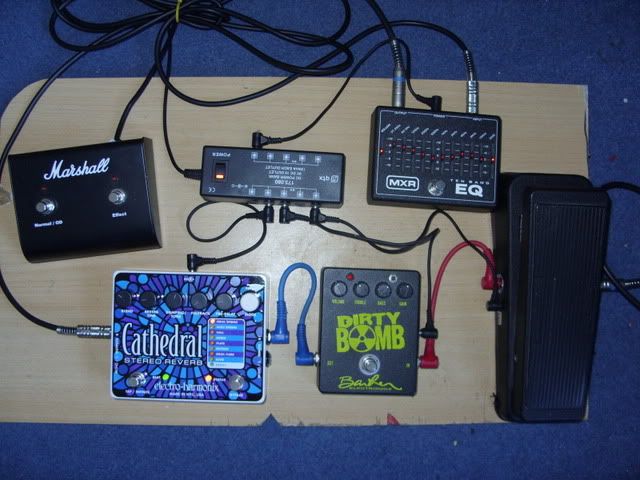 put it in the board the same place as the SM200 and this is an amazing pedal. its incredibly versatile, and is very well built.
it has 8 pre set modes that make it sound like you are actually playing in a cathedral to playing in a small concert hall. it also has 3 very nice settings at the bottom of the selection:
Reverse - gives a reverse reverb effect

Grail Flerb - reverb but with a slight Flanger effect

Echo - simple delay with slight reverb in the background

and then there is the option to create your own sound with the 5 knobs at the top.
it also has a tap switch that lets you adjust the amount of delay without having to touch the "pre-delay" switch which looks very useful for adjusting your sound while you are gigging.
my conclusion is:

GET ONE!!!
the last one
MXR 10 Band EQ
i think you can see from the other pictures that it has defiantly got a place in my board, i got the EQ setting from the "Rock" setting in Itunes and believe it or not it has definatly improved the sound of my amp + Barber Dirty Bomb.
since it is a 10 Band EQ it is incredibly vercatile and also has a volume and gain slider so you could use it as a boost pedal aswell. personally i wont be using it for that, im suing it to give abit more depth to my amp which it is doing brilliantly.
my conclusion is:

GET ONE!!!
so here is a picture of my final set up, you can see that the SM200 didnt last long and is now in the pile of discarded pedals to the right of my amp.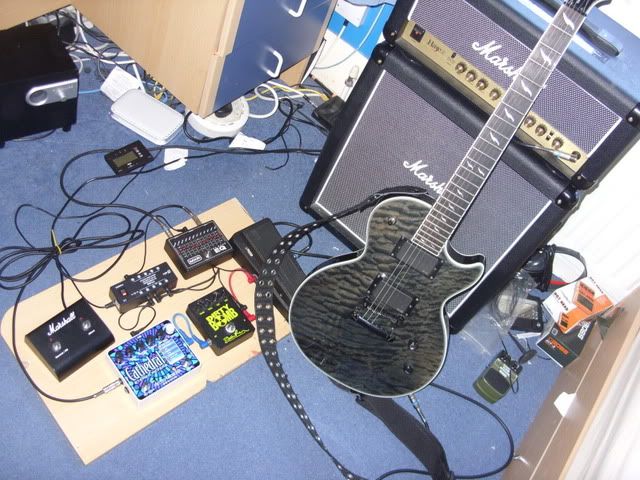 so there is my first ever "new anything" thread and my first reviews... let me know what you think =)
any more questions i will be happy to answer
Last edited by Dave Frenzy at Aug 10, 2010,