Nobody

Join date: Aug 2007
1,032

IQ
Probably the most obscure band on the planet.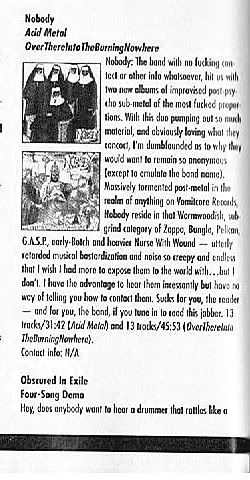 From the article above by Dave Brenner (Metal Maniacs, Halloween 2007):
Nobody: the band with no f

u

cking contact or other info whatsoever, hit us with two new albums of improvised post-psycho sub-metal of the most f

u

cked up proportions. With this duo pumping out so much material, and obviously loving what they concoct, I'm dumbfounded as to why they would want to remain so anonymous (except to emulate the band name). Massively tormented post-metal in the realm of anything on Vomitcore Records. Nobody reside in that Wormwoodish, sub-grind category of Zappa, Bungle, Pelican, G.A.S.P., early-Botch and heavier Nurse with Wound -- utterly retarded musical bastardization and noise so creepy and endless that I wish I had more to expose them to the world with... but I don't. I have the advantage to hear them incessantly but have no way of telling you how to contact them. Sucks for you, the reader -- and for you, the band, if you tune in to read this jabber.

13 tracks/31:42 (Acid Metal) and 13 tracks/45:53 (OverThereIntoTheBurningNowhere)
I am curious.

Join date: Apr 2009
30

IQ

Join date: Aug 2007
1,032

IQ
I feel like sharing stuff todaynight.