NGD Devlin LP
Well, I thought I was done buying guitars but when I saw this for only $150.00 I had to give it a shot and was I impressed to say the least, this has to be the best non Gibson LP copy I ever played in over 40 years. The guitar is just amazing. This guitar has a nice slim neck with great action, the action is amazingly low with no fret buzz at all. It's so easy to play it almost plays itself. The tone is just as good as any top of the line guitar I have ever owned or played. I have no clue what it has for pups but I would swear they are Gibson or a top of the line PAF copy. The guitar is also a rock, heavier than most LPs out there. I own a few Devlin Guitars and I was always pleased with the tone and stock pups on them but this guitar just blows those away, hell it blows away a lot of my guitars in my collection. I think this is now my work horse. I'll take this one to every show. Not only is it a really great looking LP it's just a pleasure to play and sound KILLER. It's a shame Devlin stopped making guitars because this proves you do not need to spend big money to get a great playing guitar with superb tone quality!!!! I know it has a set of Grovers not sure on the specs but i am going to see if I can find them. The only problem with this is the gold plate is wearing off the stop bridge but other wise it's mint.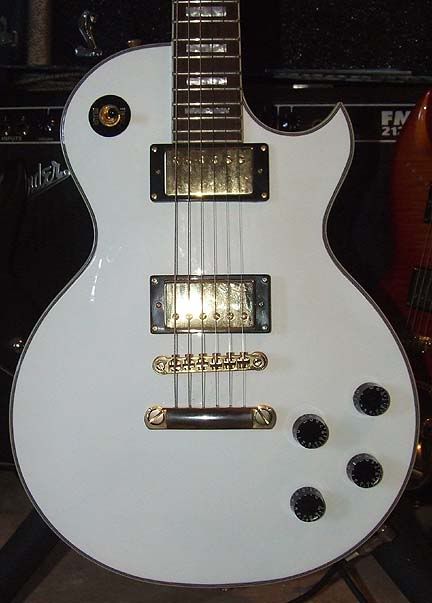 Join date: Feb 2010
30

IQ
Good lookin' instrument, HNGD!

Join date: Jul 2009
310

IQ
Never heard/seen one of those before!

HNGD!
HNGD!! Thats a sexy LP!!

EDIT: THAAT Looks like a thick guitar! Can we have like a side shot??
It's 1 7/8" thick.

Here are the specs;
Style: Set Neck
Body: Solid Mahogany
Neck: Maple
Markers: Hand Set MOP
Fingerboard: Rosewood
Frets: 22
Binding: 5-PLY
Tuners: Grover Rotomatic
Bridge Pickup: Alinico Custom Wound Humbucker
Neck Pickup: Alnico Neck Deluxe
Bridge: Tune-o-Matic
Tailpiece: Gold Stop
Electronics: 2-volume / 2- tone
Toggle: 3 way
Scale: 24 ¾"
Weight: 8.32 lbs
John
Last edited by johnro6659 at Aug 13, 2010,
Well, I took this with me last night for a small show at a local bar and it was just amazing! The guitarist in the second band liked the way it looked and sounded. He asked me if it was a custom made LP he had never heard of Devlin not many have. I explained to him it was a short lived company that made/imported some nice guitars. Normally I will not lend out my equipment but I was there and he promised not to abuse it. After their set he asked me where he could get one! LOL Now this guy is a really great guitarist much better than myself he had a Gibson LP standard and an SG and he thought my Devlin that I paid only $150.00 was just as good. When I told him I scored it for a $150.00 he really didn't believe me. He is going to drop by and check out some of the other guitars I told him I have scored and perform just as good as the big brands.

The Devlin did a great job tone was great we got a bit loud and it and my amp were just perfect together. I always thought Devlin made a decent guitar but now I really think this is really one of the best LPs I have played and owned. I also brought my Peavey I just got but I enjoyed the Devlin so much I never swapped out guitars. I'll have to give the Peavey a try next time I sit in with my old band. I am going to search Ebay for another I would love to have more of these. Too bad Devlin stopped making guitars they really could have made a name for themselves if they could have gotten some band endorsements!
Join date: Nov 2007
420

IQ
Seems like a solid guitar. Great price too man HNGD!

Personally don't like the shape of it though. Too pointy.