Jaguar Body / Jazzmaster Neck
If i bought a jaguar, and put a jazzmaster neck on it, would it intonate properly, cos i know the jaguars got a smaller scale neck. I've seen some nice jaguars, but fancy a full size neck.
Any help would be appreciated!
No, you'd have to move the bridge back to have it intonate correctly. Here's a jag overlayed on a jazzmaster with the neck pockets lined up for some reference. If you wanted to put on a Jazzmaster or Strat neck you'd have to shift it back to where the Jazz bridge is.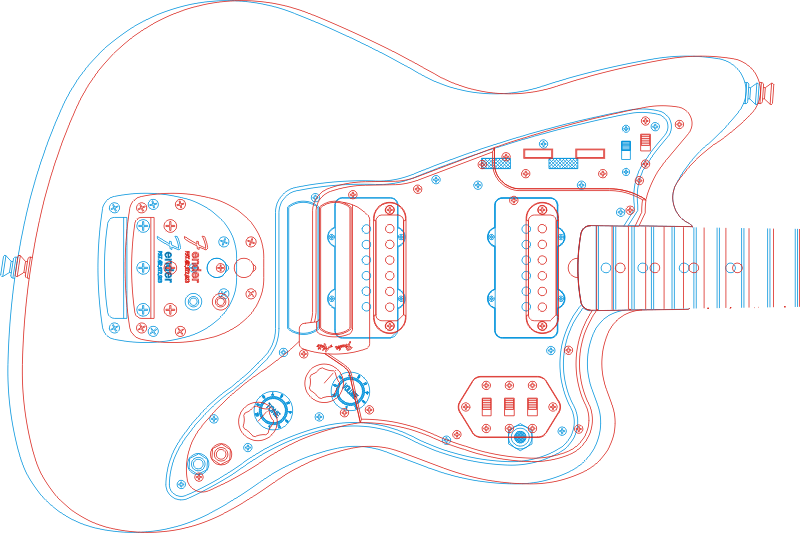 Here's a shot of a bloke that did it with a retrofit baritone neck.
Last edited by Baconfish at Aug 12, 2010,
Bugger! haha thanks dude! i was under the impression they used the same bodies for both guitars.
Aye most folk are. I'm actually about to do this myself building a body from scratch.

haha oh nice one ! good luck with it

You'll have to let me know how it goes !

Join date: Aug 2010
30

IQ
An option you could have, is to cut down the neck to match the scale.
Of course you'd lose frets, but you'd match the scale length, whilst keeping your jag body and jazz neck.
You'd have to sand the endges round to match the neck pocket mind, so it'd take a bti mroe work than a square cut neck pocket/neck, like I had with an old Flying Vee build.
yeah i could do ! think i'll just save up for a jazzmaster, i'd probablt mess it up hahaha

Join date: Aug 2010
30

IQ
Could always take it to a reputable luthier to do it? Mine surprisingly didn't cost that much to get done, and I knew I could trust the luthier to do a good job too.
yeah that's actually a really good point haha. might do !