NGD - Washburn

Join date: Jul 2005
10

IQ
oh hi!
So Figured I should post something here after my stupid amount of psots. I was all set to buy an Ibanez when I found this beauty. Has everything I wanted and sounds damn fantastic....
Specs:
String thru body
Tune-o-matic bridge
Set neck
Rosewood fingerboard
Nut width: 43mm
Pickups: Seymour Duncan '59 reissue neck, Seymour Duncan Custom, Custom bridge
3-way toggle switch
Gloss finish
Exclusive Grover 18:1 gear ratio tuners
Buzz Feiten Tuning System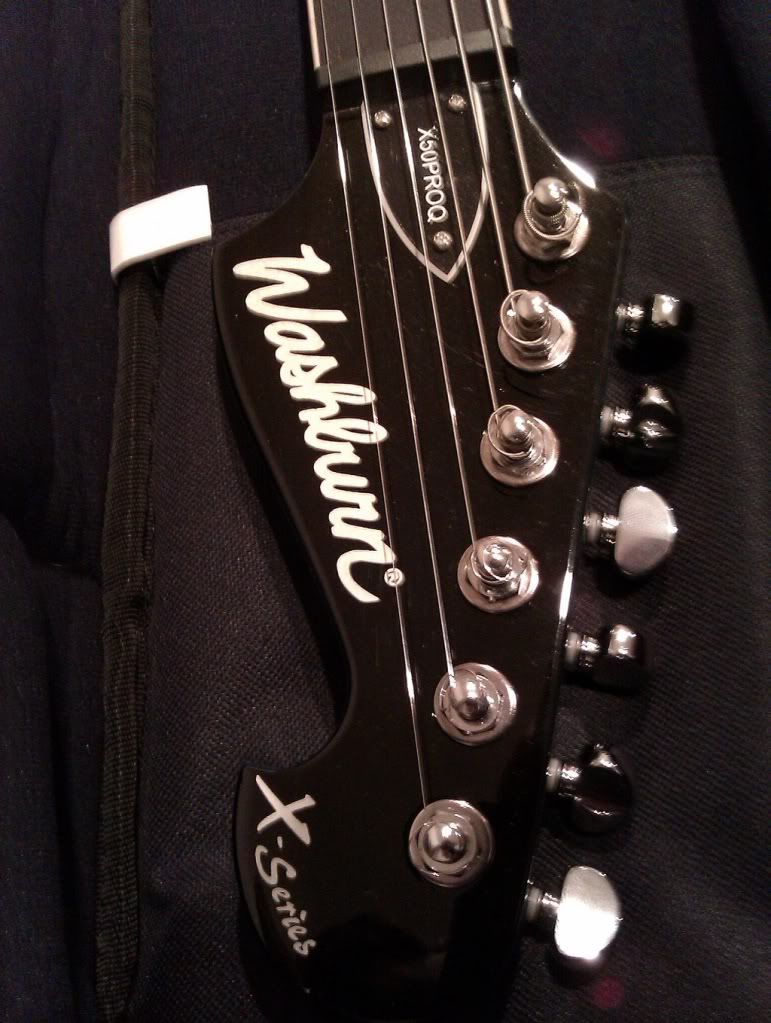 Review tiems~!
This thing blew me away. The pickups are fantastic, the Custom Custom has so much clarity and balls and the '59 has a fantastic clean tone. The sound is quite different to my Jackson, but damned if I don't love it. The coil tapping adds a new dimension to it as well. The neck is omfg awesome, it has the highest fret access I've come across (More so than my other guitar or my friends Jem), getting the 24th fret is unbelievably easy. I'm not usually a fan of painted necks but the neck is extremly easy to move up and down .
I'm not sure what else to say, but I am a fan of this guitar.... If it got stolen, would a buy a new one? Yus.
congrats, its a lovely guitar.
got a regular discontinued x40 myself and its really a diamond in the rough

Join date: Jun 2010
120

IQ
Nice shout man. Those are great value over here in the uk anyway. About half the price of a schecter.

Join date: Jul 2005
10

IQ
I got it for about half the price I was going to pay for a schecter or Ibanez over here too, thought it was an awesome deal

I have the FE, the one with the EMGS. I'd love the duncans but I absolutely adore the black finish I have on mine. My emgs don't sound excellent with the SS.

For me this is the best fretboard I've ever touched in the price range. I've got the access basically on the wood and it glides with no buzz.
Awesome! ive got one just like it, still my go to axe when i fancy some chug! :-)

Join date: Apr 2008
10

IQ
I have this exact guitar, most amazing feeling guitar I've ever played. Washburn are incredibly underrated.
congrats, i'm a fan of washburn.


Join date: Oct 2008
222

IQ
I've had this question for a while...

Does scale length start at the nut and end at the bridge (metal piece in this case)? Or does it end at the exact point where the strings enter the body?