knock off strat mod suggestions.
alright what would be some good mods to do to this guitar? it'll be either for blues or metal, I've already tapped the humbucker and its my project guitar so all ideas are welcome.

Join date: Feb 2006
100

IQ
black it out?

seriously though my guess is you will definitely need a new trem and new tuners. new pickups maybe.

Join date: Jun 2009
50

IQ
New pickups, trem, tuners.
Maybe a killswitch?

well the pickups aren't too bad in it and neither are the tuners, i blocked the trem i already have a guitar with a good one in it so i really don't want another trem guitar. i forgot to mention i don't really want to spend that much money on it considering i got it for pretty much free.

Join date: Jun 2009
50

IQ

Join date: Feb 2006
100

IQ
i mean, when i hear the word mod, i think...money and time. So if you don't wanna spend money then just put some stickers on it and call it a day.
well i didn't say i wouldn't spend any money but i don't want to spend 50 bucks on a pickup in a guitar that would be fine without new ones, and you don't have to spend money to mod something.
If it stays in tune good, then don't get tuners, but I can't see a strat knockoff staying in tune well. Grover tuners would be good though. If you do want pickups, try looking used. Craigs list is great if you can find some, and ebay is good too.
well since i blocked the trem it stays in tune fairly well, and besides as long as it doesn't like go out of tune in less than like a song i'm good because i can tune fairly quickly and i honestly am fine with the pickups it has in it, i guess i'm just looking for a mod like putting some cool effects in it or something, i did like the killswitch idea, i'm kinda looking for more electronic based mods more than anything right now, and on a side note how hard would it be to sand it down and just leave it bare wood?
I don't think it would be hard to sand down, you would need to use a pretty high grit. What you should do is make it like like a road worn strat. Those are cool.

If it stays in tune enough to where its ok to you then that's good, you might as well leave it. But my guitars with Grover's stay pretty much in tune for a long time. A kill switch would be a good idea for you. Also, the LED behind your pickups would be cool too. I'm thinking about doing that sometime soon.
hmmm a road worn strat? whats that? and i just realized its probably made out of basswood so sanding it down to a natural finish wouldn't be to smart
and at a low enough volume my coil tap switch works as one haha but its a switch and not a button. I'm liking these ideas.
Join date: Feb 2010
50

IQ
COPIED FROM SEYMOUR DUNCAN
series, split, parrallel with phasing. series, split, parrallel. phase reversal with single coils. coil splitting. treble bleed. killswitch.
right, the two single coils phase when you pick both of them and i already tapped the bucker.
Join date: Feb 2010
50

IQ
hmmm i kinda like that but i'm good with my current wiring but if i can't think of anything else good to do i'll do that
i just thought of something, what about wiring it with a SPDT switch for the neck and bridge pups and then put a pot to turn on the middle pot. i know how i would wire up the bridge and neck but how would i wire the middle pick up to the pot?
hmmm a road worn strat? whats that? and i just realized its probably made out of basswood so sanding it down to a natural finish wouldn't be to smart

you'd be surprised how many knockoff brands actually have decent wood....it's definitely a toss-up of what you get though
well i guess i could sand it down and if i don't like it just spray it cherry red. what woods are supposed to be good for like unpainted look?
if you sand it down and it looks rad, keep it...you should put a clear coat on it just to protect the wood, though. this is assuming the guitar isn't made of plywood. but if you sand it down and it is plywood, you might get a nice top layer, but that arm carve will show the different layers of wood.

personally i almost exclusively prefer a natural finish regardless of grain/wood figuring

common cheap woods are alder and basswood, among others...alder is decent looking, basswood is very plain with light grain. with some stain it looks pretty sweet depending on color choice
i just looked it up it is basswood and has a rosewood fingerboard (i'd prefer maple) but how could i get out the little dents in it? they look like someone took a philips screwdriver and stabbed it and turned it.
there's a way you can pull the dents out of the body using a damp rag and a soldering iron. i don't remember the exact procedure but you can experiment at your leisure as it's an experimenting guitar anyway. if it's a chip or other wood removal you're out of luck...a dent will work because the wood's just compressed.

and you'll definitely want a clearcoat, basswood is so soft and dentable even with a solid finish on it
yeah, i've got 2 guitars that are basswood and i'm so freakin careful with them its not funny haha but would it look better stained or natural since it has the rosewood fretboard, i think i might have to stain it kinda dark but i'm not sure and also do you know anything about wiring?
the light/dark contrast is kinda cool, but ultimately it's up to you. go to your hardware shop and see what kinds of stains are available and compare it to your fretboard, and go from there. sometimes they can mix up different color stains (green/red/etc) which gives you lots of options.

i have a passing knowledge of wiring but nothing super sophisticated...i've done coil splits but that's about the extent of it
alright well i was thinking of wiring it where the middle pup is controled by a pot, would i wire the hot wire to both contacts on the pot and then run the ground like all the other ones?
pot to control tone or volume
volume, i'm going to have a STDP to switch from the neck to bridge and if i want the middle i'd turn the pot on. if that makes sense
i may be wrong but wire hot to the leftmost lug and the middle lug to your switch, ground 3rd

view from upside down (knob on bottom)

edit just checked my thought against a les paul type wiring diagram and it looks like it should work
Last edited by CapnMudGuru at Aug 29, 2010,
thats how they're wired up now so i'm gonna go with that and i should probably check and see if i have a 3 pos. switch that way i could have just the bridge too but anyways back to the finish, if i clearcoat it will it have that shiny look to it or will it look like just natural wood?
depends on what type of finish you put on it...matte finish is closest to natural wood, semi gloss is in-between and gloss is obvious. also depends on sanding/buffing (if necessary)
alright, i'll head over to the painting and re-finishing thread and see what i can find. thanks for all the help.
no problem dude update the thread as you go so we can see progress and so if you run into other roadblocks you can ask

Join date: Jun 2010
30

IQ
Shielding, kinda tedious, but cheap and may improve the tone.
already done but it did really help, hum sucks haha
no problem dude update the thread as you go so we can see progress and so if you run into other roadblocks you can ask
alright will do
alright little change up, I'm going to either fix the trem bridge or buy a new one, i need to get the bar if i'm just going to fix it up and as for the wiring I'm just going to sacrifice the middle position and use a pot a 2 position switch cause thats all i have and i never use the middle for anything other than phasing anyway.
You could put some wood filler in it.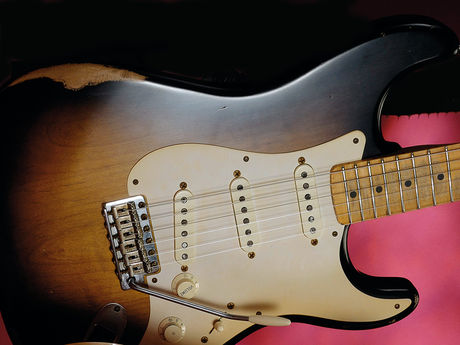 That is a Road worn strat.
nice except I don't think my rosewood fretboard and opauqe black finish could pull that off so i'm going with the unfinished natural look. and also i could use some help with my wiring.
alright i have it almost all the way sanded down and have the rewiring done and scalloped from the 12th fret to the 22nd so now all i really need to do is decide how i'm going to finish it. I was thinking about just clear coating it like it is but then i thought i might just stain it or paint it blue like the old fender mustangs. suggestions?