happy (free) NGD!
yup, free. won it from the wonderful Facedown Records family for preordering A Plea For Purging,s newest album. wasnt much of a shcecter guy (or a non-trem guy) but im comin around.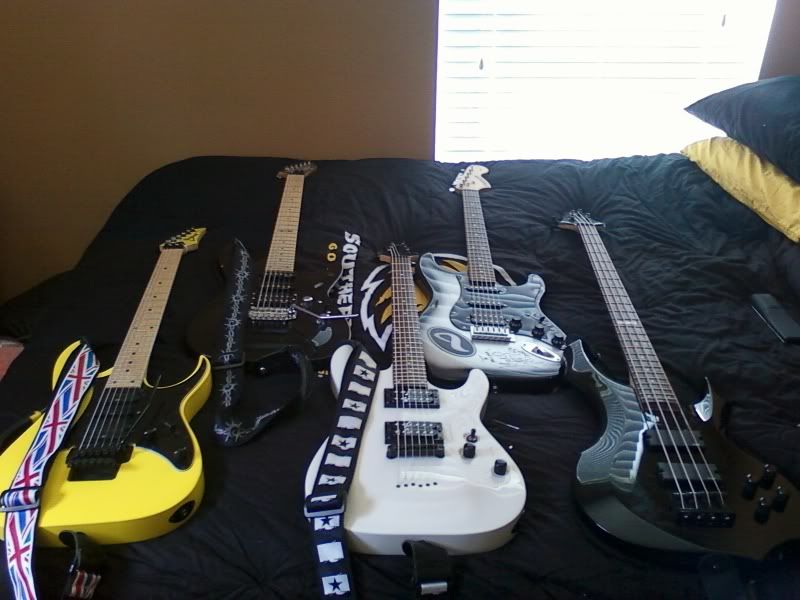 Join date: Apr 2009
40

IQ
nice guitar,

but people are gonna get butthurt that you didn't post a review.

Join date: Sep 2007
70

IQ
Lol yea HNFGD, how's it play?
it plays pretty good man.

and there are already so many reviews on it; i guess i need to say its an Omen 6.

Join date: Sep 2007
70

IQ
Unfortunately without your own personal review of how you find it the mods will close it.
Plus the non-trem lets you screw around with alternate tunings

ahhhhh ok then. well...lemme get started.

Join date: May 2008
90

IQ
always kinda wanted a white Omen. I have one in the satin walnut. might get the white one for the hell of it, it's quite a great guitar.

Join date: Sep 2008
96

IQ

Join date: Apr 2007
40

IQ
Can't go wrong with the price

HFNGD
im digging the ibanez.
Yeah, iv always liked the brightly colored ibanez(s). The neon ones are awesome looking to.
nice silverburst strat. i didn't think those came with the 70's headstock, also, who autographed it?
is that one of the new ones or wtf?

the fender was signed by michael angelo batio...why he came to mississippi ill never ****in know, but lucky me lol
The Ibanez 350MYE has been at the top of my GAS list for months, just don't have the money right now to buy a new guitar. How do you like it?