Looking for a hollow body guitar.
Looking for a hollow body guitar. I would like it to cover everything from Praise and worship, to Classic Rock if possible...

If I can't have one that does both well, for this guitar, Praise/Jazz cleaner sounds is more important to me.

I don't want a whammy bar in fear that the guitar won't stay in tune as well...

Price is around say $800 bucks. I can go up to a grand with no major problem.

If you were going to pick up a new hollow body, what would you be looking at?

This will be used with my Maz Jr 18 watt NR Head, through a 2x10 and a 1x12 Dr Z Cab.

The 1x12 cab will have a Celestion Blue in it, and the other has the Dr's 10" speakers.

Thanks!
Epiphone es-335 i have the exact guitar its about $600 and i can do a little test play recording for you if you want but tomorrow
Thanks... I will check it out.

Last edited by BurstBucker Pro at Sep 3, 2010,
Epiphone Sheraton II. Gorgeous, great players, good quality. I've been waiting for one to pop up on Craigslist, but the closest have been 250+ miles away.

The Gretsch G5120 Electromatic Hollow Body with Dual-Coil Pickups, my friend has it and it sounds so good.

Join date: Oct 2009
10

IQ

Join date: Jun 2010
30

IQ
I think Ibanez artcore series are also worth looking at.
Wow... All good info.

Thanks for the post.

Join date: Jun 2008
10

IQ
Some of the suggestions (above) were for semi-hollow guitars. Not that a semi is wrong, but it isn't what you asked.
My suggestion is an Epiphone Casino. Light weight, great P90 sound, fantastic neck, well built and full hollow (no block of wood down the center).
The Casino is the Epiphone version of the Gibson ES-330. I have both. The Epi is 90% as good as the Gibson, for around $600US.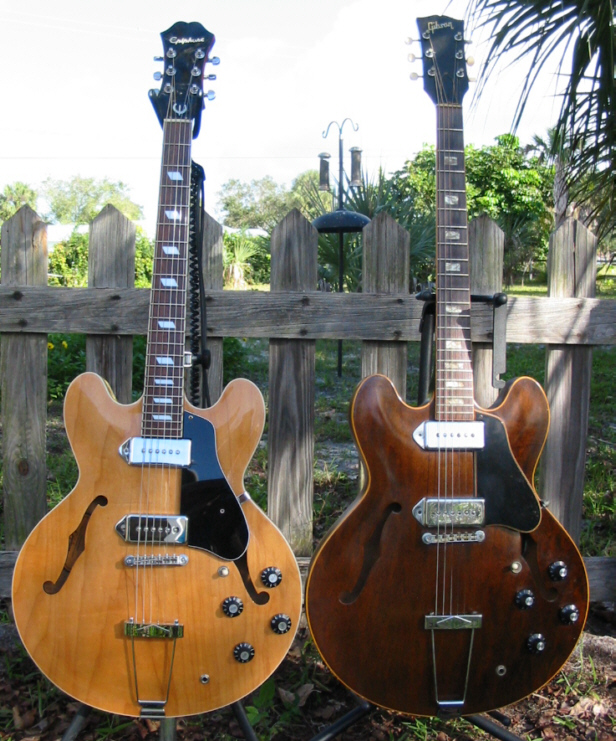 Insights and incites by Notes ♫

Join date: Apr 2009
10

IQ
Think about trying a full sized archtop. Get a guitar that sounds good unplugged as well as plugged in.
Around a campfire, at the beach, or camping, a semi hollow archtop won't get the job done without an amp.
Don't limit the guitar to just being played through an amp. Maybe something like an Epiphone Broadway or Emperor.
If you're going to buy an archtop, go for the real thing, a jazzbox.
can u get metal sounds on a semi acoustic