Stuck with Wiring
So, After attempting to wire two humbuckers up, into a 2 volume, no tone, no switch config, I plugged it in and it has a phasing humming noise, neither pots turn either volume down, but the pickups are functional.

I wired the hots to the first jack of each pent. then wired the middle positions together to the hot output, and then the last config was wired together and sent to the not-hot output. Both the outputs were wired together on the respective jack on the 2nd pent.

All the green and bare wires are grounded, and the black and whites are wired together and taped off (DiMarzios wire colors)

Anyone have a diagram for 2 volumes, no switch? Or any advice? Thanks
i honestly have no idea what you did, from reading that second paragraph
do you have a picture of what you did?
head over to the wiring thread for more help, but it sounds like you've got the volume pots wired wrong
http://www.seymourduncan.com/support/wiring-diagrams/schematics.php?schematic=2h_2v_3w
thats how it should look, with the red and black wires from each pickup switched to accomodate dimarzios colour code.
and obviously with no switch as well
you need to ground the outer left lug to the pots

pickup hot & jack hot to the middle lug. ground to pot.

join both volume cables to jack


edit. - i messed up there. right lug for hots
Last edited by Dave8706 at Sep 8, 2010,
Dave, Can you elaborate? Not quite getting it
you are prety much installing a pickup straigth into the jack. yes..
split the connection. add a volume pot.
second thought. i might be way off on this lol

right lug is the pickup input lug. middle lug is the pickup output. that goes to the jack????
from the diagram. taking the 3way and tone out. replace it with one wire straight to the jack.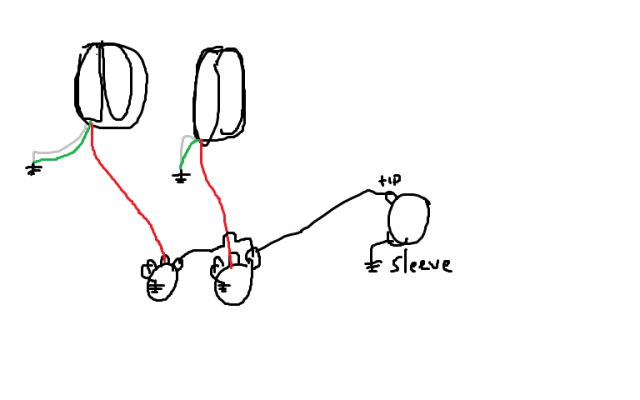 with the white and blacks taped together.
typically you'd see the red pickup wires go to one of the outer lugs on the volume pot, but wiring it to the middle lug prevents both volumes from acting like a master volume
(if you wire them as typical volume controls, turning the neck volume down will turn down the bridge as well)
Perfect, I'll try that, Thanks dude
James, I wired it up to those specs and the bridge works but the neck is no noise at all, no sound, nothing
James, I wired it up to those specs and the bridge works but the neck is no noise at all, no sound, nothing

thats strange though :/
as jim said, go post in the wiring thread. that way when we figure out whats wrong, it's all in that thread for easy reference/easy location