New amp day + new guitar day + new mic day= Clipz :)
A little overdue, so i'm past the honey moon stage with these.
So after gassing for a 5 watt tube amp, I decided to say the hell with it and buy one of these. It was only 150 shipped express to canada from GC, taxes included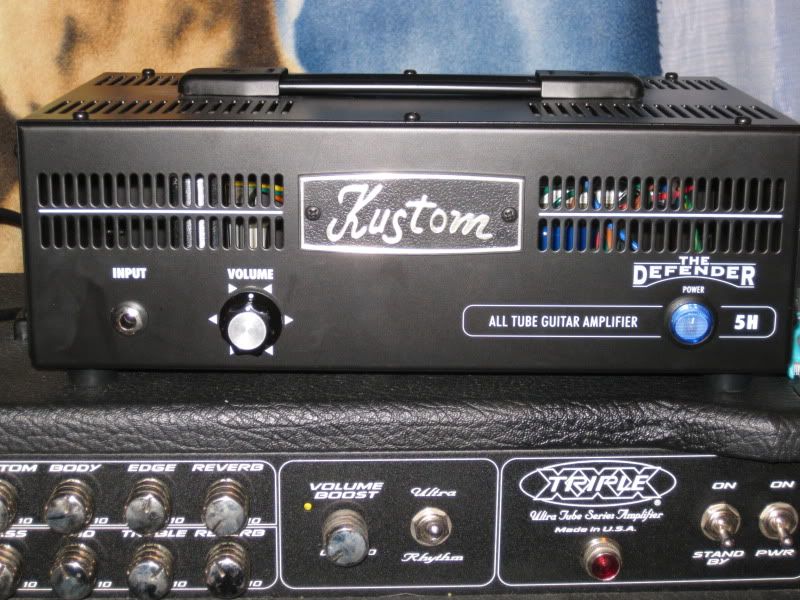 Kustom Defender 5H.
Firstly I would like to say, 5 watts without a master volume is not a bedroom amp unless you only use pedals. If you want the power tube crunch then it will be loud.
Its a very dirty amp. Imo, it sounds better with humbuckers. It gives a nice crunchy tone. Its a little cleaner with single coils, but with humbuckers it has very little headroom. I find it gets a little muddy fully cranked, the sweet spot is about halfways. Great bass response aswell. Sounds huge for a 5 watter.
Here's the guitar,long overdue pics.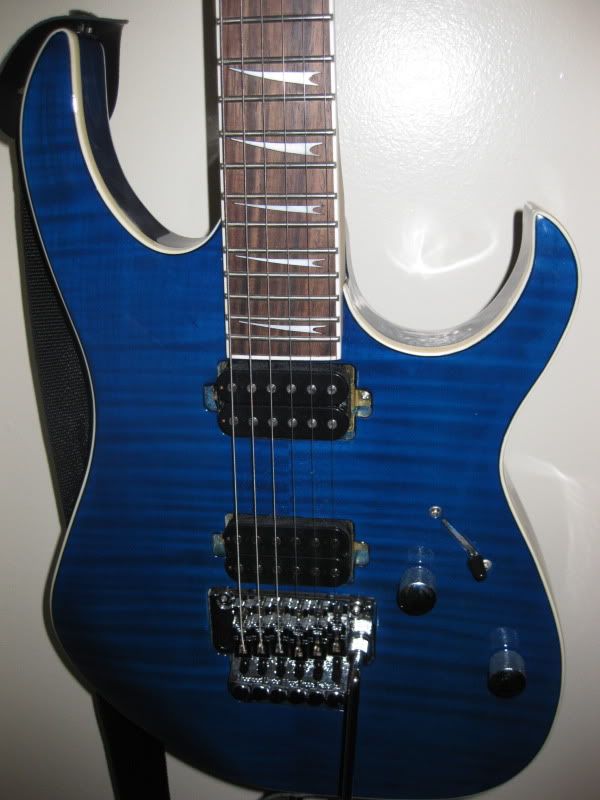 Headstock

The blue flame
SX SR1 STD Plus
Alot of guitar for 200 bucks. The floyd was level when I got it, but the action was a little high. Thats fine now. The intonation was fine out of the box. The bridge pickup is a little harsh but thats tameable. The neck pickup is nice and full actually. My only complaint was the color difference in the pic on rondomusic.com and what it actually is.
Sure its a cheap floyd, single locking actually. But I had plans to use only because of the locking nut. I'm gonna probably just block the floyd.
Here's a clip of the defender
http://www.soundclick.com/bandAdmin/default.cfm?content=songs&bandid=1022762&sub=songinfo
Played with my douglas Siv-45. Handwound pups from a local builder through my 4X12 with celestion rockdrivers. Mic'ed with a sm57.

Join date: Jul 2009
310

IQ
sweet man! Is the only control on that amp volume?

HNAGD!

Join date: Jul 2008
206

IQ
really solid looking guitar for $200
HNA&GD lol enjoy
sweet man! Is the only control on that amp volume?

HNAGD!
Yup, just the volume, and its quite loud.

Join date: Mar 2008
780

IQ
Awesome. I've been wondering about these new Kustoms. Can you get 'tallica type riffing?
The guitar looks beautiful man. You said it doesn't look like the ad, but what did you think it would look like.
HNGD

ps....clippy no worky, you may need to move that to a public folder and then copy/pasta - or upload to profile

Haha, yeah gotta love that cat scratch fever lol.

I'm using Celestion rockdriver Juniors. I think they are discontinued. They came stock in the hughes & kettner cab.

Join date: Feb 2010
250

IQ
They sound kind of Greenbackish to me.
I saw Ted at an outdoor arena in called Castle Farms, near Traverse City Michigan.
They let you bring coolers in loaded with your favorite beverage, just no glass of any kind. Those were the days.
I pushed my way to the front, and when Ted was singing, I swore he sprayed some spit on me...

Needless to say, that was a big day for me.

I had it Bad Scratch Fever, back then...
Last edited by BurstBucker Pro at Sep 10, 2010,
Wow, sounds like a fun experience. Too bad nobody famous comes to the far east of canada.

Join date: Mar 2008
780

IQ
Cool demo.

Sounds like it is perfect for ACDC and Nugent riffing.
make sure darkarbiter7 sees this.