My EPIC NSD..
So after a lot of saving money and oweing people money

Ive picked up a few things in the last few months and id like to show them off to all you gear lovers out there

First up is my pedal board case: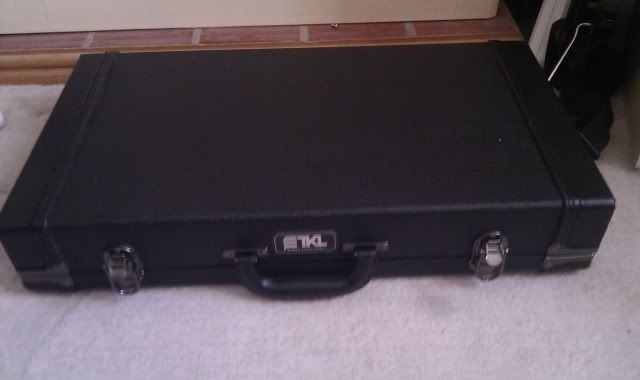 TKL pedal board, does the job and carries my pedals and a few leads.
Paid £49 for it in london
Second up is my DC Brick.
I got this after a lot of thinkin about power thingys for pedals. I know some of you will say i should of gotten the PP2+ (kinda agree in a way) but i just wanted somethin to use for a while. Does everything i want to, what more can i say about it?
Paid £123
Next I have my pedals: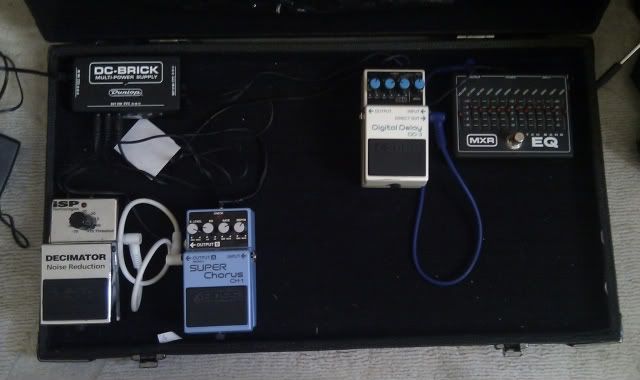 Boss DD3
I got this to experiment mainly but i found ive been using this to get some great sounding delays

Ive found my alexisonfire delay sound and thats another main reason i got a delay pedal. i love this thing so much. Paid £40
MXR 10 Band EQ
When i had my HT5 i could tell it was lacking somethin in the "balls" department, so i got this little lovely pedal

Couldnt be more happy with it, its on all the time when i play and just a little tweaking here and there and its perfect for me. Paid £50
Boss CH-1
Everyone knows you need a chours with your cleans

So thats where this little beauty come's into play. It sounds.. choursy haha. I change the settings on the pedal a lot so what you see isnt what i always use. Its a great little pedal to use. Paid £45.
ISP Decimator
You know when you have a high gain amp you just need to get one? Yeah? Thats why i have one

Its a noise gate, what more can i say?
Paid £40.
I then thought im down to 2 guitars, after selling stuff to fund this. So i got on the bay and found this little lovely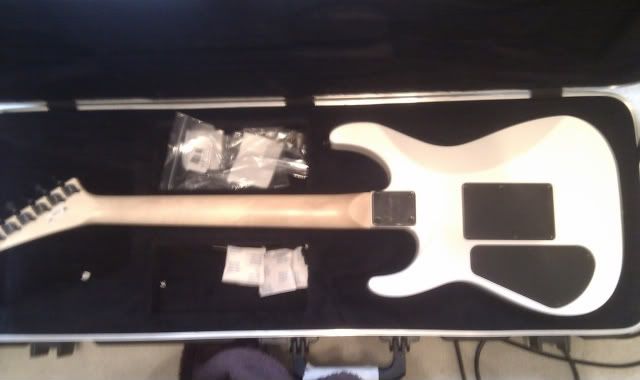 A Jackson DK2M with hard case

Ive been wanting one of these guitars for the past 4 years i think so i decided to get one at long last. Its a MIJ guitar, 24 frets, SD JB4/SH2 jazz, jackson LFR (holds tuning very well), maple fretboard, not sure about the body wood.
Its staying in standard tuning cuz my guitar teacher moans at me for not having a standard tuned guitar. Its perfect for me. Can dive all day on it and it still comes out asking for more. I love the neck on it.
Paid £300 inc case
I also picked up this
A 2007 RGR321
This is my go to guitar, Currently have it in drop C#. Been playing a lot of FFAF recently. I love the neck on this again, thinner than the jackson but not by too much imo.
The pups and pots in this thing are shocking tho, so ive changed the pots out to alpha 500K pots and the bridge to a Dimarzio D-Sonic. Sounds much much better now.
Paid £190 total
And all that goes into this little amp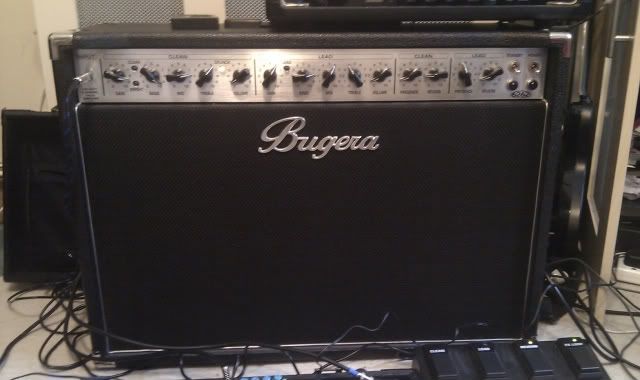 Bugera 6262 combo.
Do i really have to do a review for this? What? Really?
Fine....
You all know about it by now. 2 channels with a crunch switch on the clean channel. Im still EQing this thing in to how i like it but i know one thing, The bugera speakers are SHIT! Im soon going to mod this into a head and get a custom made 2x12 so it will be much better then

It sings it screams and just about everythin in between. I love it.
Paid £180
So good enough?
Wow, you got some great deals there... if I didn't know better I'd maybe suggest you're the UK MatrixClaw.

HNSD!

Also I notice you have your pedals separated on the board. I would think you'd run all of them in the effects loop.


Join date: Jun 2009
440

IQ
So good enough?
eh, your NSD needs a little more cowbell... HNSD anyway!
HAHA!

cheers

Ive been swapping them about to see what works the best pedal wise atm.
Oh and the cowbell is on the drums

chugga chugga, djent.

beat you to it.

Congrats on the new gear, looks like a nice set up.


Join date: Jul 2009
310

IQ
epic thread is epic.
Congrats

Paid £123
Wow, that's a lot for a daisy chain.
But this is an epic NSD!
HNSD dude


Join date: Nov 2007
110

IQ
Funeral For A Friend is what I thought of when I saw that white Jackson haha. Nice rig man!

Join date: Mar 2008
780

IQ
Cool stuff man. Everything looks great.
HNSD!


Join date: Sep 2008
150

IQ
HNSD!

That is one of the sexiest Jacksons I've seen outside of the RR5 in transparent black with the gold hardware
Cheers guys

There's more to come in about a months time too