(Don't) Save the Princess
How the hell do you play ?
Stuck at level 2 :embarrassed:
pretty easy, already at level 8 and going.
You have to place blocks to move the little mario dude.

The wind that comes off the blocks pushes him in the right direction.

Join date: Jul 2009
320

IQ
I got to level4 but I have no idea what the hell to do or how the hell i did it.
Anyone got anything for level 12 yet?

Join date: Nov 2009
41

IQ
I am on level 9 currently.
Okay I'm done level 12.

Anyone needs a screeny then I got it.
stuck at 8

edit: got it
Last edited by rickyj at Sep 12, 2010,
Level 14 so far. No real trouble yet.
How did you get 13?

EDIT: Got it
Last edited by thanksgiving at Sep 12, 2010,

Join date: Mar 2009
30

IQ
LOL this game is fantastic XD
EDIT: how did that confuse you lol?
EDIT.2: Done

not very hard and kinda tedious really
Last edited by bass-man9712 at Sep 12, 2010,
got to 15, now im bored...
Level 17 is called "Pit and Choices"

Tiz hard too.

Join date: Mar 2009
40

IQ
stuck at 8

edit: got it
i cant get past it
halp
edit: nvm
i didnt know that you could run into the other blocks too
Last edited by BlitzkriegAir at Sep 12, 2010,
18. I don't feel like playing anymore
How the fudge do I get past level 17.

Help plz.
Up to 16. None of them have been too tricky so far.
Is it just me, or am I seriously meant to get past leve l 17 with only 3 blocks?
i just did 17. think minimally at the start of it.

it was probably the first one that was a challenge.
Just did 17. Want me to screenshot it for ya?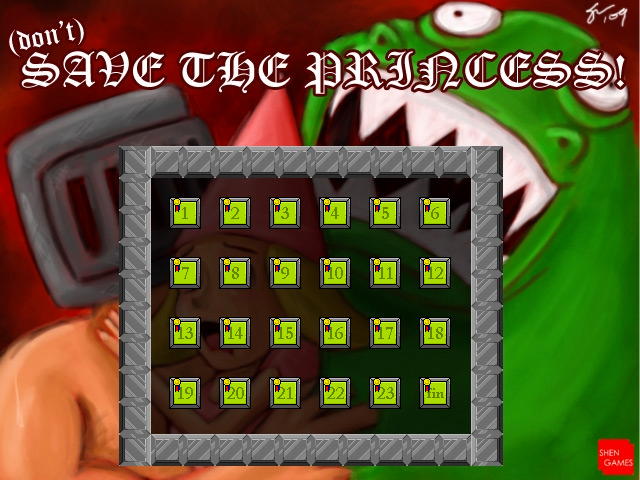 Game complete. What do I win?
Finished. It was actually really, really easy as far as puzzle games go.
I did something so similar to that it's not funny.
I didn't give that middle block room to break the cement block though

Thank you sir :bow:

Join date: Apr 2007
10

IQ
At 14 so far, with no problems.

Join date: Oct 2007
114

IQ
Got to level 13 and wtf'd.

Join date: Feb 2009
120

IQ
How the hell do you do 12? Screenshot please

Finished em all. The only one that gave me any real trouble was 22.

Join date: Jul 2010
10

IQ
Done 'em all. it wasn't until number 19 that i actually had to start thinking.
not too hard, but still quite fun. i like puzzles.


Join date: Sep 2008
10

IQ
What are the controls


Join date: Jan 2009
20

IQ
When do you actually save the princess?
Finished. Not much trouble at all.
i thought that 21 was a bit tough, but it turned out that i was over complicating things.