Ncd!!!
Thanks to all who helped answer my G12T-75 questions last week!
Last week I posted a wtb ad on CL for a 2x12 cab. I got a response back from someone with a Marshall 1966a. A 1966a? What's that? After a little research, I found out that this cab was produced by Marshall in the late 80's/early 90's. I looks kind of like a mini 4x12.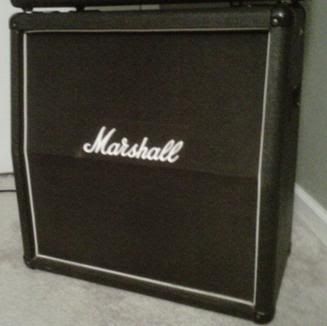 This cab is approximately 24"x24"x11". It has two Celestion G12T-75 speakers. I play through a Hot Rod DeVille and overdrive it with a Keeley Blues Driver. Although I liked my tone, I thought it could use some "lower end punch" to give me a fuller sound (I play blues/blues rock/some harder rock). This cab adds that. With the G12T-75's being voiced differently than the stock speakers in the DeVille...they compliment each other nicely.
I personally love the bass response from these speakers.
The cab seems to be constructed pretty well. The handles feel cheap, but other than that it's pretty solid.
Overall, it's exactly what I needed to add some lower end punch to my tone. And for only $200, it was hard to beat!

Join date: May 2009
190

IQ
Happy NCD!
Never heard of the 1966, but good deal.

ha that looks pretty cool.