(UK)FS/T Washburn Dime V Camo
I have for sale (or trade) a washburn dime v camo. very collectable if you like dimebag. few scratches here and there nothing major. only selling (or trading) as i am getting old (18 now) and i am less inclined to play my pointy guitar.

i have upgraded the pickups to a irongear hammerhead(neck) and a steamhammer(bridge) one is white and the other black so looks a bit out of place but sounds good. will install original pick ups if prefered although irongears cost me £60 for both.

comes with original camo gigbag.

looking for either £300 or a swap for a fender strat or telecaster...may consider epiphone les paul standard or custom or anything else you can throw at me within reason...no amps iv just upgraded

this is the only information i could find on it as i have never really bothered knowing the specs of my guitars
DIME V
- Flying V style body, bolt-on neck, 24-fret rosewood fingerboard with dot and 12th fret skull inlays, 2 High-output humbucker pickups, 3 knobs, 3-way switch, available in Jungle Camo or Black gloss finishes, 2004 only.


i also have for sale a line 6 spider iv 15 watt amp for £40 or trade for pedals etc or part ex it with the guitar for a decent guitar.
sorry for the double post forgot you couldnt edit heres some pics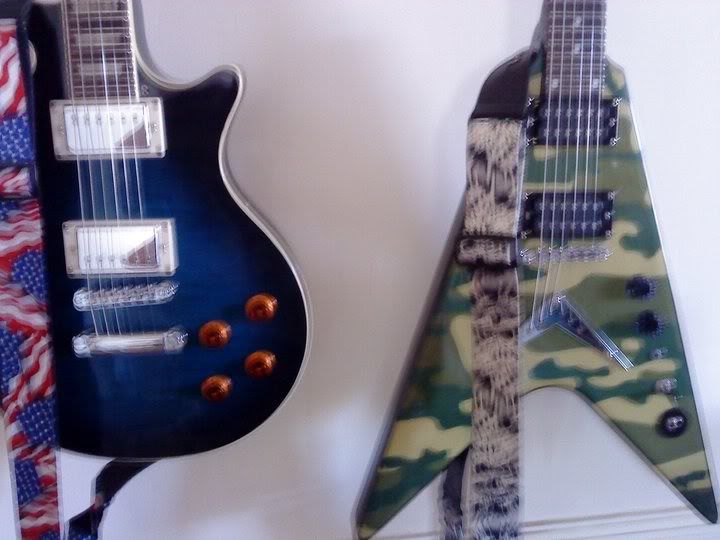 any interest in shipping to usa
sorry dude not worth it for me too much hassle but hit me up if your ever in the UK tho and its still here
bump...
looking for epiphones, the 2010 kramers, shcecters, ltd's, mim strat/tele, tokais....anything that is slighly more classic than this shredding beats

bumpage down to £250...open to all trades guitar wise, preferably something like a scratched up fender (cheaop but not squier) epiphones are a big yes as well and anything else you got...or even a cheaper guitar and say a pedal or something ?? let me know what ya got
bumpage still goin, will now consider squier telecasters(higher spec ones like vibe etc)
bumpage.down to £200 or will swap for litterally anything more classic orientated. will also accept acoustics if any one any lying about


Join date: Feb 2009
10

IQ
Sounds interesting man, When was the guitar made ?

Where are you in the uk ?
2004 for only one year and im in shaw, oldham...north manchester
bump took irongear pups out now only want £200 for it or trade
bump, down to £150 now as i have seen a guitar i wantg for that price so want to get a quik sale...grab a bargain
bump, really ineterested in an epiphone sg, or vintage sg
stil at £150 if you want to buy and i will throw in a pair of humbuckers too (not sure what make but decent for a project on the cheep

Join date: Aug 2007
35

IQ
can you post any pictures linked to another site?i can only get on computer at school and they blocked photobucket.
Dude, I got this 'Custom' tele I can trade for, Its basically some crappy body which was customized by the previous owner, now it has sperzel tuners on (80 quid to buy) and a Kahler (only one on ebay for 250 pounds) It could do with a bit of tlc, lemme know what you are thinking.
Furthermore, the neck is pretty comfortable, It was slightly distressed by the preious oner as well, and is the 40 quid for the spider, is that posted?
hiya mate sorry it ended up going a few week ago