Guitar Sketches
I haven`t been around much lately. I just started college, and am living with my dad, so most posts will be from my college`s wireless high speed, not dad`s ancient dial up. But, I have been up to some guitar stuff.
I don`t even know if this is the right forum, but it is the GB&C, and this is like building before the fact. So, here`s a random sketch I did of a guitar. There are six more, most of them are better(or at least I think so). I wasn`t really looking at anything for any of the sketches. Here you go:

So GB&C, do want MOAR?(or GTFO?)
Jake
Last edited by Valkyrie_Design at Sep 29, 2010,

Join date: Dec 2008
81

IQ
sure, why not. I cannot draw guitars for crap, like at all, they just turn out demented.
K, here goes nothing. I am going to do two groups of three in order to not score an hero with this speed-of-smell dial up.
Headless bass, with arm thingies for balance, really long fretless neck, comes out to the equivalent of like 30 frets. Yes, I was bored:

Supposed to be an SG/ES-335 cross(hollow SG thing). Never figured out the f-holes, this one is last on my list:

METAL W:

Whatcha` think?
Jake
These are the three that I really spent some time on. I also realized how crappy those look that close up.
Inspired by the Tokai Hummingbird, which was known for its reverse styling: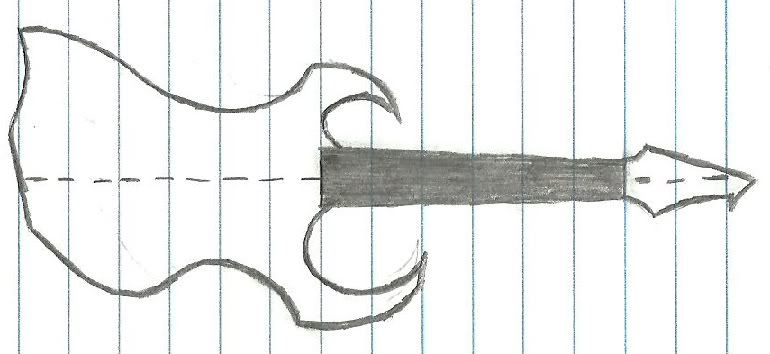 Explorer-esque: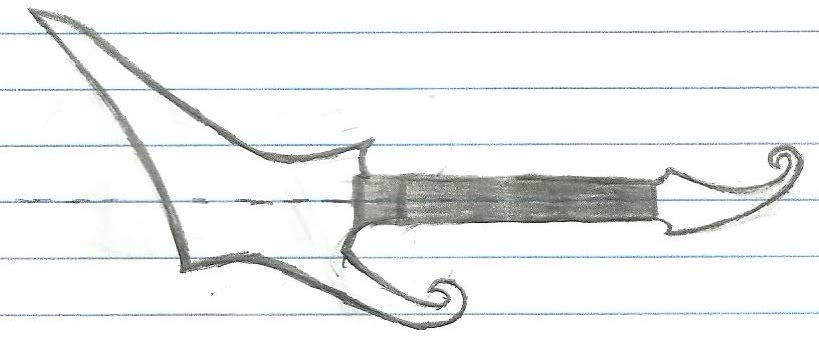 Ummm.........

What do you think of my better ones?
Jake
i like them but i the explorer style one doesnt look very balanced.....
The body and headstock of the Explorer-esque one look like elf shoes


Join date: Dec 2008
81

IQ
I like the last one, it's cool.
The explorer one would work for me, but with the body just a little bigger c:

Join date: Apr 2010
10

IQ
Those are what dreams are made of. My designs were sketches in a sketchbook before I did them in inkscape. Best place to start is on paper imo. The explorer-ish one is awesome.
The headstock on the last one is beast.
Thanks guys. If you notice, some are drawn to bass scale and some to guitar. The explorer was supposed to be a bass, so the body would be bigger on a regular guitar. I usually draw basses(as a bass player I find it easier), so I tend to work with a guitar player on guitar designs. I just got bored and had a go with a couple of these.

The last one is my favorite too, I think because I didn`t really even have an inspiration. I`ll probably never build it though.

Jake

Join date: Apr 2006
61

IQ
I'd say the Tokai Hummingbird was known for being a knockoff of another model which was known for its reverse styling...

Well, I agree that the last headstock is best. The rear end of the Explorer-esque one has some awesome curves, but I'm not big on the Ali Baba's-shoe styled lower horn and headstock. As a connoisseur of finer aesthetics, I'd advise you to use the last headstock, the rear of the Explorer and jazz up the horn a bit.

Join date: Jun 2006
421

IQ
All of your guitar pics seem to have wider upper bodies than lower.