Ngd Esp
After two weeks of trying to get this ESP Eclipse Standard to my house in working order, It's finally here. To start I ordered it though Samedaymusic, but the first one they sent me had a faulty bridge pup, so i sent it back, but they messed up my order hardcore (I had two day shipping, but they sent the second one back in the wrong color and on standard shipping) needless to say, Samedaymusic will never have my business ever again, then last night I ordered it with overnight shipping and got it at work this morning. I did the 18v mod on it and it sound ****ing sweet.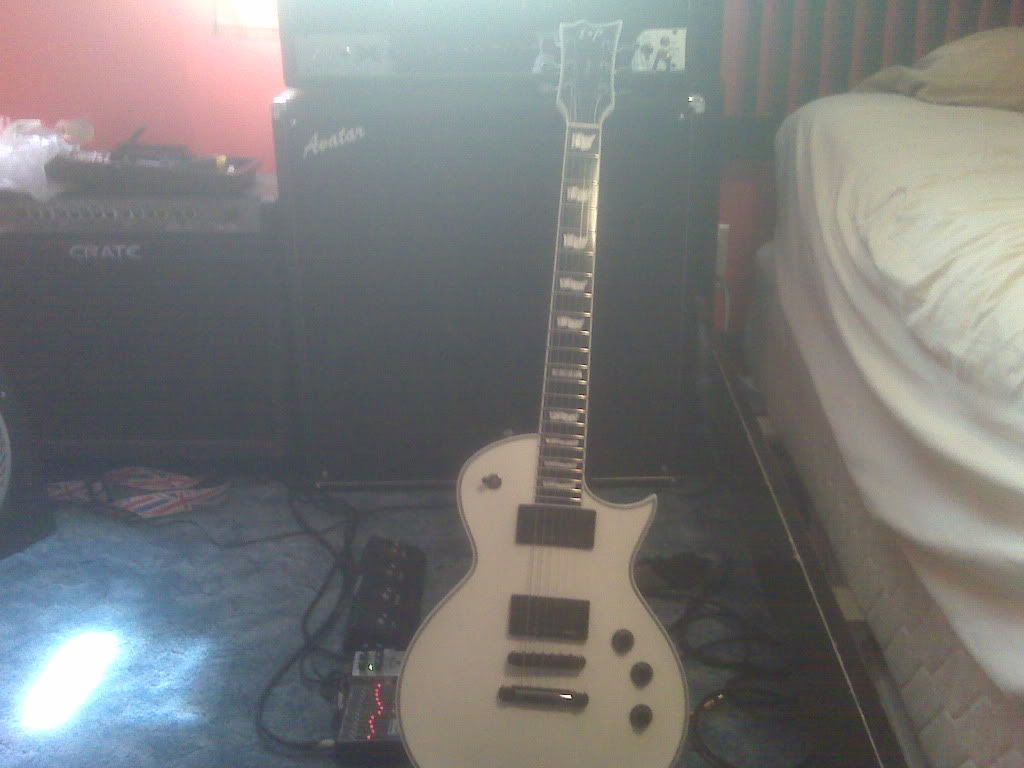 Join date: Feb 2010
110

IQ
HNGD!

Also, post a review/sound clips or this will get banned
Dude, WANT!
Also, review plz. Or better yet clips/video

I'm working on a sound clip right now. As for reviews, Sameday sucks, musiciansfriend is awesome, and this guitar is amazing, so impressed with it.
sweet!

Bonus points for filming the hound of the baskervilles in your bedroom at the same time as taking a pic of your guitar.
Wow, nice!
HNGD!!!!
POST VID!!!!

Join date: Mar 2010
240

IQ
SWEET!!!
HNGD post vid or review please

Join date: Apr 2008
40

IQ
After playing with the ESP for this first day, I've decided it was well worth the money. I would have liked to of had maybe a flame maple top on it, but I'm still pretty happy with it. The Pickups are nice, it's a slight change for what I usually play on which has the 81/85 set in, while this guitar has the 81/60 EMG's. After putting in the 18v mod, Whoa was it impressive as far as cleans. I knew what to expect on the 81, but the 60 really surprised me after the 18v mod. Though I play metal, I base all of my tone from the cleans that I get, and with this guitar I'm very happy with the tone I'm getting out of it. The guitar showed up with a perfect action on it from the factory, though I'll change that once I put some DR's on it tomorrow. I was worried about how much this would be worth to me before i ordered it because I was originally going to get the ESP LTD EC-1000, but a week before ordering, I changed my mind to this one. This is the most I've spent on a guitar, and I am definitely happy with it. It's a little awkward to sit with, but I slapped strap locks on so it's a non-issue. My favourite part of this guitar is the fret board. I love the tone that I'm getting out of the ebony.

before 18v mod: 9 of 11

after 18v mod: 11 of 11
I absolutely love the Les Paul shape in white. +1.
HNGD!


Join date: Sep 2010
20

IQ
I am pretty damn impressed by the clean sound. Sounds great man,HNGD.