All hail your new mod...
Steven Seagull!

Mark has been helpful and active for a long time, and he's joining the mod team now to kick ass and chew gum - and he's all out of gum.

Join date: Sep 2006
4,633

IQ
I like
Lemons

Last edited by Seth Shadows at Mar 17, 2011,

Join date: Dec 2006
10

IQ
Congratulations Mark, you deserve it

-throws ice-
EAT THAT DUCKYBOY.

And All this time I thought he was a mod :S
crap, can't flame him anymore

Join date: Apr 2006
170

IQ
ALL HAIL OUR GLORIOUS MASTER!
Srs bsns though: Congrats man, you're one of a few regulars on this forum I can think of who'd do a good job

Yeah, he seems like the guy for the job. Been wondering why he hasn't become mod earlier.
Congrats Mark. It's about time you were elected.

Join date: Oct 2006
190

IQ
crap, can't flame him anymore
Depends if I'm being a tosser or not - hide your Doritos just in case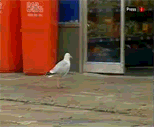 Cheers guys, I'll try not to be too much of a twat