Questions on rack setup
helllo...long time no post for me

Well lately ive been playing live more often and im getting sick of the pedalboard dance/ limited sound i have using pedals preset to certain values, so im thinking of swapping to a rack setup. I understand the basic consept and all..i just need help on what to get. I want to keep my existing amp, which does not have an effect loop..therefore i will run some form of distortion on the rack. The problem im having is figuring out how to switch this via midi. Ive seen the voodoo labs GCX, but thats totally out of my price rang and ive also looked at various rack multi effects, the only cheap one that seems to have an insert or pedal loop is the behringer...and knowing the brand the quality isnt gona be great. Im planning on building this up over the year so it would be nice to have an expandable set up. So would you guys be able to give me a hand here

thanks, lewis
helllo...long time no post for me

Well lately ive been playing live more often and im getting sick of the pedalboard dance/ limited sound i have using pedals preset to certain values, so im thinking of swapping to a rack setup. I understand the basic consept and all..i just need help on what to get. I want to keep my existing amp, which does not have an effect loop..therefore i will run some form of distortion on the rack. The problem im having is figuring out how to switch this via midi. Ive seen the voodoo labs GCX, but thats totally out of my price rang and ive also looked at various rack multi effects, the only cheap one that seems to have an insert or pedal loop is the behringer...and knowing the brand the quality isnt gona be great. Im planning on building this up over the year so it would be nice to have an expandable set up. So would you guys be able to give me a hand here

thanks, lewis
Racks aren't cheap, especially if you don't even have an effects loop. What effects are you planning on running?
Been thinking about getting an alesis midiverb, then maybe adding some more stuff as I go along, i know the midiverb doesnt need a GCX but having an external distorion would. I was then thinking of getting a BBE sonic maximizer, a tuner and taking it from there, the only problem im having is routing the distortion, i was thinking maybe running a pre amp and then going into my amp set to clean, but im not sure how that would sound.
holy.... hahaha...thats insane...well ive just been thinking and think i might build up my rack, and split it as so, i have my current amp for my cleans, then get a rackmount setup for my dirty with a cab and rack power amp. I could then use an amp switcher and switch between cleans and dirtys..il draw up a diagram now and ask for opinions!
right...heres the probably bad idea...which has probably made everything harder than before :P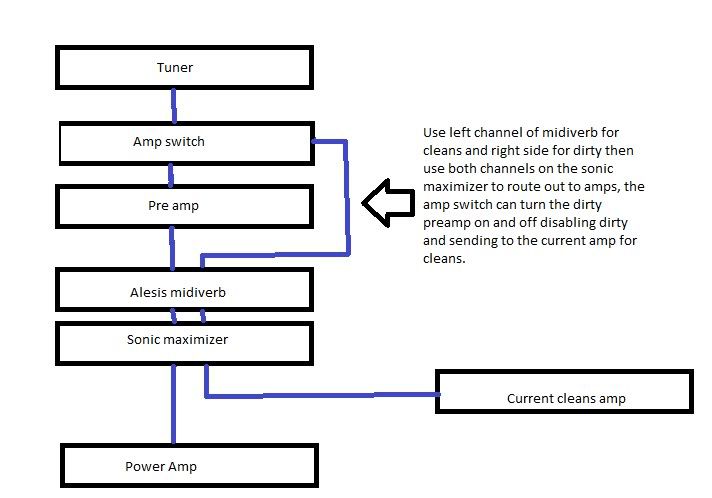 Join date: Oct 2007
250

IQ
you can do that. but most times a rack will be set up more

guitar -> pre-preamp effects -> preamp(s) -> most effects -> power amp(s) -> speaker cab(s)

then they can set up multiple preamps with switches, make preset configurations for the effects.

when you run a parallel path like you do in the diagram, it is more often to run effects in stereo or to enable a wet/dry mix.
alright thanks for the help, im not too sure yet, im gona give it a think about and probably go looking for some stuff second hand and somehow, run two amps considering my amp is fairly new and i really like the cleans from it.
Why not just get a full rack mult FX unit and a poweramp?
The Digitech GSP1101 is USD500, a Rig Kontrol 2 (or whatever they call it) is 200 and a cheapo poweramp should be 300 or so. Im not including power conditioner btw.

Either way, you wont get a half decent rack based rig for anything less than 100 or so. Above is the cheapest I can think of.
EDIT: What effects do you intend to use? If its just reverb, I dont see why you need to blow cash on a rack based setup.
Last edited by GS LEAD 5 at Mar 21, 2011,
if you are gonna do a separate rack pre-amp and effects, do it gumbi's way. Mixing it the way you diagrammed can work, but usually ends up just being a bleh sound. If you want to do the whole stereo thing grab a stereo poweramp and run your stereo effects in the effects loop of the pre amp. This'll allow the stereo effects to really maximize their potential while keeping the overall tone of the amp. More or less, you dont want a mixed up overdrive sound as it'll crap out on ya, but a stereo chorus sounds oh so sweet.

if you want to do amp modeling or have an all in one amp/effect rig, do what gs is saying. And then play around a ton until you get the set up you like.

tl;dr-keep it simple and instead of using a rack amp deal and a separate amp, it'll be easier to either stick with a rack set up or an amp and pedals. If you absolutely have to have the amp- make sure that you are only sending the signal to one amp at a time. If you don't, you will have one hell of a time fooling around trying to get all of the panned sounds to be good sounding.
This is how I do mine. The Abbey is a full valve, 3 channel amp that just fits into a rack if you remove it from it's cabinet. It didn't have an fx loop so I modded it and added one to put the quadraverb into (that's the midiverb's big brother).
You can see a GP-8 up front, I use that to switch the amp and add boosts and anything else I might want to run up front. You could replace that and the FC100 with a G-Major and a Behringer MIDI controller.
Last edited by Cathbard at Mar 21, 2011,
Hey guy not to invade here but if your looking for rack gear.

Look at my signature. Im trying to sell my rack. It has everything you will need. PM me

Join date: May 2007
30

IQ
I just bought some second hand rack equipment from a guy that was upgrading his setup.

I got:
Line 6 POD xt pro processor
Alesis Compressor/Gate
ART 2 Channel 15 band EQ
BBE 362 Sonic Maximizer (still not sure how to use it)
and some power conditioner
and a short 10U rack

I bought all of this for around $450. What I am saying is there is used equipment out there for cheap if you look in the right place.

Anyone have any suggestions on what I should buy next?