Celebrate your most recent purchase!

Join date: Sep 2010
170

IQ
On the 19th I bought my second electric guitar. (my first guitar was a gift from my dad). So it's the first guitar i've ever bought entirely myself. I went to Denmark Street in London, and walked in every shop. Last shop I went in was all Fenders

(Fenders in the front, Squires in the back). Most of the other shops were way above my price range. Anyways I tried about 9 Stratocasters and didn't really like the necks on any of them. I resorted to just putting my hand on all the necks regardless of price or colour n_n and found ONE. So I bought it. It's a Mexican Standard Strat in Lake Placid Blue. And i'm very happy to own a guitar that is not a copy of anything!

congrats dude, no recent purchases here lol had to sell all my gear :/ hence the small sig and crappy equipment lol

Join date: Sep 2010
10

IQ
Thats a nice guitar...love the colour!
Enjoy!!!
A 60's tribute les paul I picked up 2 weeks ago.

Join date: Apr 2010
40

IQ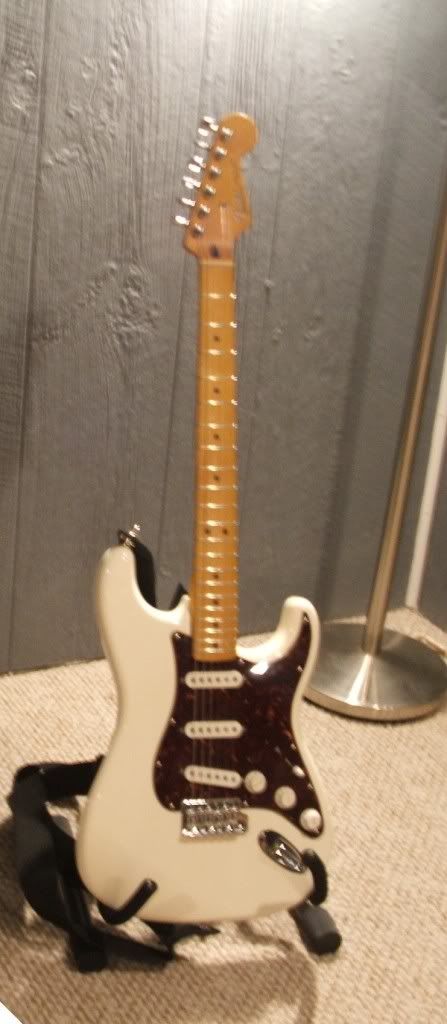 Fender Deluxe Roadhouse Strat, not the clearest picture now that I look at it but oh well. I bought it early Jan. of this year.