Photoshop Request
Can anybody photoshop this image for me? I'm looking to turn it into a rather large decal, but I need to change it a bit and retain somewhat of a professional look.

Here's what I'm looking for:

-Basically everything on the bottom half of the image is perfect the way it is

-I'd like to have the V for Vendetta, Natalie Portman and Hugo Weaving text removed with the background filled in where the letters once were

-I would also like for Natalie Portman to be completely removed from the image, and once again, the background filled in where she once was

-Lastly, I want to keep the subtle V for Vendetta logo in the image, but that needs to be filled in since Natalie Portman's face and the text ruin it

All of this is probably a lot to ask but if somebody could do it, I would be indepted. I tried finding an appropriate image on google, but I didnt come up with anything. Please let me know if you have any questions.
Join date: Jan 2009
120

IQ
If you pay me $100 I will.

Join date: Jul 2009
30

IQ
I'm on it. Why? cuz i got no girlfriend

EDIT: why would you wanna remove natalie portman? you gay or something? tell me fast so that i can move on with the shooping
Last edited by sticksause at Mar 23, 2011,
Since I don't have Photoshop I can't help you, sorry. So instead I decided to cut out a picture of Natalie Portman with hair and paste it onto the image because I think she looks better that way.
highly doubt that can be filled in and still look good but i'll give it a shot
IDK I feel like natalie portman dominates the picture too much.. If you cant cleanly remove her, then maybe make her slightly transparent or something, so she isn't so damn visible.

I'm really not that attracted to natalie portman to begin with, hahah. Shes too thin for my tastes. Elbows too pointy.
Last edited by Watterboy at Mar 23, 2011,
best i can do
best i can do
That looks really awesome! Good job dude. That is pretty much just what the doctor ordered. Really appreciate it.
If you're curious why I'm doing this, I have a cheap MIM Strat that I'm customizing. I've always been a huge fan of the V for Vendetta book/movie/concepts ect, so I wanted to do something to celebrate it.
I'm planning on turning the image into a big decal to fit on the body of my guitar. I'm gunna get humbuckers fitted into the guitar w/ pickup covers so the image is relatively continuous throughout.
Thanks!

Join date: Jan 2011
60

IQ
Bitchin' idea man


Join date: Oct 2007
30

IQ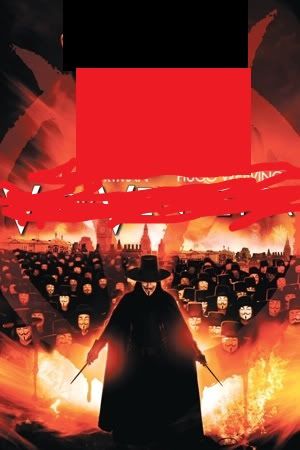 You're welcome.
np man. If your not using it right away i'll try and clean it up a little tomorrow.
Yeah, its a work in progress, and I wont be turning it into a decal til a week or so. So if you are willing to touch it up, be my guest. It looks great though.
The sky does look rather empty. It might be interesting if Natalie Portman was added back in, but made transparent. Or maybe if there were fireworks in the sky or something, IDK. He blows up buildings and sets off fireworks. That was his thing.
Have fun with it I guess

Last edited by Watterboy at Mar 23, 2011,
haha sounds good ill put an updated one tmrw
You're welcome.

A true work of art, good sir.

Join date: Jun 2008
217

IQ
I say just go to 4chan to do your guy fawkes dirty work. they would probably throw you a thousand different submissions (half of which would be hilarious).


that or make your decal a guy fawkes mask and nothing else.
Could somebody post a version of the picture with just the text remove and natalie portman still in it? I just want to compare how they would look. I'm almost ready to apply the photo.