Pickup Wiring problems...
I just ordered a pair of Guitar Fetishs' VEH humbucker pickups and I want to change up the way the knobs are used. I am wanting to have the neck pickup on a 500K push/pull so i can split into a single coil, and have the knob acting as the volume as well. But, i want the other 500K pot just to act as a bridge volume, not a tone knob.
I also do not want to keep the 3 way switch, im going to trash that. Ive been trying to find a wiring diagram online to help me out but nothing is out there, anyone know how to do it???
any help is appreciated!


Join date: Feb 2011
10

IQ
I have, but nothing has just 2 individual volumes for each pickup with a push pull for the neck, i dont want to spend the $30 for the custom diagram. Thanks for the info though!

Join date: Dec 2009
10

IQ
Here ya go. This should work for you. Be aware, though, that I don't know if GFS's wire colors are the same as in the diagram, but it shouldn't be hard to find out. The green and bare wires from the bridge pickup are also wired to the pot case. I'm not sure why the diagram didn't have that, but whatever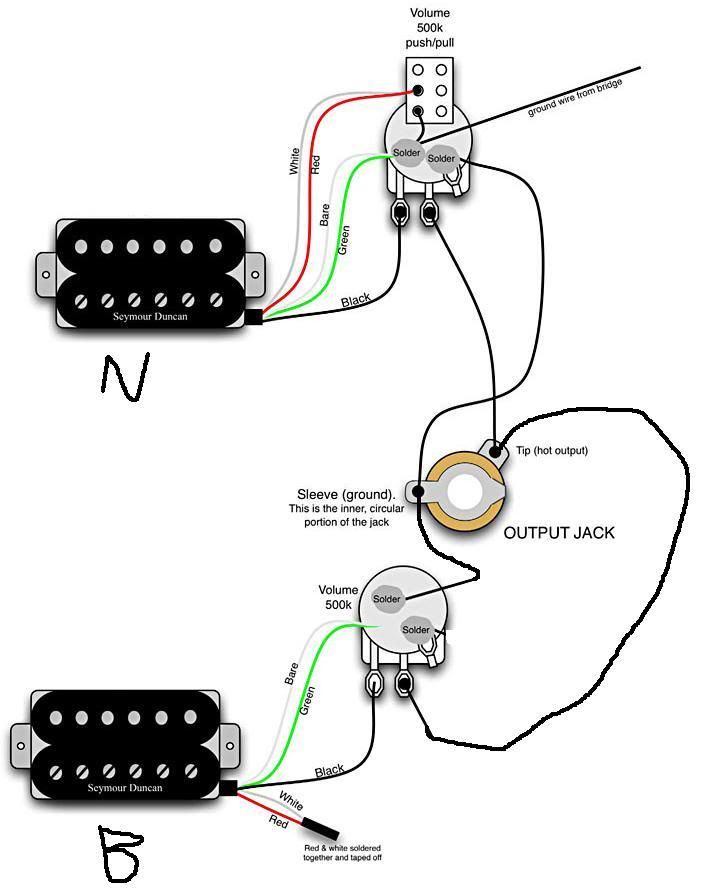 alright!! This looks tons better than what ive been trying to find. Ill give it a shot!!
please use the ultimate wiring thread for all wiring questions. you can find a link to it in the essential links sticky at the top of the forum, or it is often on the front page. thanks.