FS: Xaviere XV-870 (with many upgrades)
FS: Xaviere XV-870 Strat (with many upgrades) - $200 plus shipping (approximately $25)
I've got a modded Xaviere XV-870 in surf green and rosewood fretboard with mint green pickguard and aged white parts. It's been upgraded with the following: Tonerider Surfari pickups, Acme CTS 250K pots, an Acme CTS Blender pot (in place of lower tone pot), CRL 5-way, and an Orange Drop cap for the electornics; a Wilkinson vintage bridge w/ steel block; Wilkinson EZ Lock tuners; and genuine Fender aged white plastic parts.
The guitar is in excellent condition. The only two cosmetic flaws are a small nick on the side of the rosewood fretboard at the 7th fret and a few tiny spots around the trem cavity where the finish rubbed off. I also do not seem to have the trem cover. I always take those off of my guitars, and it seems that it has gotten lost. They're only a few bucks at the most, though, if you need one. Additionally, the trem tip is white and not aged white. You can probably age it in coffee/tea, though.
This guitar easily beats out MIM Fender Strats, especially with the upgrades. You won't find a nicer Strat anywhere near this price.
Here's the link to the stock guitar, for a list of the specs. The trem and tuners can also be found on this site:
http://www.guitarfetish.com/XV-870-Surf-Green-Rosewood-Fingerboard_p_999.html
http://www.guitarfetish.com/Wilkinson-Vintage-Tremolo-Pop-In-Arm-with-Block_p_897.html
http://www.guitarfetish.com/Wilkinson-EZLok-Vintage-Style-Tuners-for-Fender-Headstocks_p_886.html
Here's a link to Tonerider's site for details on the pickups:
http://www.tonerider.com/pickups/stratpickups.html
Here's a link to a description of the Acme Blender kit (Note: I did not install the volume kit):
http://www.acmeguitarworks.com/Wiring-Kit-Fender-Stratocaster-Blender-P1168C153.aspx
As you can add up, with the cost of shipping, I've put in about $250 worth of upgrades into the guitar--not including any labor costs for installation. The thing is a monster now. Nothing anywhere near this price can touch it.
The pics are below. Keep in mind that surf green is near impossible to photograph accurately. It's a bit greener than it looks in the picture.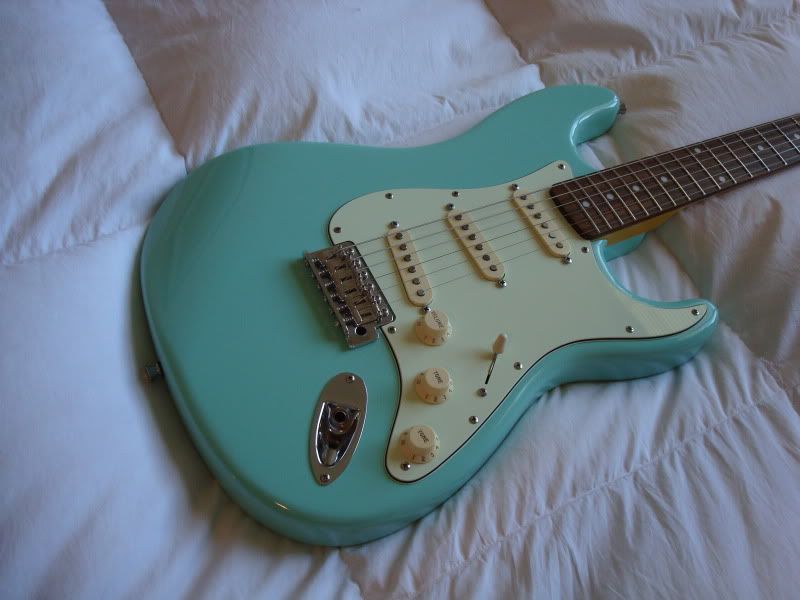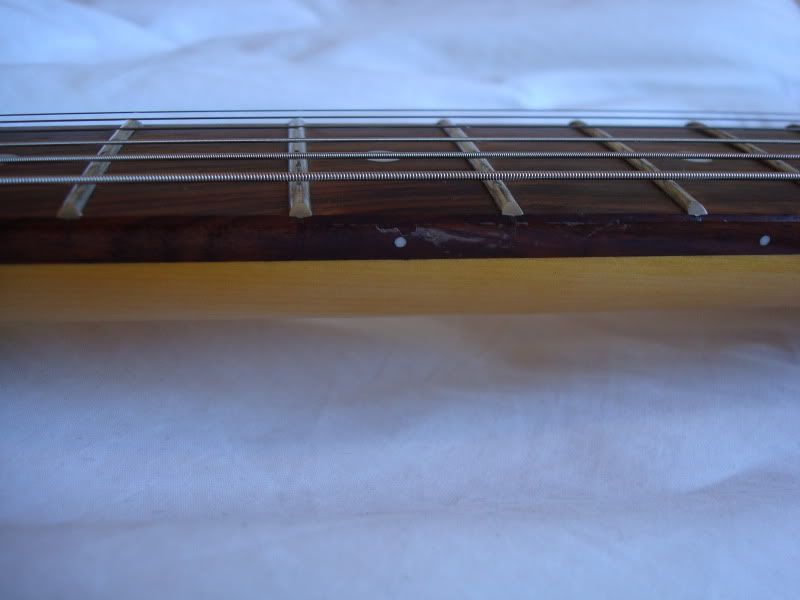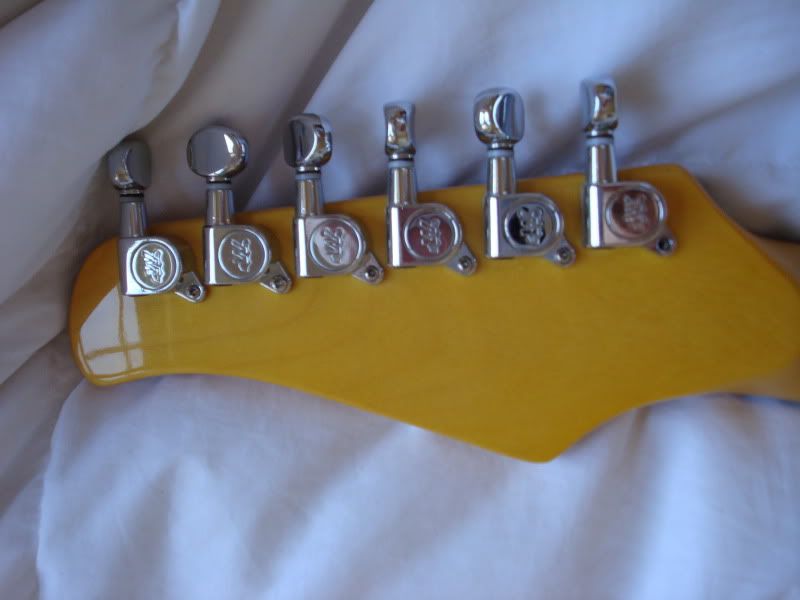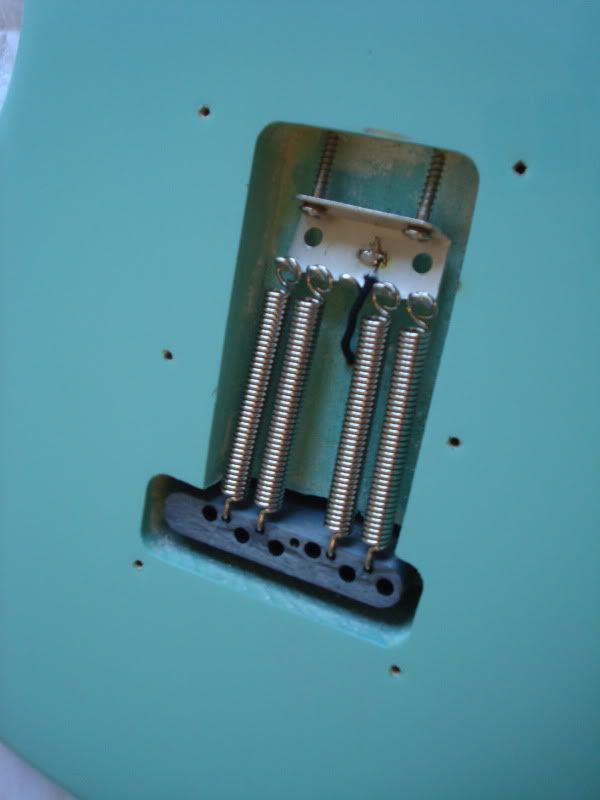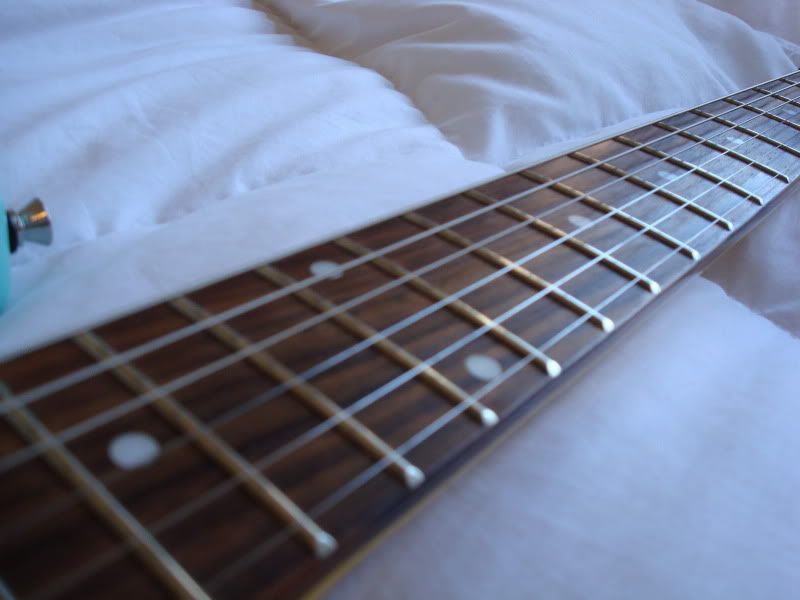 Send a PM if interested.
I'd also consider parting it out:

Pickguard assembly - $110 shipped
Trem - $32 shipped
Tuners - $20 shipped
Body - $50 shipped
Neck - $50 shipped
Body and neck - $90 shipped

Discounts for multiple parts. Keep in mind, though, that I believe the heel on the neck is slightly wider than a standard Fender heel. Therefore, the neck wouldn't fit perfectly on a body with a Fender standard-sized heel cutout nor would a standard sized neck fit on the body. Also, the cutout for the neck on the pickguard might not be perfect either. The trem and tuners are standard sized parts, however. See their listings for sizes/dimensions.

Join date: Nov 2005
20

IQ

Join date: Nov 2005
20

IQ